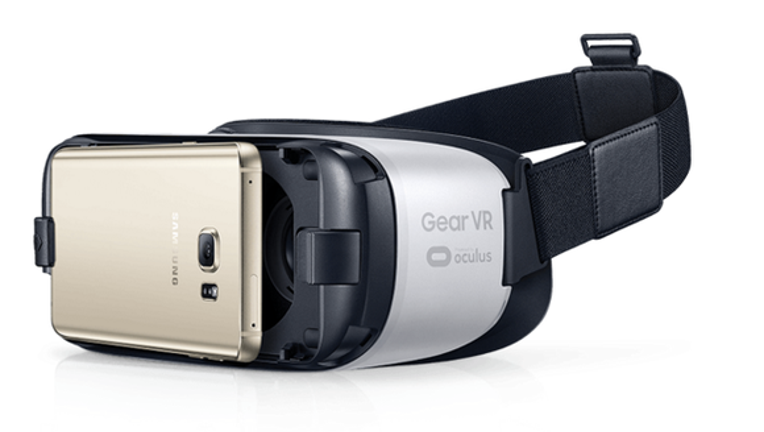 Samsung's Oculus-powered Gear VR headset is available for free with Galaxy S7 and Galaxy S7 Edge preorders. Image source: Samsung.
As anticipated, Samsung released the newest iteration of its flagship Galaxy line of phones, the Galaxy S7 and Samsung S7 Edge, in the lead-up to Barcelona's Mobile World Congress. The new unit brings forth a few surprises from last year's predecessor. Samsung re-embraced the waterproof feature the company had in the Galaxy S5, but abandoned in the Galaxy S6. Additionally, the new Galaxy S7 brings back expandable memory by reintroducing the microSD slot the Galaxy S6 abandoned.
It's hard to classify any of these features as revolutionary to Samsung's prior offerings. For that ground-breaking feature, it seems Samsung is moving into virtual reality in a big way, even going as far as calling VR its "next platform." Helping sell Samsung's ambitious vision was Facebook's Mark Zuckerberg, who stated, "[t]ogether, this is by far the best mobile VR experience you can offer" when discussing the Galaxy S7's VR platform.
2016 may be the year of VRIt's starting to look like virtual reality will finally arrive in 2016. Samsung's Galaxy S7 and S7 Edge will come bundled with Samsung's Gear VR headset, but the South Korean conglomerate will not be the only company pushing VR devices. Zuckerberg's exuberance for a competitor's device initially seems odd, but makes sense because Samsung's $99 headset is powered by Facebook-owned Oculus VR. While Oculus has a VR headset of its own -- the high-end Oculus Rift, which retails for $599 -- it appears Zuckerberg is willing to encourage other entrants with the goal of speeding up consumer adoption.
Another entrant appears to be Alphabet. An earlier report from The Financial Times chronicled Mountain View's new moves in the space. The FT reports Alphabet will bring a durable, high-quality VR headset to market in addition to its low-cost Cardboard device. Perhaps the most important move is Alphabet is bringing VR functionality into the Android operating system versus relying on an app. This should encourage third-party developers currently not offering VR-enabled experiences to do so as the experiences become more commonplace.
Will Apple be forced to follow? Apple's never been concerned with first-mover advantage. Instead, Cupertino works on perfecting the user experience before releasing a product. But with Samsung, Alphabet, and Facebook working hard to control the VR experience, Apple could find itself late to shape the future of the nascent ecosystem. Apple has purchased multiple VR firms and has a secret team of "hundreds of people" to work on VR technology, but not bringing the functionality to the iPhone 7 in September would put Apple at risk of being nearly 1.5 years behind Samsung and nearly a year after Facebook's Oculus Rift.
There's a lot at stake: Market research firm TrendForce estimates the total VR market (hardware and software) will top $70 billion in 2020, an increase of nearly 80% annualized from 2016 estimates of $6.7 billion. If so, Samsung is correct that VR will become the next platform and investors should pay close attention to who's winning at shaping this new technology.
The article Samsung's "Next Platform" Impresses Facebook's Mark Zuckerberg originally appeared on Fool.com.
Suzanne Frey, an executive at Alphabet, is a member of The Motley Fools board of directors. Jamal Carnette owns shares of Apple. The Motley Fool owns shares of and recommends Alphabet (A shares), Alphabet (C shares), Apple, and Facebook. Try any of our Foolish newsletter services free for 30 days. We Fools may not all hold the same opinions, but we all believe that considering a diverse range of insights makes us better investors. The Motley Fool has a disclosure policy.
Copyright 1995 - 2016 The Motley Fool, LLC. All rights reserved. The Motley Fool has a disclosure policy.