Samsung's Galaxy S8 Success Will Come at a Cost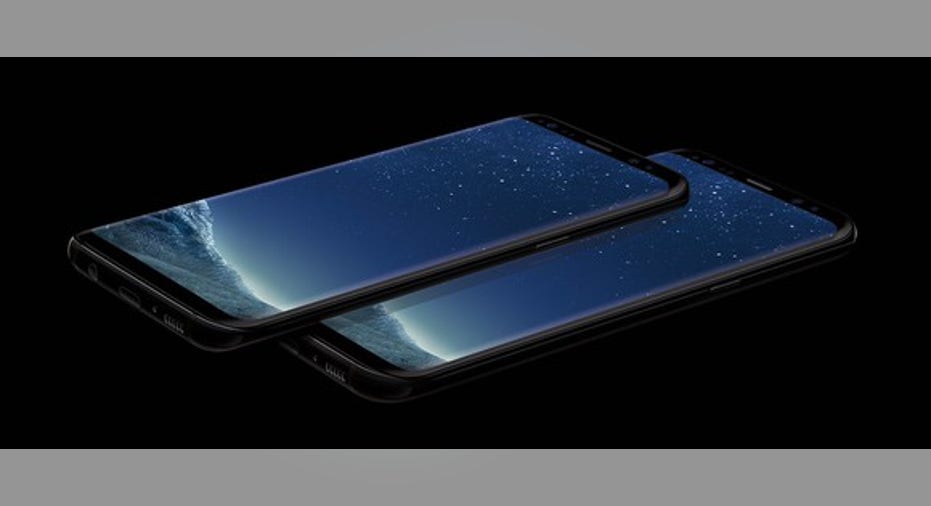 By all indications thus far, Samsung's newest Galaxy S8 looks like it's going to be a massive success. The new flagship handset has a striking and unique design that sets it apart from anything Apple (NASDAQ: AAPL) has done, and the company played it conservatively in terms of the battery specs in order to ensure that the Note 7 debacle doesn't repeat itself. The Note 7's explosive tendencies were in part tied to Samsung pushing the envelope with the battery's energy density. The Galaxy S8 may very redeem the South Korean conglomerate's brand in the eyes of consumers.
Assuming nothing goes wrong in the coming months, that success could come at a cost, as the Galaxy S8 promises to be one of 2017's best-selling phones.
Image source: Samsung.
Component costs are going up
IHS Markithas just released preliminary estimates on the bill of materials (BOM) for the Galaxy S8. Spoiler alert: It's expensive. The BOM totals an estimated $301.60, which is meaningfully higher than any previous Galaxy device. That figure is before you include other costs, such as manufacturing or licensing royalties. Tacking on another $5.90 in manufacturing costs brings the total to $307.50. Compare that to other flagship Galaxy phones, as well as IHS Markit's estimates for the iPhone 7 from last September:
| Device | Estimated BOM |
| --- | --- |
| Galaxy S8 | $307.50 |
| Galaxy S7 | $264.16 |
| Galaxy S7 Edge | $271.21 |
| iPhone 7 | $224.80 |
Data source: IHS Markit.
The Galaxy S8 starts at $720. IHS Markit notes that the Galaxy S8 is the first handset that has the technical capabilities to deliver gigabit speeds over LTE. While the market researcher doesn't break out the display costs in its release, display assemblies are often the most expensive component, and Samsung's new "Infinity Display" very likely contributed significantly to the increase. The device starts with a generous 64 GB of storage and 4 GB of RAM, further adding to the BOM, representing about $41.50.
Taking the battle upmarket
Given the Galaxy S8's strong critical reception thus far, there's quite a bit of pressure for Apple's 10th-generation iPhone to be a blockbuster, as Samsung has now raised the bar. IHS Markit director Andrew Rassweiler notes that BOM costs are trending up, which "reflects something of an arms race in features among Apple, Samsung and other phone manufacturers, as they all try to add new and distinguishing hardware features."
One of the most widely held expectations for the 2017 iPhone is a high-end model featuring an OLED display that could cost upwards of $1,000. Given the aforementioned disproportionate impact on costs that displays have, Apple's first adoption of OLED technology will also drive up the component costs of the "iPhone 8" or "iPhone X" or "iPhone whatever-Apple-calls-it." Since Apple has much more aggressive margin targets than its frenemy, any increase in costs should translate into an even higher price point relative to Samsung's pricing strategy. (Hence the possibility of a $1,000 price tag.)
At a time when average smartphone prices continue to trend lower, Apple and Samsung are taking their battle even further upmarket.
10 stocks we like better than AppleWhen investing geniuses David and Tom Gardner have a stock tip, it can pay to listen. After all, the newsletter they have run for over a decade, Motley Fool Stock Advisor, has tripled the market.*
David and Tom just revealed what they believe are the 10 best stocks for investors to buy right now... and Apple wasn't one of them! That's right -- they think these 10 stocks are even better buys.
Click here to learn about these picks!
*Stock Advisor returns as of April 3, 2017
Evan Niu, CFA owns shares of Apple. The Motley Fool owns shares of and recommends Apple. The Motley Fool has a disclosure policy.