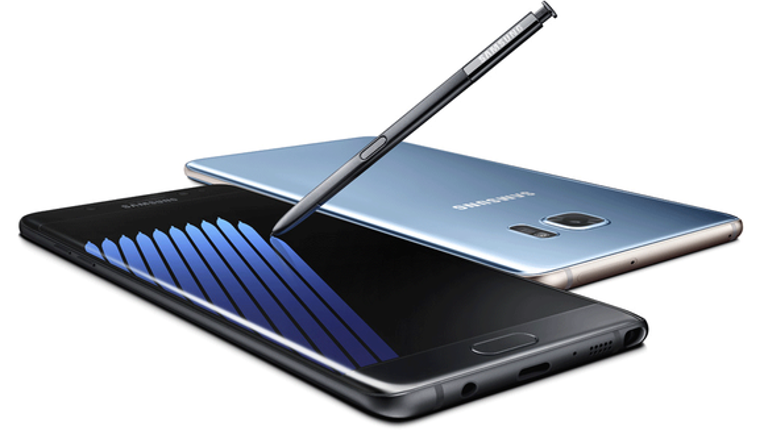 This device has been a nonstop headache for Samsung. Image source: Samsung.
South Korean conglomerate Samsung (NASDAQOTH: SSNLF) already reported that third-quarter earnings took a massive hit following the global recall and subsequent discontinuation of the Galaxy Note 7. Operating profit in the company's all-important mobile division got crushed, falling an astounding 98% sequentially in the third quarter. For context, mobile operating profits comprised over half of total operating profit in the second quarter. So it's a pretty important business for Samsung.
But Samsung does not disclose unit volumes, so investors have to rely on third-party estimates. Market researcher Gartner has put out its latest estimates on the smartphone market in the third quarter, and Samsung expectedly took a big hit in the wake of the Note 7 crisis.
Survey says
Samsung remains the No. 1 vendor, a title it has long enjoyed by a healthy margin in terms of unit volumes. Apple (NASDAQ: AAPL) saw some minor slipping, too, and Chinese original equipment manufacturers (OEMs) are really driving growth these days. Here are the top five players:
Data source: Gartner.
The combined market share of Huawei, Oppo, and BBK was about 21%, and those companies' strong performance helped the overall market grow by 5% to 373 million units. Samsung's 14% decline represented the company's worst performance ever, even worse than the 12% decline it saw in Q3 2014. The company's brand has been significantly tarnished by the Note 7, and it has a lot of work ahead of it to rebuild consumer trust. A successful Galaxy S8 launch will be critical to redeem itself.
Apple continues to lose unit share, and its 11.5% market share is the lowest since early 2009, according to Gartner's figures. The researcher believes that units dropped 8.5% in the U.S. and a gut-wrenching 31% in China during the third quarter. Those are Apple's most important markets by far, combined representing nearly 60% of sales last quarter.
If you're wondering why Gartner's estimate of 43 million differs from the 45.5 million iPhones that Apple officially reported, that's because Gartner measures sales to end users while Apple (and most companies) report based on channel sell-in. At the end of the third quarter, Apple had just launched the iPhone 7 and 7 Plus and was working to increase channel inventory. Gartner does not believe that the iPhone 7 is doing a lot to spur upgrades, either.
10 stocks we like better than Samsung When investing geniuses David and Tom Gardner have a stock tip, it can pay to listen. After all, the newsletter they have run for over a decade, Motley Fool Stock Advisor, has tripled the market.*
David and Tom just revealed what they believe are the ten best stocks for investors to buy right now... and Samsung wasn't one of them! That's right -- they think these 10 stocks are even better buys.
Click here to learn about these picks!
*Stock Advisor returns as of November 7, 2016
Evan Niu, CFA owns shares of Apple. The Motley Fool owns shares of and recommends Apple and Gartner. The Motley Fool has the following options: long January 2018 $90 calls on Apple and short January 2018 $95 calls on Apple. Try any of our Foolish newsletter services free for 30 days. We Fools may not all hold the same opinions, but we all believe that considering a diverse range of insights makes us better investors. The Motley Fool has a disclosure policy.