Samsung Pulls Plug on Galaxy Note 7, Sends South Korea ETF Falling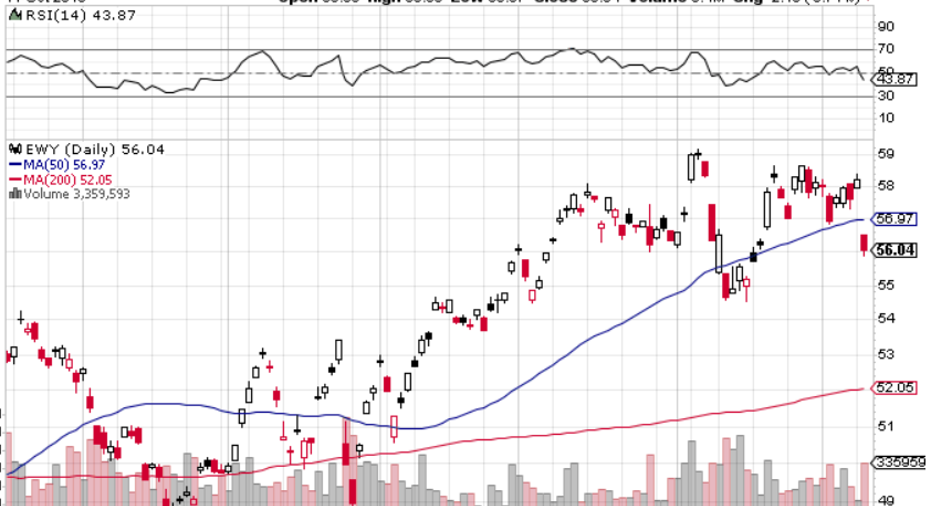 South Korea country-specific exchange traded funds plunged after electronics giant Samsung Corp. discontinued the troubled Galaxy Note 7 smartphone.
On Tuesday, the iShares MSCI South Korea Capped ETF (NYSEArca: EWY) fell 3.7% as Samsung Corporation shares declined 7.5%. Samsung is the largest component in many of the South Korea country-specific ETF, accounting for 22.0% of EWY's underlying index.
On the other hand, the First Trust South Korea AlphaDEX Fund (NYSEArca: FKO), which takes a smart-beta indexing approach based on growth and value factors and only has a 3.1% stake in Samsung, decreased 1.8% Tuesday.
SEE MORE: AdvisorShares Rolls Out an Active South Korea Growth ETF
South Korean markets were dragged down by Samsung after the electronics manufacturer said it would discontinue its Galaxy Note 7 smartphone after a botched recall that continued to harm consumers and damaged the Samsung brand, the Wall Street Journal reports.
The electronics giant filed with regulators to permanently cease production and sales of the devices in response to reports that supposedly safe replacements overheated and in some cases caught fire.
"Taking our customer's safety as our highest priority, we have decided to halt sales and production of the Galaxy Note 7," the company said.
Daniel Kim, an analyst for investment bank Macquarie Group, estimated that the potential losses to the discontinued Galaxy Note 7 could rise to 3.1 trillion Korean won, or $2.8 billion, for the last three months of the year, or enough to wipe out the entire mobile division's operating profits for the fourth quarter.
South Korea's finance minister Yoo Il-ho also warned that the halt in sales would negatively impact the country's export figures – Samsung's mobile handsets made up about 2% of the Asian economy's annual total exports.
For more information on the South Korean markets, visit our South Korea category.
iShares MSCI South Korea Capped ETF
This article was provided by our partners at ETFTrends.