Samsung Might Deal Crushing Blow to Intel Corporation's Manufacturing Organization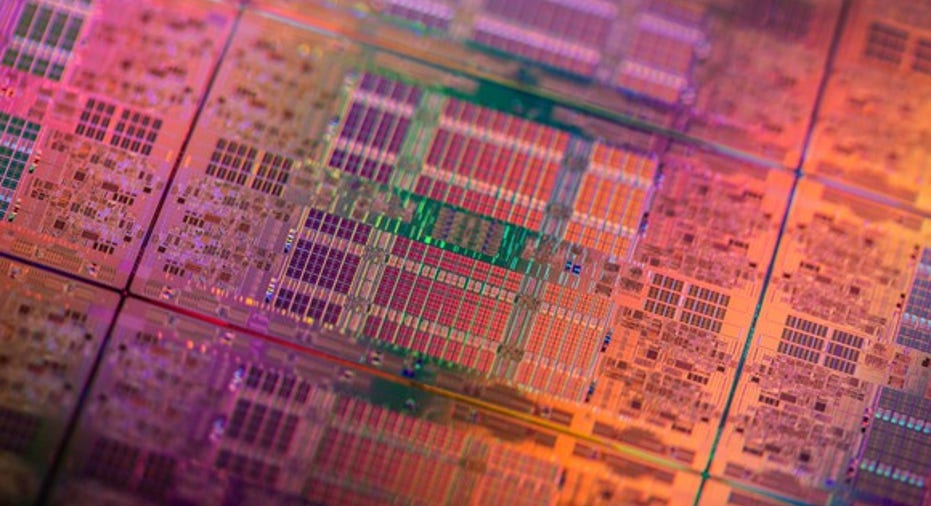 Intel (NASDAQ: INTC) has, for years, claimed that it has had a manufacturing lead over the rest of the industry. It has routinely asserted superior manufacturing technology density relative to its peers, and last year Intel CEO Brian Krzanich said at the 2016 stockholder meeting that he expected the company to maintain a sizable lead in the performance of its manufacturing technologies relative to competing technologies.
To refresh your memory, here's what he said:
However, a recent disclosure from rival Samsung (NASDAQOTH: SSNLF)seems to suggest that Intel may soon lose its edge in chip manufacturing technology.
Image source: Intel.
Samsung to ramp Gate-All-Around FETs in 2018
According to an article in DigiTimes, Samsung VP of Technology Ho-Kyu Kang told attendees of the China Semiconductor Technology International Conference (CSTIC) that it will be adopting a fundamentally new transistor structure for its 7-nanometer technology that it expects to be ready for volume production in 2018 called a gate-all-around (GAA) FET.
In an interview with Semiconductor Engineering, Intel senior fellow Mark Bohrsaid, "GAA transistors provide better electrostatics than finFETs, which should allow for some additional gate length scaling."
Those aren't Samsung's words -- they come from a key Intel technologist.Furthermore, from reading the entire article linked above, it seems that getting that technology ready for high-volume production is quite the challenge.Even if Samsung's 7-nano tech using this GAA structure is only ready for mass production by late 2018, that should still put it well ahead of Intel.
Intel sticking with tried-and-true finFETs
Intel has already disclosed that its upcoming 10-nanometer technology -- which it says will begin mass production late in 2017 for 2018 product shipments -- will continue to use the older finFET structure. Moreover, Semiconductor Engineering's sources confirmed back in February what I reported back in September 2016 -- that Intel's 7-nanometer technology, scheduled for high-volume production in 2020, will continue to use the finFET structure.
What this seems to indicate is this: Intel has not only seen its lead with respect to chip manufacturing density erode (right now both Samsung and Taiwan Semiconductor Manufacturing Company(NYSE: TSM)are in mass production on their respective 10-nanometer technologies, both of which are denser than Intel's currently in production 10-nanometer technology), but it may be on the verge of seeing its leadership in transistor technology and materials science disappear as well.
Indeed, Intel was the very first to transition to the finFET transistor structure back in late 2011 (the rest of the industry didn't start mass producing finFETs until 2015), but now it seems that as the rest of the industry transitions to the "next big thing" (gate-all-around FETs), Intel may be left scrambling to catch up.
Time for some clarity, Intel
At this point, Intel needs to start providing shareholders with some real answers vis-a-vis chip manufacturing technology. The company avoided going into detail about this at its Feb. 9 investor meeting, but it has promised to host a separate day dedicated to manufacturing technology at some point in the first half of this year.
Intel needs to make a compelling -- and intellectually honest -- case for why it believes it has a "leadership" position in manufacturing technology because right now things don't look good on its manufacturing front at all.
10 stocks we like better than IntelWhen investing geniuses David and Tom Gardner have a stock tip, it can pay to listen. After all, the newsletter they have run for over a decade, Motley Fool Stock Advisor, has tripled the market.*
David and Tom just revealed what they believe are the 10 best stocks for investors to buy right now... and Intel wasn't one of them! That's right -- they think these 10 stocks are even better buys.
Click here to learn about these picks!
*Stock Advisor returns as of February 6, 2017
Ashraf Eassa owns shares of Intel. The Motley Fool recommends Intel. The Motley Fool has a disclosure policy.