Samsung is Dominating This Electronics Market (Hint: It's Not Smartphones)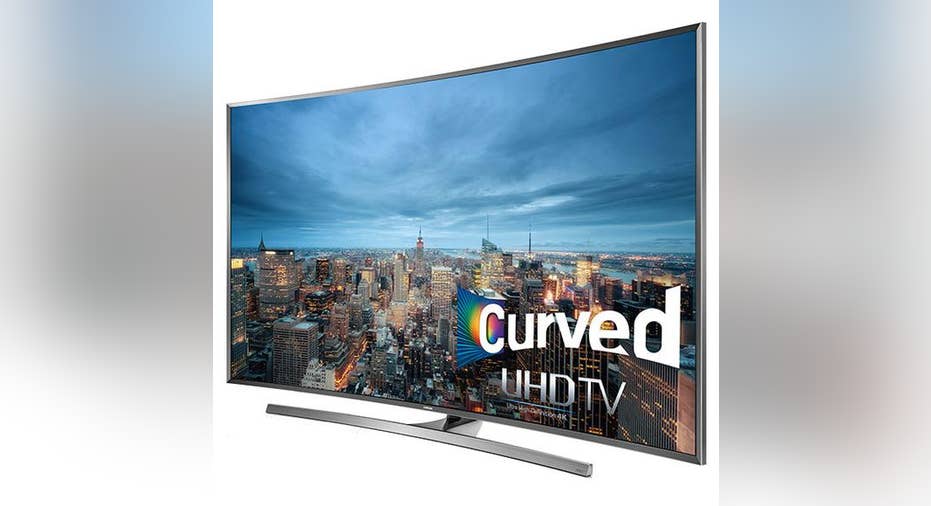 A Samsung TV. Photo: Samsung
When it comes to TVs, Samsung is dominant.
More than one third of the televisions sold in the U.S. during the month of October were made by the Korean tech giant. That helped the firm achieve record revenue: for the first time ever, Samsung sold more than $1 billion worth of TVs in North Americain a single month.
Samsung's share of the both the U.S. and the global TV market has been rising steadily over the last decade. As competition for the fate of the living room intensifies, Samsung's dominant market share could give it an advantage over firms looking to control the living room, including handset partnerAlphabet .
By the numbersSamsung, citing data from research firm NPD, said its share of the U.S. TV market rose to 35.1% in October. Its sets were even more popular in Canada, where it captured 38.4% of the market. Samsung cited a variety ofinitiativesto explain its success, including its partnership with Best Buy for dedicated Samsung TV shops (known as Samsung Entertainment Experience areas), a similar, smaller program with Wal-Mart, and its commitment to infusing its TVs with cutting-edge technology,includingHigh Dynamic Range (HDR).
TV prices havefluctuatedover the last decade, but even accounting for inflation, Samsung's surging sales are impressive. In September 2004, it sold only about $100 million worth of TVs in North America. Back then, the market was largely dominated bySony, along with firms such as Sharp and Panasonic. The transition to flat panelsbenefitedSamsung, and by 2006 it was the top seller of TVs in the world. In 2007, it captured about 12% of the global TV market. Last year, that figure rose to about 23%, according toWitsView.
Like smartphones, Samsung sells averitablecornucopia of televisions, targeting virtually every segment of the market. Size and quality varywidely, and if you're in the market for a new TV, Samsung probably has a model for you regardless of your budget -- some ofSamsung's sets cost under $200; others upwards of $100,000.
Samsung scorns Android for TizenSamsung has been making Internet-connected smart TVs for years. But in 2015, it made a fairly big change to its lineup: Samsung's smart TV sets are now powered by its mobile operating system, Tizen, the same operating system that Samsung uses for its smartwatches and some of its smartphones.
Samsung's Tizen TVs can access many of the most popular streaming video apps (including Hulu, HBO Go, and Amazon Video), and can (with Sony's PlayStation Now) play video games. Still, Tizen has its limitations. Reviewing Samsung's UNJU7100 for CNet, David Katzmaier wrote that "while Tizen is an improvement over the complexmulti-pagesystem Samsung used in the past...it's still not as good...as Android TV overall, and [is] a step or 10 behind Roku."
Sony, and a handful of other TVmanufacturers, have adopted Alphabet's competing Android TV for their smart TVs. Samsung has resisted, perhaps in part due to the pressure its smartphonebusiness has experienced in recent years. Samsung's use of Android for its handsets has left itvulnerabletobrutalprice competition from low-cost rivals.Establishing Tizen as its own platform could help ensure its smart TVs do not face the same threat.
Samsung will need to continue evolving the Tizen platform, and attract the interest of more third-party developers. But given its immense share of the TV market, it may be able to succeed.
The article Samsung is Dominating This Electronics Market (Hint: It's Not Smartphones) originally appeared on Fool.com.
Sam Mattera has no position in any stocks mentioned. The Motley Fool owns shares of and recommends Alphabet (A shares), Alphabet (C shares), and Amazon.com. Try any of our Foolish newsletter services free for 30 days. We Fools may not all hold the same opinions, but we all believe that considering a diverse range of insights makes us better investors. The Motley Fool has a disclosure policy.
Copyright 1995 - 2015 The Motley Fool, LLC. All rights reserved. The Motley Fool has a disclosure policy.