Salesforce.com Revenue Surges 27% as Management Raises Guidance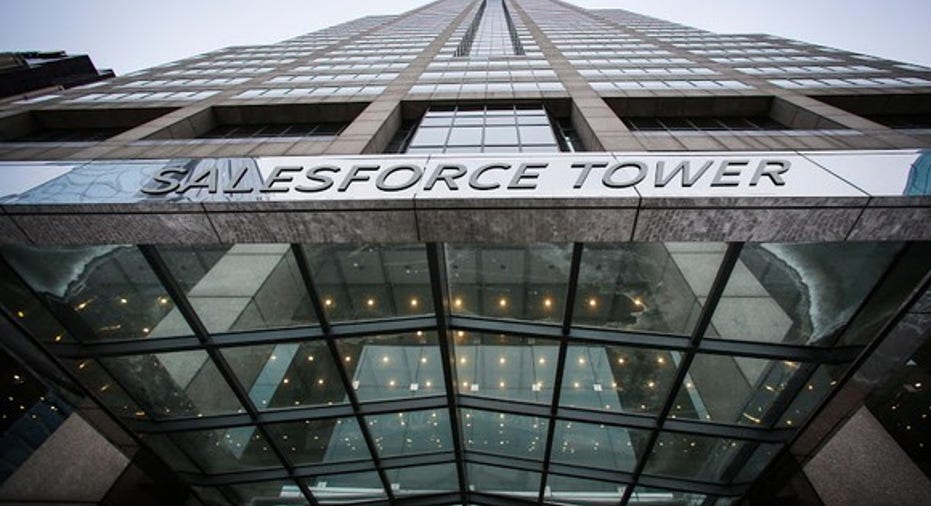 Image source: Salesforce.com
Salesforce.com reported fiscal 2016 first quarter results on May 18. The global leader in customer relationship management software delivered strong growth in sales and profits, and the company boosted its outlook for the year ahead.
Salesforce.com results: The raw numbers
| | Q1 2017 | Q1 2016 | YoY Growth |
| --- | --- | --- | --- |
| Revenue | $1.917 billion | $1.511 billion | 27% |
| Adjusted net income | $168 million | $108 million | 55% |
| Adjusted EPS | $0.24 | $0.16 | 50% |
Data source: Salesforce.com Q1 2017 earnings press release
What happened with Salesforce.com this quarter?
Total revenue surged 27% year-over-year to$1.92 billion, with subscription revenue jumping 26% to$1.78 billion and professional services revenue leaping 33% to$141 million. This strong performance is likely to continue in the quarters ahead, with Salesforce recording $4.01 billion in deferred revenue on its balance sheet as ofApril 30, representing an increase of 31% from the year-ago period. The company also ended the first quarter with $7.6 billion in unbilled deferred revenue -- essentially business that is contracted but not yet invoiced -- signifying year-over-year growth of 27%.
In a press release, COO Keith Block said:
Salesforce also continued to improve its profitability, with non-GAAP earnings per share -- which excludes stock-based compensation, acquisition-related expenses, income-tax adjustments, and certain other items -- soaring 50% to $0.24. And even more impressively, Salesforce ramped up its cash flow generation during the quarter.
"Operating cash flow grew 43% in the first quarterfrom a year ago, surpassing the$1billionquarterly milestone for the first time in our company's history," saidCFO Mark Hawkins. "We also expanded our non-GAAP operating margin by 283 basis points, which is our eighth consecutive quarter of year-over-year improvement."
Looking forward
Salesforce expects second quarter revenue of $2.005 billion to $2.015 billion, which would be an increase of 23% from the prior-year period. GAAP and non-GAAP earnings per share are forecasted to be in the ranges of$0.03 to $0.04 and $0.24 to $0.25, respectively. Deferred revenue is also anticipated to rise approximately 26% to 28% year-over-year.
On top of that, the company boosted its fiscal 2017 full-year guidance, including:
Revenue of $8.16 billion to $8.20 billion, up from previous expectations of $8.08 billion and $8.12 billion

GAAP earnings per share of $0.20 to $0.22, up from a loss of $0.02 to even

Non-GAAP earnings per share of $1.00 to $1.02 versus $0.99 to $1.01

And full-year operating cash flow growth of 25% to 26% vs. 23% to 24%
"We're thrilled that first quarter revenue growth accelerated to 28% year-over-year in constant currency," saidChairman and CEO Marc Benioff. "Given the strong response to our Customer Success Platform, we are raising our fiscal 2017 revenue guidance by $80 millionto reach$8.2 billionat the high-end of the range."
The article Salesforce.com Revenue Surges 27% as Management Raises Guidance originally appeared on Fool.com.
Joe Tenebruso has no position in any stocks mentioned. The Motley Fool owns shares of and recommends Salesforce.com. Try any of our Foolish newsletter services free for 30 days. We Fools may not all hold the same opinions, but we all believe that considering a diverse range of insights makes us better investors. The Motley Fool has a disclosure policy.
Copyright 1995 - 2016 The Motley Fool, LLC. All rights reserved. The Motley Fool has a disclosure policy.