Sales Tax Not a Big Factor in Consumer Buying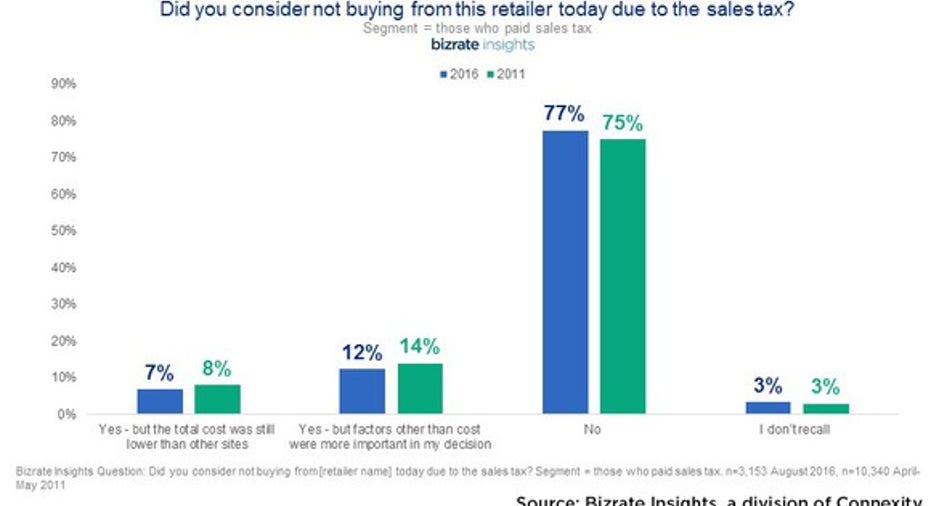 For years,Amazon.com(NASDAQ: AMZN) had a perceived advantage over traditional brick-and-mortar stores because the company did not charge sales tax.
Basically, the retailer used a loophole to get out of collecting the tax in most jurisdictions. As the company got bigger, however, lobbying from physical stores forced states to pressure Amazon into collecting taxes as any company would when operating in that state. Now, the online giant charges a sales tax when shipping to states that charge one where Amazon has a physical presence (a warehouse) -- 28 states in total, according to the company.
That change may have annoyed fans of the online retailer and it could have pushed some of them to smaller online outfits that slip through the sales tax cracks. Consumers, though, seemed to not really notice or care and Amazon made the change without seeing its business suffer.
It's possible that Amazon has such a strong reputation for offering good prices that consumers simply assumed they would still be getting a good deal even if they pay the sales tax. However, new research from Bizrate Insights [opens in PDF], a division of Connexity, suggests that the real reason the online giant did not take a big hit when it lost its tax advantage is that people don't factor in sales taxes when they make a buying decision.
How does sales tax impact buying choice?
While many smaller sites simply ignore requirements to collect sales tax (or believe they do not have to), Amazon has set the standard for larger pure-digital enterprises by charging the appropriate local sales tax. Now half of online buyers pay a sales tax, according to Connexity's Bizrate Insights' report, but having to pay it in general doesn't greatly influence which retailer shoppers consider.
The study shows that among the people who did not pay sales tax, only 40% would have considered it a factor in whether to make their purchase had it been charged. Nearly half (48%) of all buyers reported that a sales tax is "not generally something they consider when making a purchase," while only 15% of buyers said having to pay (or not pay) a sales tax may influence their choice of retailer.
A combined 29% of consumers considered sales tax on its own (6%) or sales tax as part of overall price (23%) as a factor in making a decision to purchase from an online retailer. That's down from 37% who considered it a factor in 2011 and again in 2013. In total, about 70% of consumers either do not factor in sales tax or they consider it but do not give it a high level of importance, according to the research.
"As the largest online retailers, such as Amazon, expand their distribution networks such that more and more online purchases become eligible for sales tax in addition to evolving sales tax laws most consumers are accepting the reality and considering additional factors as they choose where to shop," Bizrate Insights Vice President Hayley Silver said. "This slow move away from the race to the bottom price for the majority of online buyers should be welcome news for retailers who invest in the customer experience and exclusive products."
And, as you can see in the chart below, the vast majority of people who made an online purchase where sales tax was charged either don't think about it or they believe they are getting a better overall deal than they would elsewhere. But the research also showed that 17% of those who did not pay sales tax would have gone elsewhere had it been charged while another 36% would at least have considered it.
Bizrate conducts its studies using its proprietary survey platform, which is offered to online buyers immediately after purchasing from the Bizrate Insights Network of e-commerce retailers in the United States and Canada. For its sales tax report, data was collected from 6,216 online buyers from Aug. 1-4, 2016, 10,086 online buyers from May 1-9, 2013, and 34,022 online buyers from April 21-May 31, 2011.
Why is this important?
This is good news for Amazon and other big online retailers because it shows that online shoppers are not particularly conscious of paying a sales tax, and even when they are, they still assume the sites where they shop offer a good deal. Not charging a sales tax helped Amazon build its brand, but the company (and other online-only retailers, to a lesser extent) have built their value propositions so well that consumers assume they are paying less even when a sales tax is charged.
For smaller online players, this study may be a bit of a blow because while they may not have to charge a sales tax in most states (because they don't have physical stores or warehouses there), the public clearly does not care about that savings very much.
A secret billion-dollar stock opportunity The world's biggest tech company forgot to show you something, but a few Wall Street analysts and the Fool didn't miss a beat: There's a small company that's powering their brand-new gadgets and the coming revolution in technology. And we think its stock price has nearly unlimited room to run for early in-the-know investors! To be one of them, just click here.
Daniel Kline has no position in any stocks mentioned. He does not think about sales tax except when he makes a large purchase. The Motley Fool owns shares of and recommends Amazon.com. Try any of our Foolish newsletter services free for 30 days. We Fools may not all hold the same opinions, but we all believe that considering a diverse range of insights makes us better investors. The Motley Fool has a disclosure policy.