Rumor: Apple Inc. to Kill the iPad Mini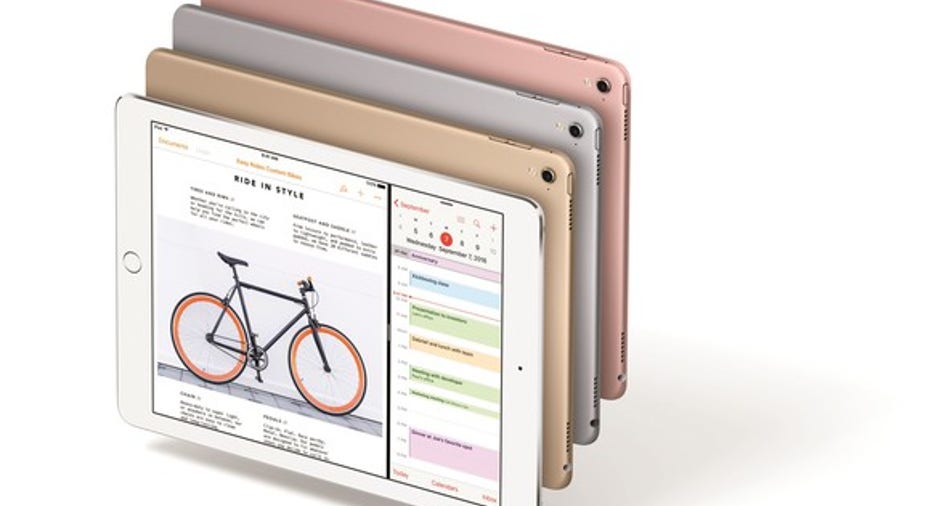 A report from BGR claims that Apple (NASDAQ: AAPL) intends to "phase out" the iPad Mini, citing a "source."
That source apparently told BGR that the iPad Mini has been "sized out of its own category" and indicated that iPad Mini sales data supports the company's plan to kill this product category.
Image source: Apple.
Here's why this report makes a ton of sense.
iPad Mini is cratering
Recall that Apple told investors that overall iPad unit shipments dropped 13% year over year last quarter, with revenue contracting 12% over that period (implying a slight boost to average selling prices).
On the conference call accompanying the earnings release, CFO Luca Maestri said that the company saw "iPad growth in the U.S. during the March quarter and revenue growth worldwide for [Apple's] 9.7-inch and larger iPads over the last four quarters."
In other words, the steep iPad-related declines that Apple has been suffering from over the last four quarters appear to have been due to a slump in iPad Mini sales rather than necessarily poor customer reception to larger iPad models.
Clearly, customers just aren't interested in the iPad Mini.
If customers don't want them, why make them?
Since customers don't seem to want to buyiPad Mini devices, why should Apple invest in building them?
Remember, it's not trivial for Apple to keep a product like the iPad Mini in the market. The company needs to invest engineering resources (both hardware and software) to maintain a robust pipeline of future iPad Mini products.
Not only is it a question of money (Apple can afford to spend whatever it needs to on product/service research and development), but it's a question of resource allocation. There's only a finite number of world-class product engineers, managers, and so on, and I suspect that a good deal of them already work for Apple.
It doesn't make sense for the company to deploy that valuable talent to work on products that aren't selling well today and will probably be selling worse tomorrow, when that talent could be working on higher-impact products such as next-generation iPhones, larger iPads, Macs, Apple Watches, and more.
Impact on Apple's financials
In terms of the impact on Apple's financials that the discontinuation of the iPad Mini would have, I think it'll go a little like the following.
The iPad Mini is already in a structural decline and the "simplification" of its product offerings to a single model -- the $399 iPad Mini 4 with 128 GB of storage -- should accelerate the decline in iPad Mini demand.
Then, within a year or so, Apple will probably just stop selling iPad Mini models altogether, and thanks to the above "simplification" of thatlineup, the year-over-year comparisons in going from offering a single, relatively expensive iPad Mini 4 model to offering no iPad Mini (but, presumably, an even more compelling family of larger iPad models) should be negatively impacted but not in a fashion that'll make it look like the bottom fell (further) out of the iPad business.
After the proverbial bandage is ripped off, though, year-over-year comparisons for iPad unit shipments and revenue should eventually begin to reflect only sales of larger iPad models. If the company can continue to grow sales of those devices, then the iPad business could return to growth. If not, then at the very least investors should hope that the business will show signs of stabilization.
10 stocks we like better than AppleWhen investing geniuses David and Tom Gardner have a stock tip, it can pay to listen. After all, the newsletter they have run for over a decade, Motley Fool Stock Advisor, has tripled the market.*
David and Tom just revealed what they believe are the 10 best stocks for investors to buy right now... and Apple wasn't one of them! That's right -- they think these 10 stocks are even better buys.
Click here to learn about these picks!
*Stock Advisor returns as of May 1, 2017
Ashraf Eassa has no position in any stocks mentioned. The Motley Fool owns shares of and recommends Apple. The Motley Fool has a disclosure policy.