Romney Win Could End Wall Street's Easy-Money Party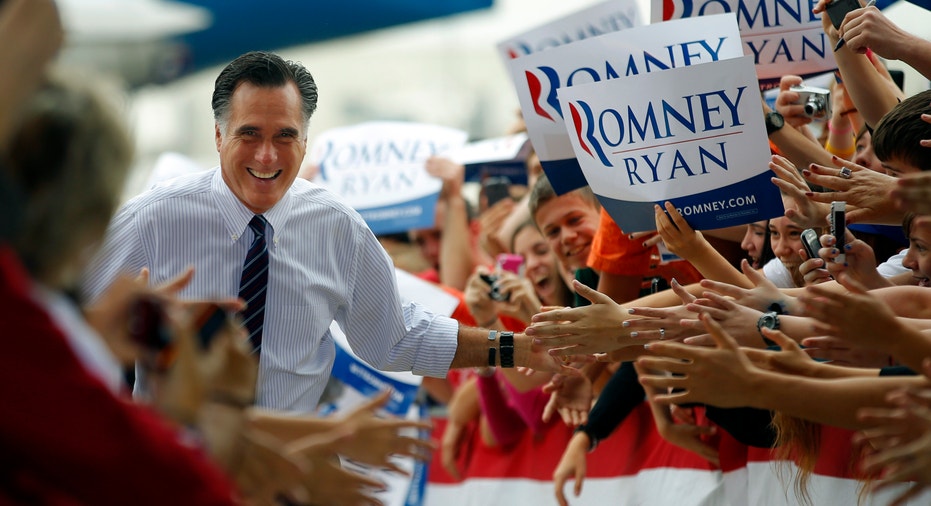 Some stock market prognosticators are envisioning a Romney Rally should the former Massachusetts governor pull off a win Tuesday night.
However, a defeat of President Obama would call into question one of the building blocks of Wall Street's meteoric rise from the 2009 lows: a steady stream of easy money from the accommodative Federal Reserve.
According to a recent survey by Barclays (NYSE:BCS), 32% of investors polled say tighter central bank policy is chief among their list of policy fears if Romney wins.
"It could have a chilling effect on market behavior," said Peter Kenny, managing director at Knight Capital Group (NYSE:KCG).
Romney has made it clear he opposes the easy-money policies of Fed chief Ben Bernanke, who has flooded the financial markets with cheap cash each time the economy and stock market have needed a jolt back to life.
A More Hawkish Fed?
Over the summer Romney reiterated to FOX Business his intent to find a new person to lead the Fed when Bernanke's term expires in 2014.
A number of potential Bernanke successors have emerged, headlined by Glenn Hubbard, Marty Feldstein and Harvard economist Greg Mankiw.
"Romney's economic advisors have been highly critical of Bernanke's unorthodox policies, and so a Romney pick would most likely dial Fed policy back towards a less dovish stance," analysts at Brown Brothers Harriman wrote in a note this week.
A less dovish central bank chief could quickly decide to turn off the easy-money spigot that has been helping to prop up stock prices.
"You cannot possibly overstate how important it is. It is an absolutely critical decision," said Nicholas Colas, chief market strategist at ConvergEx.
Ed Yardeni, president of Yardeni Research, argued in a note to clients that Hubbard and Feldstein haven't been "all that critical" of Bernanke -- Hubbard has actually endorsed Bernanke for a third term.
Yet Dallas Fed President Richard Fisher has been a staunch Bernanke opponent and he could also be a candidate for the top job should Romney win, Yardeni said.
Continuity Sought
Even if Romney unseats Obama, Bernanke doesn't need to pack his things just yet. His term doesn't expire until early 2014 and despite his criticism of the Fed chief, Romney wouldn't be able to fire Bernanke over his monetary policies.
Pointing to the deep skepticism of the Fed among some conservatives, Kenny said it's not inconceivable, though, that Bernanke decides to walk away even before his term expires if Romney wins.
Ultimately, Romney could decide to take a middle-ground approach to the Fed, tapping someone who will not stray too far from Bernanke but may simultaneously ease concerns within his own party about the central bank.
"Romney at the end of the day has such a strong track record in business that I'm sure he understands how important it is to have some continuity in Fed policy," said Colas.
Focus Shifting From the Fed?
Some believe the concerns about a Romney win introducing Fed uncertainty may be overblown.
While the Fed still plays an outsized role in the markets, its ability to jack up stock prices and lower already rock-bottom interest rates appears to be waning with each successive program.
After an enthusiastic response to the first round of quantitative easing that totaled $1.75 trillion, the reaction was more muted for the $600 billion QE2 and even quieter for the open-ended QE3 unleashed in September.
"There may be some waning of enthusiasm for Mr. Bernanke as a solid force the way Federal Reserve chiefs have been viewed in the past," said Bruce McCain, who helps manage more than $20 billion as chief investment strategist at KeyCorp.'s (NYSE:KEY) Key Private Bank.
That may be especially true just after the presidential election as Wall Street and Washington turn their attention to the looming fiscal cliff.
Failure to reach a compromise on this $600 billion batch of spending cuts and tax hikes threatens to send the U.S. economy into recession and the markets heading south.
"The question is whether or not most investors feel the problems of the economy can necessarily be solved with more money," said McCain. "Increasingly the focus is going to shift away from the Federal Reserve and what it can do to what the Congress and president will do with respect to deficits."
Assuming a decisive verdict is handed down Tuesday night, Wall Street, like much of the country, may just be relieved the seemingly endless 2012 race for the White House is finally over.
"I think there will be a rally almost regardless of who wins just because there will be some clarity," said Kenny. "We know what's ahead of us. We just don't know what policy is to tackle it."