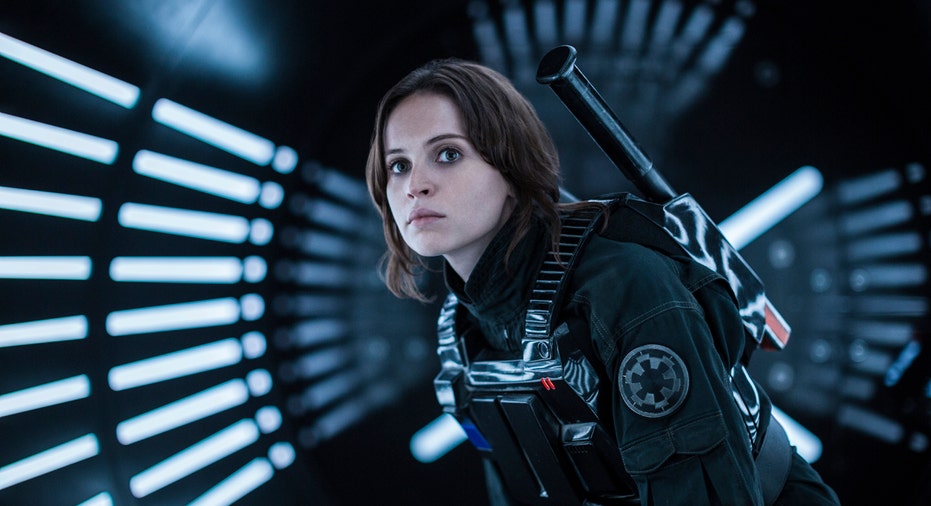 The new year at the box office is starting where 2016 left off: with Disney on top.
The "Star Wars" spinoff "Rogue One" led the box office for the third straight week, taking in an estimated $64.3 million during the New Year's weekend, according to studio estimates on Monday.
The success of Gareth Edwards's "Rogue One" has only further cemented a record year for Walt Disney Co., which ran up $2.7 billion in domestic ticket sales in 2016 and accounted for more than 25% of the market.
The weekend pushed the industry to $11.4 billion in ticket sales in 2016, topping the $11.1 billion record set in 2015.
In its second week of release, the animated "Sing," from Universal Pictures and Illumination Entertainment, again came in second with $56.4 million.
The poorly reviewed science-fiction romance "Passengers," starring Jennifer Lawrence and Chris Pratt, came in third with $20.7 million during the weekend. It's made $61.4 million thus far, a somewhat disappointing total for a film that cost north of $100 million to make.Another Disney title, "Moana," came in fourth with $14.3 million in its sixth weekend.
Fox's "Why Him," brought in $13 million during the four-day weekend.
A pair of Oscar contenders also is packing theaters.
Despite playing in more limited release, Damien Chazelle's Los Angeles musical " La La Land" grossed $12.3 million during the weekend. The lead Golden Globe nominee has grossed $37 million and yet is playing in only 750 theaters.
Denzel Washington's acclaimed August Wilson adaptation, "Fences," also took in $12.7 million over the weekend.
Since opening wide on Christmas, the Paramount release has made $32.4 million, making it one of the more lucrative stage-to-screen adaptations in recent years.