Rockwell Automation Q2 Earnings: Not Great, but Not Bad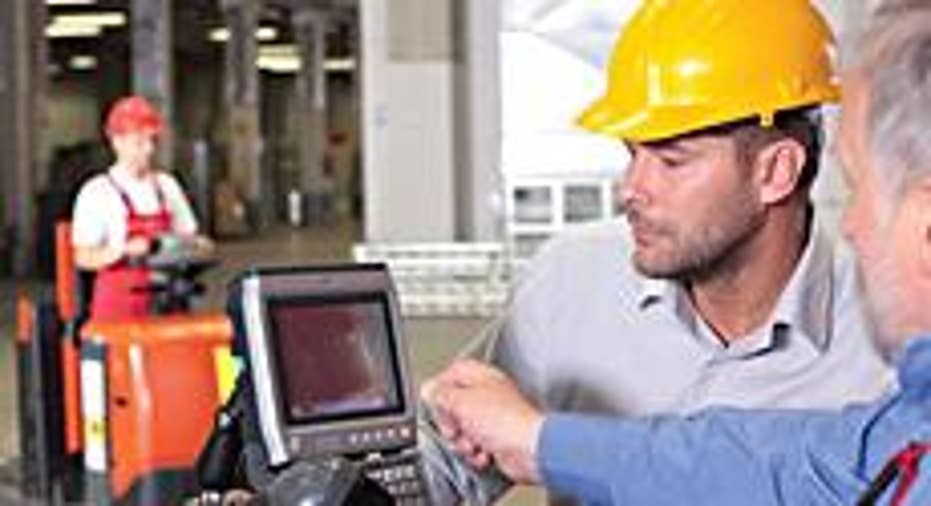 Image source: Rockwell Automation.
It would be far too harsh to call Rockwell Automation's second-quarter results bad. But they certainly weren't good, either. Here are the key numbers from the quarterly earnings release that you need to pay attention to.
Bottom and topRockwell reported adjusted earnings of $1.37 a share in its fiscal second quarter, down 14% from the prior year. Not so great. However, analysts had been expecting $1.33, so Rockwell did better than some had anticipated.
Revenues, meanwhile, were $1.44 billion, down around 7% from $1.55 billion in the year-ago period. Analysts had been calling for roughly $1.4 billion. So, on the whole, Rockwell manged to do pretty well compared with what industry watchers had been expecting.
The automation specialist bought 1.3 million of its own shares in the quarter, at a cost of around $126.5 million. With only about $200 million left in the current buyback program, the board decided to increase the plan by another$1 billion. That will allow the company to keep returning value to shareholders via stock buybacks through the rest of the year and beyond, assuming the current run rate stays about the same.
Image source: Rockwell Automation.
Now for some bad newsSo, stepping back, the big-picture numbers look pretty good, given the market environment. However, there's some bad news to watch here, too. For example, organic sales declined 3.6%. Basically, the company's markets aren't doing as well as they have in the past. CEO Keith Nosbusch noted heavy industry, specifically the oil and gas space, as a weak spot. In fact, the downturn in this area offset modest strength in consumer and automotive products.
A couple of other less than inspiring facts: The strong dollar remains a headwind, and operating margins were a little weaker than anticipated. The latter came in at 19.3%, down from operating margins of 21.6% a year ago.
To be fair, Rockwell is holding up very well in difficult market. For example, fellow industrial giant ABB saw its top line drop 8% year over year in its most recent quarter, with a notable 11% drop in orders. The tag line that ABB affixed to its results was "progress in challenging times." That's just four words, but it says a lot about what's going on in the industrial space today and why you shouldn't be overly concerned about ABB and Rockwell's results -- they're both showing strength in the face of adversity.
The future for RockwellSo a mixed bag in the quarter for Rockwell, but what about the second half of the fiscal year? At this point, Rockwell isn't seeing anything that has changed its outlook. The company is still calling for 2016 sales of $5.9 billion. Included in that number is a currency drag of around 3% and organic sales declines of between 1.5% and 4.5%. It did narrow its earnings guidance to a range of $5.75 to $6.15, however. Through the first half of its fiscal year, its adjusted earnings are $2.86 a share, so the second half should be stronger than the first if those numbers hold.
Revisiting stock buybacks for a moment, you could easily argue they aren't the best call right now. The company's shares are up roughly 25% since mid-January and about 13% for the year. In fact, after the strong advance, the shares are only off about 9% from the highs reached in 2014. Indeed, it might make sense to look for more acquisitions in this tough industrial market, as opposed to buying back more stock. In other words, the stock buyback plan is nice to see, but investors might be better off if management used its cash in a different way -- more of a judgment call than anything else, but still worth keeping in the back of your mind.
When all is said and done, it wasn't a great quarter for Rockwell. That, however, was pretty much the expected outcome. And despite the market headwinds, the automation specialist is holding up well -- which is the good news. In fact, it's kind of hard to complain about a company that expects to earn $5.75 a share, on the low end, in a bad year.
The article Rockwell Automation Q2 Earnings: Not Great, but Not Bad originally appeared on Fool.com.
Reuben Brewer has no position in any stocks mentioned. The Motley Fool has no position in any of the stocks mentioned. Try any of our Foolish newsletter services free for 30 days. We Fools may not all hold the same opinions, but we all believe that considering a diverse range of insights makes us better investors. The Motley Fool has a disclosure policy.
Copyright 1995 - 2016 The Motley Fool, LLC. All rights reserved. The Motley Fool has a disclosure policy.