Robert Half International Earnings: What They Say About the Economy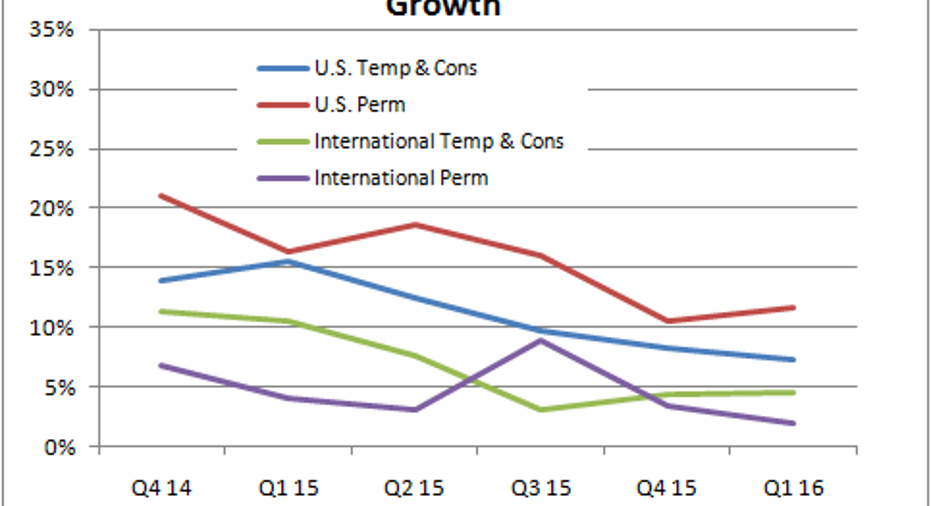 Staffing company Robert Half International's results are always interesting because they offer a lot of color on prospects for the global economy. Simply put, there aren't many better gauges of economic growth than employment trends. The company's first-quarter earnings and guidance indicate a moderately growing economy beset with caution on behalf of employers and characterized by unevenness in demand. It's OK, but it could be better.
Robert Half International first quarter: The raw numbers The key figures:
Net service revenue of $1.303 billion compared to previous guidance for $1.270 billion to $1.330 billion
Diluted net income per share of $0.64 compared to guidance for $0.61 to $0.67
In short, revenue and earnings came in line with management's guidance. Turning to management's expectations for the second quarter:
Net service revenue for $1.235 billion to $1.385 billion, implying growth of 6% at the midpoint
Income per share for $0.70 to $0.76, implying growth of 8% at the midpoint
Revenue guidance for the second quarter implies a slowing in the growth rate to 6% from the 8% reported in the first quarter.
What happened within the quarter? On a slightly disappointing note, growth appeared to slow during the quarter. On the earnings call, management outlined how global temporary and consulting staffing revenue growth slowed to 6.3% as it exited the March quarter (compared to a growth rate of 6.7% in the quarter). Growth in the first two weeks of April was only 5.5%.
Moreover, CFO Keith Waddell disclosed that "global permanent placement revenue growth rates accelerated during the first part of the quarter then moderated thereafter, with March revenues growing 1.5% compared to 8.6% for the full quarter."
It's probably not a good idea to draw hard conclusions from a week's trading figures, but there is little doubt that the environment remains one of moderate growth.
What management saidAs ever when Robert Half reports, analysts want to hear management's view on the employment cycle. In order to explain their response, here is a chart comparing temporary and consultant staffing trends with permanent.
In usual recoveries, the economy accelerates to a point whereby permanent employment growth rates start to significantly exceed temporary growth -- the reason being that temporary employment declines relativelyless than permanentin the slowdown. When the economy eventually recovers strongly, companies feel more comfortable in making permanent hires, and permanent growth rates tend to be very strong due to easier comparisons.
As you can see below, as yet, U.S. perm isn't significantly outpacing temporary hiring, and internationally, permanent employment hiring growth iscurrently trending below temporary growth -- this isn't a roaring global economy.
DATA SOURCE: ROBERT HALF INTERNATIONAL PRESENTATIONS.
Addressing this issue, CEO Max Messmer declared that the typical "white-hot hyper demand" generating "very high double-digit" growth rate for permanent placement "hasn't happened and notwithstanding the fact that we're in year seven or whatever of this cycle." He went on to say that he still wasn't seeing it and that "instead we continue to slug it out in this relatively sluggish macro environment."
In addition, Messmer talked of clients being cautious due to macroeconomic uncertainty and sales cycles lengthening (something that reduces growth at Robert Half) even in areas of relative strength such as finance, accounting, and technology.
Looking ahead Notwithstanding the remarks on linearity in the quarter (Robert Half finished the quarter with a weaker growth rate than that recorded during the quarter) and ongoing sluggishness in the economy, the company continues to generate solid revenue and earnings growth.
Going forward, Robert Half's prospects will remain tied to the economic cycle. If growth improves, then its permanent staffing solutions could benefit disproportionately, but for now, its temporary and consultant staffing operations remain the key to its earnings.
The article Robert Half International Earnings: What They Say About the Economy originally appeared on Fool.com.
Lee Samaha has no position in any stocks mentioned. The Motley Fool recommends Robert Half International. Try any of our Foolish newsletter services free for 30 days. We Fools may not all hold the same opinions, but we all believe that considering a diverse range of insights makes us better investors. The Motley Fool has a disclosure policy.
Copyright 1995 - 2016 The Motley Fool, LLC. All rights reserved. The Motley Fool has a disclosure policy.