Rintega Loss Casts Shadow on Celldex Therapeutics' Q1 Results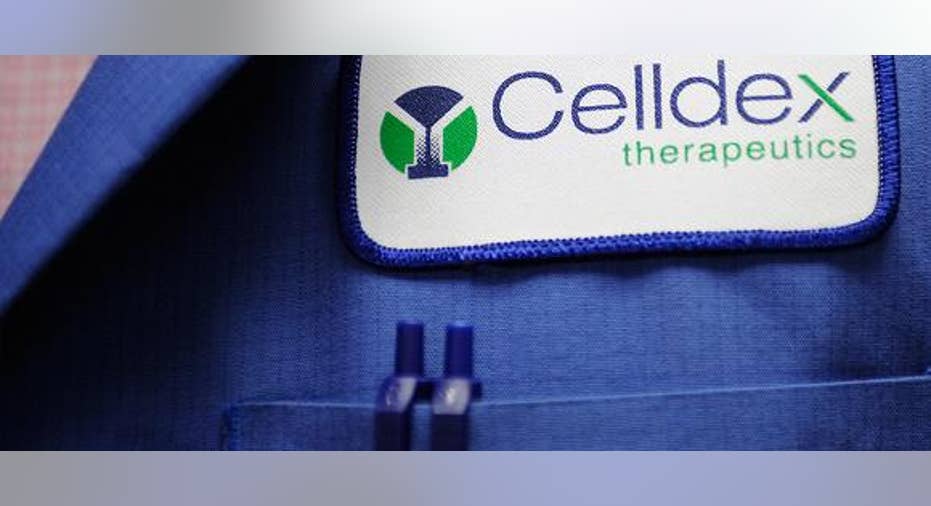 Image Source: Celldex Therapeutics.
Celldex Therapeutics stock is now valued around 75% below where it started 2016. So when the clinical-stage biotech announced its first-quarter results on Thursday, investors were hoping for some positive news.
Were there any bright spots in those results? Here are the highlights.
Celldex results: The raw numbers
| | Q1 2016 Actuals | Q1 2015 Actuals | Growth (YOY) |
| --- | --- | --- | --- |
| Revenue | $1.3 million | $0.5 million | 160% |
| Net Loss From Continuing Operations | ($34.7 million) | ($30.2 million) | (14.9%) |
| Net Loss Per Share | ($0.35) | ($0.33) | (6.1%) |
YOY: Year over year. Data Source: Yahoo Finance!
What happened with Celldex this quarter?The big news for Celldex in the first quarter related to the canceled phase 3 clinical trial for Rintega. Without the promise of Rintega, Celldex suffered an enormous setback.
However, the biotech has other candidates in its pipeline. Highlights from those programs from Celldex's first-quarter update include:
Completed enrollment for the phase 2 study of glembatumumab vedotin (glemba) in metastatic melanoma.
Continued patient enrollment in the phase 2b clinical trial for glemba in treatingmetastatic triple-negative breast cancers.
Opened patient enrollment in April for thephase 2 portion of a clinical study targeting multiple cancers using a combination of varlilumab (varli) and Bristol-Myers Squibb's Opdivo.
Presented data in April from the phase 1 study of varli and Opdivo targeting treatment of solid tumors.
Enrolling patients in several other studies of varli, including a phase 1/2 study of varli and Roche's atezolizumab.
On the financial front, Celldex's jump in revenue stemmed primarily from the company's collaboration with Bristol, a research and development deal with Rockefeller University, and an increase in grant revenue. The most important financial news for the biotech, though, was its cash position. Celldex reportedcash, cash equivalents, and marketable securities of $254 million at the end of the first quarter. The company says that that amount should fund operations through the first half of 2018.
What management had to sayCelldex president and CEOAnthony Marucci focused on the positives, despite the bad news from earlier this year. Marucci stated:
Looking forwardAlthough the disappointment with Rintega certainly stung, Celldex has several things going for it in the days ahead. Its cash stockpile puts the small biotech in better shape than many of its peers. Anthony Marucci said that the company thinks the cash position should allow Celldex to not only complete current studies, but also initiate some new studies.
The partnership with Bristol-Myers Squibb is another plus. Bristol's Opdivo looks to be a big winner. Opdivo raked in $475 million in its first full year on the market. If the varli/Opdivo combo study proves successful, it would be huge for Celldex.
Glemba and varli aren't the only candidates in Celldex's pipeline. The biotech also has two other cancer drugs -- CDX-401 and CDX-301.
All in all, Celldex still has a pretty strong pipeline. Investors would have loved for Rintega to have advanced to market, but every biotech faces the risk of clinical failures. The key for Celldex now is to forge ahead with its other assets. And that's exactly what the company plans to do.
The article Rintega Loss Casts Shadow on Celldex Therapeutics' Q1 Results originally appeared on Fool.com.
Keith Speights has no position in any stocks mentioned. The Motley Fool recommends Celldex Therapeutics. Try any of our Foolish newsletter services free for 30 days. We Fools may not all hold the same opinions, but we all believe that considering a diverse range of insights makes us better investors. The Motley Fool has a disclosure policy.
Copyright 1995 - 2016 The Motley Fool, LLC. All rights reserved. The Motley Fool has a disclosure policy.