Rig Company Stocks Got Big Bumps From OPEC and Trump in November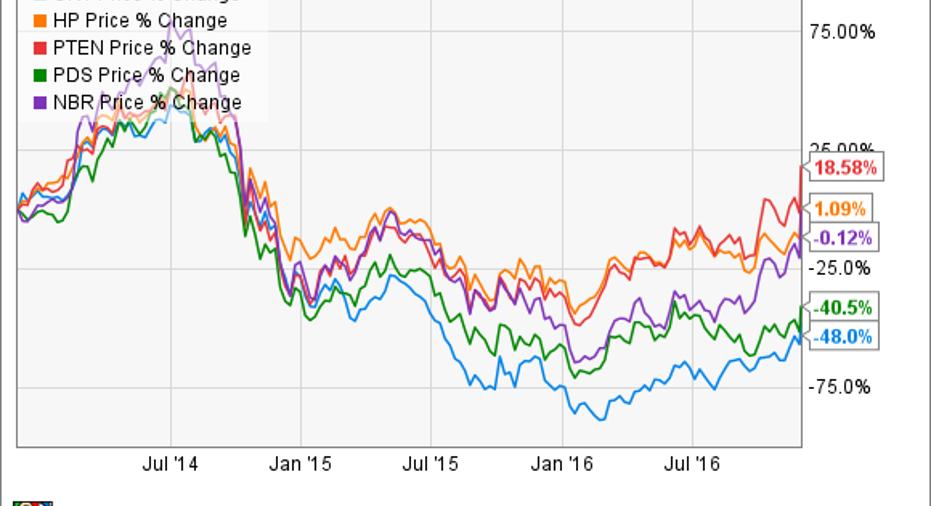 Image source: Getty Images.
What happened?
This past month was a great time to be invested in the energy industry in general, but land rig drilling companies were some of the biggest beneficiaries of the big stock bumps following the election of Donald Trump and the end-of-month announcement that OPEC would be cutting production. Here's a list of the land drilling companies that all saw larger than double-digit price movements in November
Company

Price Change

Unit Corporation

(NYSE: UNT)

38.4%
Nabors Industries

(NYSE: NBR)

36.3%
Patterson UTI Energy

(NASDAQ: PTEN)

20.5%
Precision Drilling

(NYSE: PDS)

19.3%
Helmerich & Payne

(NYSE: HP)

18.8%
So what?
Talk about a change in investor sentiment. Let's be clear before the jump, here, everything that moved these stocks this past month has much more to do with sentiment and some actions that preclude better times ahead rather than direct actions, like new contracts or whatnot. That being said, the things that have happened recently suggest better times are ahead.
Let's start with the stock price jump caused by the election of Donald Trump as the next president of the United States. There were a lot of speculative bumps after Donald Trump was elected, and rig companies got a bump from the idea that Trump will loosen regulations for oil and gas drilling in the U.S., which would lead to more drilling activity. However, the rather vague action items Trump has so far given mean it's hard to disseminate exactly what this would mean for the industry.
The real news that has sent these stocks soaring last month came just a few days ago, when the Organization of Petroleum Exporting Countries agreed to a production cut that totaled 1.2 million barrels per day. This should help clear the glut of oil supply and, as a result, raise prices. In response, there is the expectation that drilling activity will increase, which will in turn lead to more contracts for all of these companies.
Now what?
One immediate reaction to seeing price jumps like these is to assume that they have all become a little overvalued; year-to-date returns for these companies have been quite fantastic. That being said, almost all of these companies are still well below their highs in 2014, when drilling activity was at its peak. So, it's very possible there is more room to run for these companies.
That being said, not all of these companies will benefit as much as the others. One thing that has changed over the past two years has been a greater focus on improved well economics and drilling to generate returns rather than simply to grow production. Producers are finding that using higher-specification rigs means they can drill fewer total wells and generate similar production.
This means two things. One, total drilling activity won't likely be as robust as it was back in 2014, so fewer total rigs will be used, and two, only those companies with fleets of high-specification rigs will do well. Based on that, it would appear that Helmerich & Payne is in the best shape in this regard, with Patterson UTI and Nabors tied for a distant second.
Image source: Helmerich & Payne investor presentation.
For those without robust fleets of high-spec rigs, there's likely some catching up to do. For investors, this means that there will probably be a big shake-up among rig companies in the coming quarters.
10 stocks we like better than Helmerich and Payne When investing geniuses David and Tom Gardner have a stock tip, it can pay to listen. After all, the newsletter they have run for over a decade, Motley Fool Stock Advisor, has tripled the market.*
David and Tom just revealed what they believe are the 10 best stocks for investors to buy right now...and Helmerich and Payne wasn't one of them! That's right -- they think these 10 stocks are even better buys.
Click here to learn about these picks!
*Stock Advisor returns as of November 7, 2016.
Tyler Crowe has no position in any stocks mentioned.You can follow him at Fool.comor on Twitter@TylerCroweFool.
The Motley Fool has no position in any of the stocks mentioned. Try any of our Foolish newsletter services free for 30 days. We Fools may not all hold the same opinions, but we all believe that considering a diverse range of insights makes us better investors. The Motley Fool has a disclosure policy.