Revisit Gold Miners ETFs This Quarter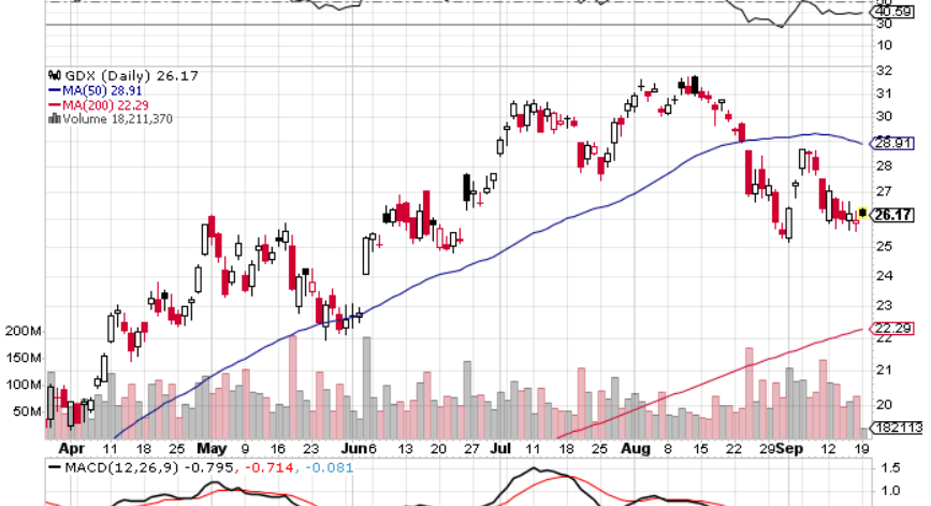 Gold miners exchange traded funds, such as the VanEck Vectors Gold Miners ETF (NYSEArca: GDX) and the VanEck Vectors Gold Miners ETF (NYSEArca: GDXJ), are still among this year's best-performing non-leveraged ETFs and that theme could continue in the fourth quarter, particularly if the Federal Reserve does not move forward with an interest rate hike.
The Federal Reserve is seen as the primary culprit behind the recent struggles faced by gold and the related mining ETFs. The Fed meets later this week and some traders are still wagering that the U.S. central bank could unveil its first interest rate hike of 2016.
SEE MORE: 4 Gold ETFs to Diversify a Multi-Functional Portfolio
Gold has enjoyed greater demand in a low interest-rate environment as the hard asset becomes more attractive to investors compared to yield-bearing assets. However, traders lose interest in gold when rates rise since the bullion does not produce a yield.
On the other hand, there is a school of thought that the Fed is now boxed into a corner and will not be able to raise rates this quarter even though some members of the central bank want that to happen.
"Poor data continues to come in, and that's helped keep gold prices above the $1,300 per ounce mark. That price point is seen as critical for the miners of the precious metal. All the miners have a price floor called "all-in sustaining costs," and $1,300 per ounce is well above the major miners costs," reports InvestorPlace.
However, it must be noted that the Fed did not give a specific timeframe for when it could raise rates again. As investors have already learned this year with gold and gold miners, the longer rates stay low, the better for gold-related assets.
SEE MORE: 31 Gold ETFs Investors Should Size Up
Leveraged answers to NUGT and JNUG include the Direxion Daily Gold Miners Bull 3X Shares (NYSEArca: NUGT) and the Direxion Daily Junior Gold Miners Index Bull 3X Shares (NYSEArca: JNUG).
Gold miners currently trade at about a 59% discount to gold prices since 2009, have a price-to-book value of 1.0x and an average dividend yield of 2.8%, which makes the sector look attractive from a valuation standpoint.
VanEck Vectors Gold Miners ETF
This article was provided by our partners at ETFTrends.