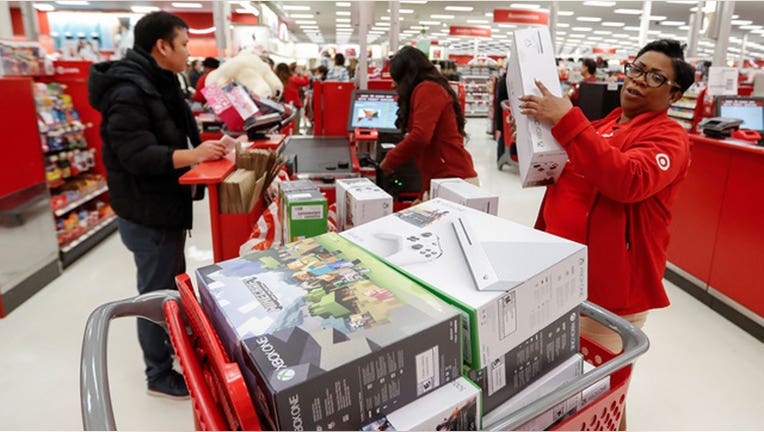 Retailers dangled hefty discounts--on their websites Thursday and in their stores early Friday--as they waged a high-stakes battle with Amazon.com Inc. and other rivals to capture as much spending as they could during the Black Friday shopping spree.
Millions of Americans left family Thanksgiving gatherings to visit malls and shopping centers, often with smartphones in hand to check prices, to scoop up flat-screen televisions, toys and other gifts that retailers have been promoting for days.
Target Corp. CEO Brian Cornell said Thursday evening that he was "very encouraged by the initial response," particularly to toys and Apple Inc. products. He noted that hoverboards sold out early online and highlighted the success of a $10 giant teddy bear.
"So far, the most encouraging trend we are seeing is that while door-busters continue to be important," Mr. Cornell said, "once guests are there, they are shopping multiple categories."
For brick-and-mortar retailers, the challenge is to draw more shoppers into their stores on a chaotic day marred by long lines and crowded parking lots. Last year, more people shopped online than in stores during the Thanksgiving weekend, according to the National Retail Federation.
Online shopping was on pace to reach $2 billion on Thanksgiving Day, up 16% from a year ago, according to Adobe Systems Inc., which tracked visits to e-commerce sites. But the revenue gains were muted by hefty price cuts, especially on electronics, Adobe said. Tablets, for example, were being discounted 25% on average Thursday, compared with 12% a year earlier.
At a Wal-Mart Stores Inc. location in Washington, D.C., on Thursday evening, many shoppers said they often make purchases online but were motivated to head to the store for a specific deal or just to pass the time between Thanksgiving events.
Jose Francisco was hoping to buy some electronics at Wal-Mart that he said were a few dollars cheaper than at Best Buy. "I planned ahead," said the 30-year-old who lives in Germantown, Md., as he scrolled his smartphone for online prices.
However, Amazon will still get a large chunk of his holiday budget, he said, based on lower prices for videogames for his nephew. "I have another list for that," said the photographer and Uber driver.
Across the industry, retailers released advertisements of their biggest deals three days sooner this year on average than last, according to Market Track LLC, which analyzed emails, social media and retail websites. And the volume of emails that retailers sent to customers who opted to receive them increased 15% from Oct. 1 through Nov. 19, compared with the same period a year earlier, Market Track found.
Consumer spending has been healthy this year, boosted by high employment and rising wages. While there remain pockets of weakness, especially among teen-apparel retailers and department stores, many chains--including Home Depot Inc., TJX Cos. and Best Buy Co.--reported healthy sales gains in the latest quarter. The Commerce Department said U.S. retail sales through October logged the strongest two-month stretch in the past two years.
In an effort to hold off advances from online rivals such as Amazon, traditional retailers have been moving discounts earlier in the month, linking their stores and websites more closely and finding ways to capitalize on the rise in mobile shopping.
"Bricks-and-mortar stores are pulling out all the stops," said Pete Madden, a director in the retail practice at consulting firm AlixPartners. "They are making it clear they won't be beat on price, service or products."
This year, shoppers are expected to spend $27 billion on the Friday after Thanksgiving, according to consulting firm Customer Growth Partners, making it the second-biggest U.S. shopping day of the year--behind Super Saturday, which falls the weekend before Christmas.
But Black Friday is no longer a one-day event; promotions are increasingly spread throughout November, as traditional retailers try to match more nimble online rivals.
Toys "R" Us made its Black Friday deals available to online shoppers on Wednesday night, before stores opened at 5 p.m. on Thanksgiving.
Kohl's for the first time made "door-buster" deals normally reserved for in-store shoppers such as a $250 Samsung TV and a $130 Fitbit wristband available online, starting at midnight Thursday, before stores opened at 6 p.m. that day.
Amazon started its deals on Nov. 1. The web giant is offering new discounts every day, sometimes as often as every five minutes, through Dec. 22. In preparation for the holidays, Amazon expanded its product offerings by 30%, the equivalent of 3.6 million new products, according to 360pi, a retail pricing- and assortment-tracking firm.
The risk is that early spending will pull dollars from later in the season. That pattern has occurred over past Thanksgiving weekends, as more stores opened on Thursday and siphoned sales from Friday.
As a result, more retailers and malls stayed closed on Thanksgiving this year, including Hhgregg, Office Depot, the Mall of America and many malls owned by CBL & Associates Properties.
The National Retail Federation forecasts total holiday shopping will rise 3.6% to $655.8 billion from a year ago, with 137.4 million people shopping in stores and online during Thanksgiving weekend alone.
In what some analysts have dubbed the "Trump Bump," they are hopeful that President-elect Donald Trump will stimulate the economy and lower taxes, which means "a large segment of the population that was previously reluctant to spend," Citi analyst Paul Lejuez wrote in a research note, "now feels better."
This year, 23% of Americans plan to shop in stores on Black Friday, according to a survey conducted by Bankrate.com, a financial-services company.
"This is my first Black Friday experience," said John Hanford, as he scanned a pallet of toys at a Wal-Mart in Washington. The 62-year-old was lured to the store by a 5-foot plush teddy bear sold for $20, a perfect gift for his 92-year-old mother. "This is the biggest teddy she could possibly get."
He sneaked away to the store between Thanksgiving events, dropping off his family at a second meal. "It's such a huge gathering they won't even know I'm not there," he said.
Write to Sarah Nassauer at sarah.nassauer@wsj.com, Suzanne Kapner at Suzanne.Kapner@wsj.com and Khadeeja Safdar at khadeeja.safdar@wsj.com