Restoration Hardware Cuts Its Holiday Outlook, Hopes for 2017 Rebound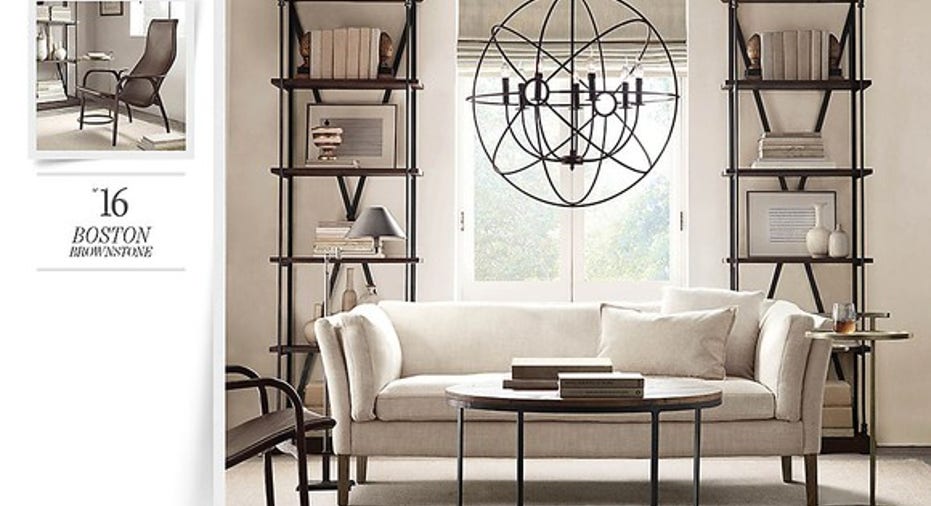 Turnaround efforts always take time, and home-furnishings retailer Restoration Hardware (NYSE: RH) has worked harder than many companies at trying to get itself moving in the right direction. After going up against industrywide challenges as well as its own specific headwinds, Restoration Hardware has made massive efforts to reinvent its business and find new growth avenues. Coming into Thursday's fiscal third-quarter financial report, Restoration Hardware investors fully expected a slight downtick in sales and a big hit to its bottom line, and the retailer's numbers were actually slightly better than most were looking to see. Yet reduced outlooks for the key holiday season did come as a shock and sent the stock reeling. Let's look more closely at Restoration Hardware to see what we can learn from its latest numbers.
Image source: Restoration Hardware.
Restoration Hardware gives investors its latest numbers
Restoration Hardware's third-quarter results were relatively solid in the context of expected turbulence. Revenue actually grew by 3% to $549.3 million, which was quite a bit better than the 1% decline that most of those following the stock were expecting to see. However, adjusted net income fell by more than two thirds to $8 million, and that produced adjusted earnings of $0.20 per share, $0.04 better than the consensus forecast among investors.
Taking a closer look at the numbers, Restoration Hardware continued to see some mixed performance. Comparable brand revenue fell 6%, doubling the rate of decline from the second quarter. Retail locations saw better sales growth at 9%, but direct revenues were down 3% from the year-ago period. That continues to fly in the face of other retailers, many of whom are seeing much larger sales from online channels at the expense of in-store revenue.
The big culprit for Restoration Hardware, though, was a big jump in costs. Gross margin fell by nearly four percentage points to 325 as cost of goods sold grew at a much faster pace than revenue. Moreover, overhead expenses were considerably higher as well, posting 10% gains from the year-ago period. The net result was operating income that fell by two-thirds from 2015's third quarter, and higher interest expense ate up most of the rest of Restoration Hardware's profit.
CEO Gary Friedman tried to put a positive spin on the news, even though he expressed some disapopitnment as well. "As previously communicated," Friedman said, "we are making several strategic investments and changes to our business model in fiscal 2016 that are temporarily depressing financial results in the short term, that we believe will strength our brand and position the business for accelerated growth in 2017 and beyond." The CEO pointed to the launch of its RH Modern line, movement to a membership-based model, and cutting inventory levels as ways to promote long-term growth.
Why Restoration Hardware's future is getting cloudier
Nevertheless, Restoration Hardware is more pessimistic about its near-term prospects. In Friedman's words, "We are lowering our outlook for fiscal 2016 net revenues and adjusted EPS based on trends to date during the fourth quarter." The CEO pointed to the election as a cause of weaker business, along with its late delivery of its Source Book catalogs to customers. Moreover, seasonal merchandise will have to get discounted sharply to support sales of the holiday collection.
In particular, fourth-quarter revenue is expected between $562 million and $592 million, far less than the $638 million consensus forecast. Earnings of $0.60 to $0.70 per share would be 35% to 45% below investor expectations as well. For the full year, Restoration Hardware cut its earnings guidance to $1.19 to $1.29 per share, down roughly $0.40 to $0.50 per share from previous predictions, and net revenue will be flat to up just 1%, rather than posting 1% to 3% growth as Restoration Hardware expected earlier.
Last but not least, the company announced that beginning next month, it will change its official corporate name to RH. On one hand, changing the name will take away some of the ambiguity that the current brand has, with some confusion over whether the retailer is a hardware store. Yet RH certainly isn't going to give potential new customers any clue what the company does and will force at least some rebranding efforts with associated costs. Overall, it's hard to see how the new name will help anyone -- other than perhaps those who write about the stock, who will prefer the short two-letter name over repeatedly typing the 19 letters in "Restoration Hardware."
Restoration Hardware investors responded negatively to the news, sending the stock plunging 19% in after-hours trading following the announcement. Whatever you call the company, RH is running out of time, and if it can't make good on its promises to take the 2016 rebuilding year and turn it into a successful 2017, then investors might well run out of patience as well.
10 stocks we like better than Restoration Hardware When investing geniuses David and Tom Gardner have a stock tip, it can pay to listen. After all, the newsletter they have run for over a decade, Motley Fool Stock Advisor, has tripled the market.*
David and Tom just revealed what they believe are the 10 best stocks for investors to buy right now... and Restoration Hardware wasn't one of them! That's right -- they think these 10 stocks are even better buys.
Click here to learn about these picks!
*Stock Advisor returns as of Nov. 7, 2016
Dan Caplinger has no position in any stocks mentioned. The Motley Fool recommends Restoration Hardware. Try any of our Foolish newsletter services free for 30 days. We Fools may not all hold the same opinions, but we all believe that considering a diverse range of insights makes us better investors. The Motley Fool has a disclosure policy.