Restaurant Slump? Don't Tell That to Dave & Buster's Entertainment, Inc.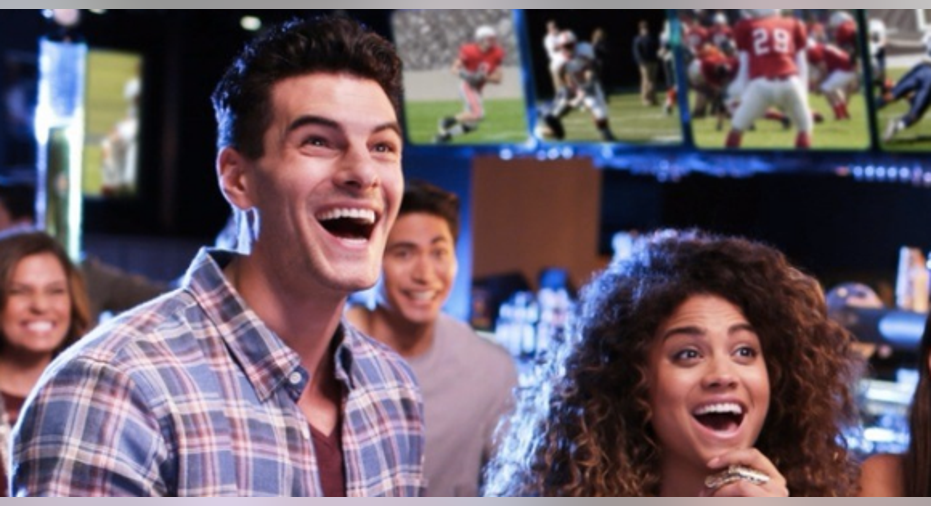 Image source: Dave & Buster's.
It hasn't been a great year for publicly traded restaurants. Whether it be a fast-food chain, fast-casual, or a traditional sit-down establishment, the numbers haven't been pretty so far in 2016. But don't tell that to Dave & Buster's (NASDAQ: PLAY): The company just produced a blowout quarter that beat expectations and raised full-year guidance, sending shares up as much as 16% on Wednesday.
Dave & Buster's results: The raw numbers
We'll get into the specifics of the quarter and what made it so exceptionally good below. But first, let's review the headline numbers.
Data source: SEC filings. N/A = not applicable due to negative free cash flow for one of the comparable quarters.
It's worth noting that both revenue and EPS came in ahead of both the company's and analysts' expectations.
The key number that many investors were rightly focused on, however, was comparable-store sales (comps). Last quarter, the figure grew by just 1%, and as you can see below, it was showing signs of a significant slowdown.
Data source: SEC filings.
The reversal of fortune in the most recently reported quarter caught many off guard in the investing community and points to the real strength of the company's differentiated offering.
Digging into the numbers
There were two levers that helped the company perform so well during the quarter: the aforementioned comps growth and a revenue mix that shifted toward amusement purchases over food and beverage.
The company's press release said comps growth "was driven by a 5.7% increase in walk-in sales and a 7.6% increase in special events sales." Expanding further on why results were so strong, CEO Steve King said, "Guests responded well to the conclusion of our 'Summer of Games' promotion, along with our subsequent football-related promotions."
Perhaps the decline in NFL ratings has less to do with waning popularity and more to do with people simply watching the games at Dave & Buster's!
Net margins for the company almost doubled, from 2.4% during the third quarter last year, to 4.7% during the most recent quarter. Speaking on that topic, CFO Brian Jenkins said, "Our third quarter margin improvement represented our best performance this year as we continued to leverage our operating costs and benefited from the ongoing mix-shift to the higher-margin amusement category."
In fact, during the company's conference call, King said that while the company is focusing on both the food and beverage offerings as well as entertainment, "we consciously are not doing anything that would shift revenue to food and beverage at the expense of amusement sales."
The outlook is very positive
Currently, there are 91 Dave & Buster's stores in North America. The company said that it plans to have opened 11 new stores in 2016 by the time the year ends. During 2017, management expects to open 11 to 12 new stores -- bringing the total to roughly 104 stores. Given that the company foresees over 200 stores in North America when it reaches saturation, there's clearly a long runway for growth ahead.
Management also raised expectations for the fourth quarter, which ends on Jan. 29. The included:
Data source: Dave & Buster's and SEC filings.
It should also be noted that management sees comps coming in between 2.5% and 4.5% for the current quarter.
The bottom line for investors is that Dave & Buster's is benefiting from its differentiated offerings. There's no other player out there that's as big offering amusement at the same scale. That strategy is paying off, as amusement allows more money to flow to the company's bottom line.
Only time will tell how long before other players start to enter this niche, but for the time being, investors are benefiting from owning the first mover in the space.
10 stocks we like better than Dave and Buster's Entertainment When investing geniuses David and Tom Gardner have a stock tip, it can pay to listen. After all, the newsletter they have run for over a decade, Motley Fool Stock Advisor, has tripled the market.*
David and Tom just revealed what they believe are the 10 best stocks for investors to buy right now... and Dave and Buster's Entertainment wasn't one of them! That's right -- they think these 10 stocks are even better buys.
Click here to learn about these picks!
*Stock Advisor returns as of Nov. 7, 2016
Brian Stoffel has no position in any stocks mentioned. The Motley Fool recommends Dave and Buster's Entertainment. Try any of our Foolish newsletter services free for 30 days. We Fools may not all hold the same opinions, but we all believe that considering a diverse range of insights makes us better investors. The Motley Fool has a disclosure policy.