Reserving 20 Tesla Model 3s Means Nothing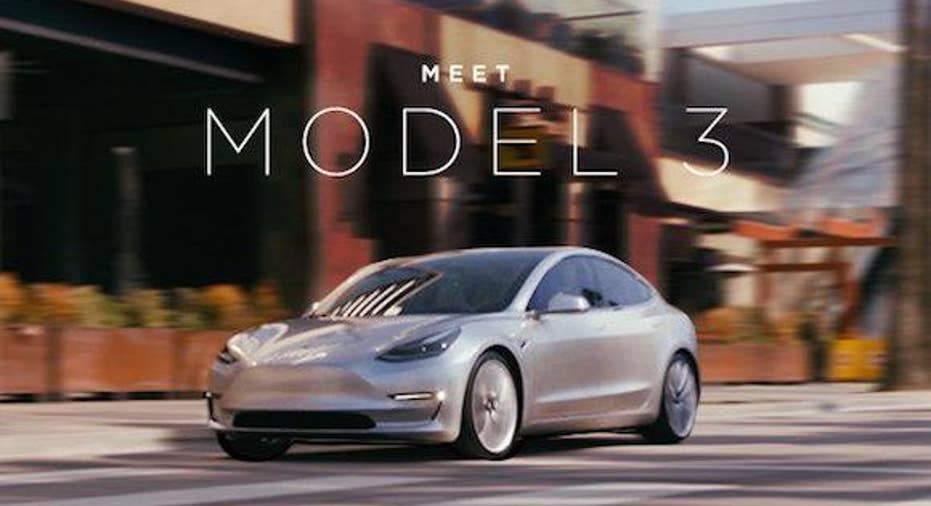 Image source: Tesla.
Last week, Seeking Alpha writer and longtime Tesla Motors bear Anton Wahlman made some headlines by letting the world know that he was successfully able to put down 20 refundable reservation deposits for Tesla's Model 3. This was after Tesla had said it would implement a maximum order limit of two per customer.
A few other media outlets followed in his footsteps and placed numerous deposits with the intention of cancelling. Somehow, Tesla bears are trying to use this data point as indication that Model 3 interest is disingenuous, but when it comes down to it, the data point is beyond irrelevant.
Proving nothingLet's back up a couple of months. In February, more than a month before the Model 3 event, Wahlman speculated that a large number of Model 3 reservations would come from employees and shareholders. Moreover, since reservation deposits are fully refundable until Tesla begins delivering the cars next year, Wahlman believed that many of these reservations would be made with no intention of following through and taking delivery.
Shareholders would clearly benefit from lofty reservation figures. Employees that have received equity compensation would similarly benefit as shareholders as well. Wahlman wondered: "Why couldn't 10,000 Tesla employees each put down five deposits? That's 50,000 right there."
Keep in mind that Tesla had 13,000 employees at the end of 2015, and Tesla employees are not paid above-market salaries. The idea of 75% of employees each putting down thousands upon thousands of dollars (a meaningful fraction of a monthly paycheck) simply to juice their company stock price is beyond absurd. As is the idea of Tesla investors doing likewise.
For example, I'm an Apple shareholder. That's like me going out and buying 100 iPads on my credit card right before the close of a fiscal quarter (the Mac maker could certainly use more iPad unit sales right about now anyway), hoping that the added boost to the company's reported results would help the stock price. Then I'd turn around and exercise the iPhone maker's 14-day return policy and get all that money refunded back. Yeah, this really sounds like a surefire investing strategy.
No one does this.
Just noiseWahlman's 20 reservations is just a follow-up on his initial argument, but simply proving that you can bypass Tesla's order limit does not somehow invalidate the hundreds of thousands of legitimate reservations that Tesla has garnered.
Will a number of reservation holders end up cancelling their orders for a variety of reasons? Inevitably. But given the blowout interest that we're already seeing, the hurdle for a satisfactory conversion rate is quite low. In characteristic fashion, Musk has taken to social media to provide some more data points.
Musk suggests that 95% of reservations are for one Model 3 only, suggesting low levels of speculation. A mere 0.2% of orders (roughly 800 out of 400,000) have the same physical and email addresses. I presume Wahlman's 20 are included in that total.
This theory sounds even more unreasonable when you consider the tens of thousands of customers that showed up at Tesla stores on March 31 to put down a deposit. As an investor, would you go wait 6 to 8 hours in line to place a single refundable deposit, because you thought that single reservation would help a stock position?
As it stands, Wahlman's reservations don't serve as any remote indication that Model 3 interest is fake. Yes, some will cancel. Yes, Tesla needs to better enforce its order limit to reduce speculation. Yes, Tesla also faces great challenges ramping for launch. But the consumer interest in Model 3 is real.
The article Reserving 20 Tesla Model 3s Means Nothing originally appeared on Fool.com.
Evan Niu, CFA owns shares of Apple and Tesla Motors, andhas the following options: long January 2018 $180 calls on Tesla Motors. The Motley Fool owns shares of and recommends both companies. Try any of our Foolish newsletter services free for 30 days. We Fools may not all hold the same opinions, but we all believe that considering a diverse range of insights makes us better investors. The Motley Fool has a disclosure policy.
Copyright 1995 - 2016 The Motley Fool, LLC. All rights reserved. The Motley Fool has a disclosure policy.