Report: NVIDIA Corporation to Launch New Graphics Cards in Early July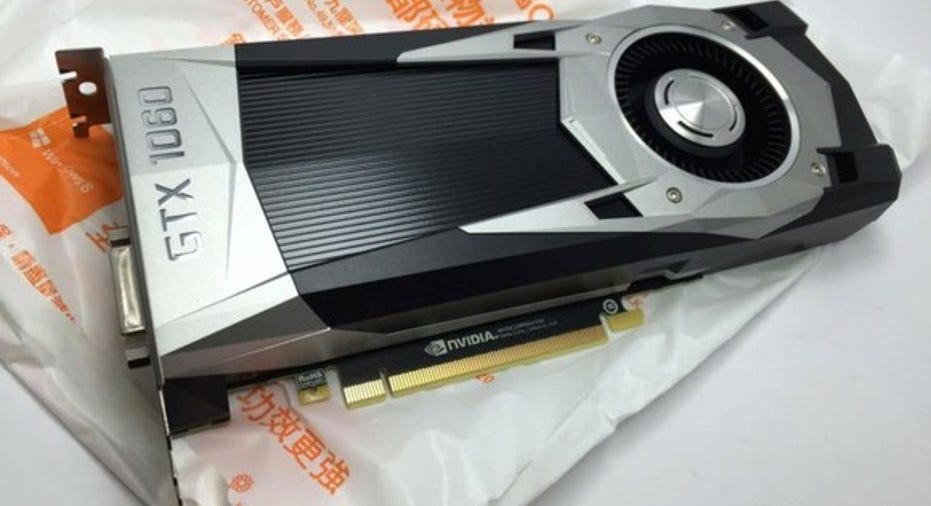 The GeForce GTX 1060 has been spotted. Image source: BenchLife.info.
Graphics specialist NVIDIA announced the first products based on its Pascal graphics architecture back in May: GeForce GTX 1070 and GeForce GTX 1080. These graphics cards did very well in independent reviews and effectively secured NVIDIA's position as the leader at the high-end of the PC graphics processor market.
However, with suggested retail prices of $379 for the 1070 and $599 for the 1080 (NVIDIA's own board designs sell for $449 and $699, respectively), these cards are going to be out of reach for a large portion of the PC gamer population.
There has never been a question that the company would release lower-cost products based on the Pascal architecture, but the timing has been up in the air. That is, until now.
GTX 1060 launching in July
According to the generally reliable BenchLife.info, NVIDIA is planning to lift the information embargo on the GeForce GTX 1060 on July 7, with cards hitting the shelves "around July 14."
The GTX 1060 is expected to come in two flavors. The first is said to come with 3 gigabytes of GDDR5 video memory while a second, higher-end variant will come with 6 gigabytes of GDDR5 video memory. The former is expected to retail for $249 while the latter is said to come in at $299.
The prior generation GeForce x60 part, known as the GeForce GTX 960, originally launched at $199 with 2 gigabytes of GDDR5 memory. A few months after the initial GTX 960 launch, add-in-board vendors began to release variants with 4 gigabytes of memory for a slight premium.
It would seem that this time around, NVIDIA is launching models with two memory configurations right off the bat. Perhaps more interestingly, though, NVIDIA is apparently bumping up pricing generation over generation in transitioning from Maxwell to Pascal.
Still more Pascal chips to go
The GTX 1060 will presumably be based on a chip that's referred to as GP106 (the GeForce GTX 960 was based on a chip known as GM206). Once this chip is out, NVIDIA will have gone into mass production on three members of its Pascal family: GP100, GP104, and GP106.
Although it might seem as though the company's work on Pascal is almost done, there's actually still more to do. The company still needs to get GP102 out, which will likely be a higher-end gaming-focused graphics processor that will sell for more than the GP104-based GeForce GTX 1080. Additionally, GP107 for notebooks and entry-level desktop gaming graphics cards still needs to launch.
And, finally, NVIDIA will need to get a part known as GP108 out, although this is a very low-end chip that will likely sell primarily into OEM PCs, not to gamers. NVIDIA has indicated that such business is fairly low priority for the company going forward, so I wouldn't expect the company to dedicate too many resources to getting GP108 out anytime soon.
After Pascal comes Volta
NVIDIA's next-generation architecture after Pascal is known as Volta. Not much is known about this architecture other than that Volta is already set to power the upcoming Summit supercomputer at Oak Ridge National Laboratory. The computer itself is expected to be installed in 2017 and should go online in 2018.
I suspect though that if the very first Volta parts, presumably known as GV100, are being shipped to important supercomputer/data center customers in the second half of 2017, we will see gaming-oriented Volta-based chips arrive in the first half of 2018.
The article Report: NVIDIA Corporation to Launch New Graphics Cards in Early July originally appeared on Fool.com.
Ashraf Eassa has no position in any stocks mentioned. The Motley Fool owns shares of and recommends NVIDIA. Try any of our Foolish newsletter services free for 30 days. We Fools may not all hold the same opinions, but we all believe that considering a diverse range of insights makes us better investors. The Motley Fool has a disclosure policy.
Copyright 1995 - 2016 The Motley Fool, LLC. All rights reserved. The Motley Fool has a disclosure policy.