Report: MediaTek to Stick With Taiwan Semiconductor Mfg. Co. Ltd. for Premium Chips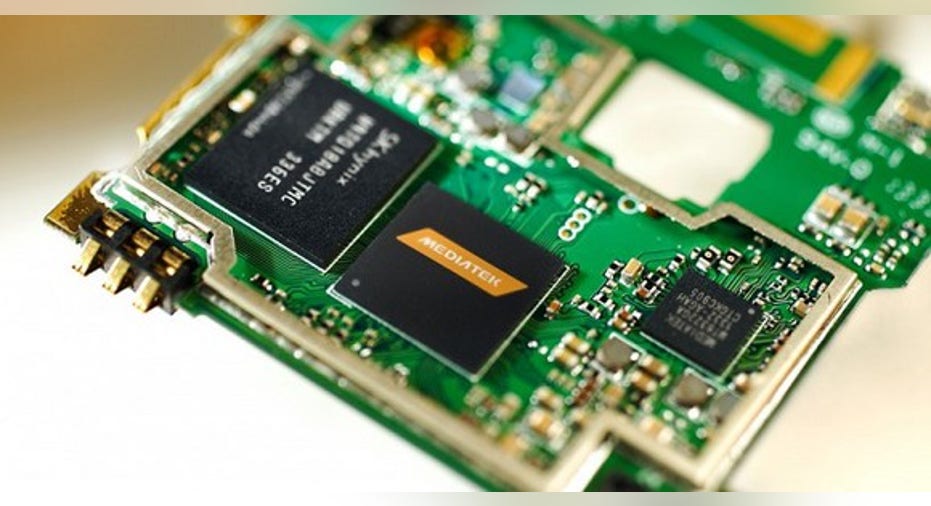 Per a pre-publication note in DigiTimes, wireless chipmaker MediaTek -- which is generally viewed as second fiddle to market leader Qualcomm (NASDAQ: QCOM) -- plans to manufacture its next-generation flagship mobile processors using Taiwan Semiconductor Manufacturing Company's (NYSE: TSM) 7-nanometer technology.
MediaTek currently produces its flagship Helio X30 chip for premium smartphones using TSMC's 10-nanometer technology, and it relies on TSMC to manufacture much, if not all, of the rest of its smartphone applications processor portfolio as well.
Image source: MediaTek.
That MediaTek is reportedly planning to continue to use TSMC for future products doesn't come as much of a surprise -- TSMC and MediaTek seem to have a good working relationship and there doesn't appear to be much of an incentive for the latter to abandon the former.
What's potentially more interesting is what Qualcomm, which commands a much more robust position in the premium smartphone processor market than MediaTek does (by way of reference, a MediaTek executive recently admitted that the X30 is shaping up to be a commercial dud), will do in the coming product generation.
Where will the next Snapdragon be built?
Qualcomm used to manufacture its flagship Snapdragon processors at TSMC. However, beginning with the Snapdragon 820/821, the former shifted away from the latter and toward Samsung (NASDAQOTH: SSNLF).
Qualcomm is continuing to work with Samsung to build its flagship chips, with the recently announced Snapdragon 835 premium processor being manufactured by Samsung using its 10-nanometer LPE ("low power early") technology.
A big open question, though, is this: Where will the successor to the Snapdragon 835 be manufactured, and on what technology?
On one hand, if Qualcomm and Samsung keep up their collaboration, we could see a next-generation Snapdragon built using Samsung's performance-enhanced variant of its 10-nanometer technology, known as 10-nanometer LPP ("low power plus").
This technology isn't expected to provide an area shrink, but Samsung says that it will provide a performance boost over the 10-nanometer LPE technology. Qualcomm could leverage that technology, coupled with architectural enhancements, to build a compelling next-generation premium Snapdragon chip.
At the same time, though, TSMC's upcoming 7-nanometer offering -- which is expected to go into risk production soon (if it hasn't gone into it already) -- should go into production in the first half of 2018. This 7-nanometer technology promises a performance bump from TSMC's 10-nanometer technology (and potentially Samsung's, assuming TSMC's and Samsung's 10-nanometer technologies offer comparable performance) as well as an area reduction.
If Qualcomm breaks for TSMC for the 7-nanometer technology generation, then that could mean a nice revenue boost for the latter as Qualcomm's premium smartphone chip volumes are quite significant. However, I wouldn't be surprised to see Qualcomm stick with Samsung's manufacturing technology given that Samsung is a significant buyer of Qualcomm's premium chips.
In the case that Qualcomm does opt to stay with Samsung in coming premium smartphone chip generations, TSMC might view MediaTek as an important strategic partner with whom it can regain premium Android smartphone chip share.
After all, if Qualcomm's flagship Snapdragon chips are all manufactured by Samsung, and since Qualcomm dominates the premium smartphone chip market, TSMC's only ways to regain share in that segment are the following:
Collaborations with smartphone vendors that design their own chips for premium flagship devices that compete with Qualcomm powered flagships (i.e. iPhone) and,
Share gains on the part of merchant chip competitors that work with TSMC to manufacture their chips.
TSMC has done a good job with the first (it builds chips for the iPhone, Huawei's premium smartphones, and even Xiaomi's first in-house chip), but it has limited control over the second.
10 stocks we like better than QualcommWhen investing geniuses David and Tom Gardner have a stock tip, it can pay to listen. After all, the newsletter they have run for over a decade, Motley Fool Stock Advisor, has tripled the market.*
David and Tom just revealed what they believe are the 10 best stocks for investors to buy right now... and Qualcomm wasn't one of them! That's right -- they think these 10 stocks are even better buys.
Click here to learn about these picks!
*Stock Advisor returns as of February 6, 2017
Ashraf Eassa owns shares of Qualcomm. The Motley Fool owns shares of and recommends Qualcomm. The Motley Fool has a disclosure policy.