Report: Intel Corporation Chip Production Staying Strong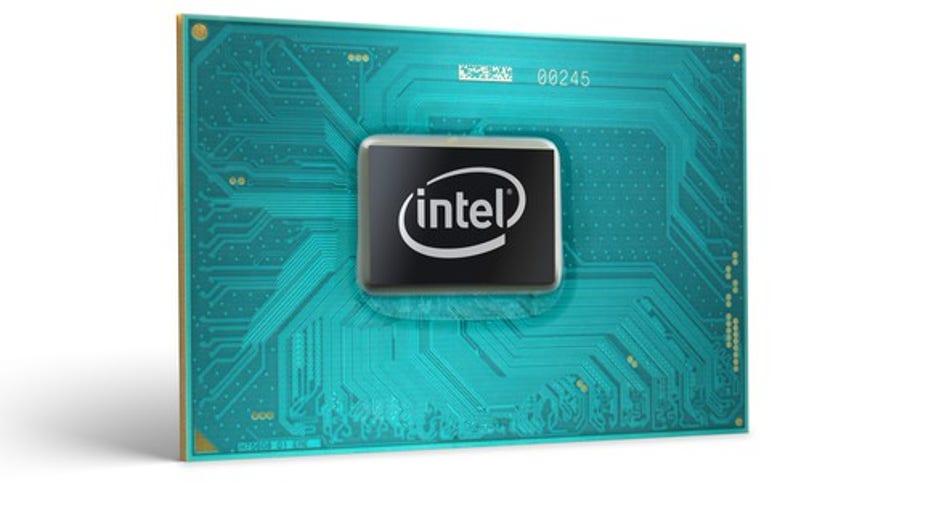 Analyst Steve Mullane with BlueFin Research Partners (via Barron's) recently said that microprocessor giant Intel's (NASDAQ: INTC) chip production during December "indicated no signs of slowing down even through the holiday period."
Image source: Intel.
This, the analyst says, "strongly suggests that [Intel] could guide March quarter revenues above the current Wall Street consensus of -7.8%."
What Mullane is referring to is the fact that Intel's business largely follows a seasonal pattern in which sales during the first half of the year tend to be weaker than sales during the second half of the year."Historically, our net revenue has typically been higher in the second half of the year than in the first half of the year, accelerating in the third quarter and peaking in the fourth quarter," Intel's most recent form 10-K filing reads.
Perhaps more interestingly, on Intel's most recent earnings call, the company explicitly said that it expected revenues for the fourth quarter of 2016 to be "below the average seasonal increase for the fourth quarter," as the company expected "the worldwide [personal computer] supply chain to reduce their inventory."
If Intel's chip production remained steady through December, then -- assuming BlueFin's read on the situation is accurate -- that could bode well for the company's first quarter of 2017 guidance (or as BlueFin refers to it, the March quarter, because it ends in March).Let's examine what could be driving this reportedly unusually strong production.
Low expectations + better demand = channel refill?
Back on Sept. 16, a month before its earnings release, Intel positively pre-announced its financial results, telling investors that it expected third-quarter sales of $15.6 billion (give or take $300 million), compared to a prior outlook of $14.9 billion (give or take $500 million).
When the final numbers came in, the chipmaker didn't disappoint, raking in $15.8 billion in revenue, and delivering strong gross profit margin results, too (64.8% on a non-GAAP basis, against prior guidance of 62% give-or-take a couple percentage points.
At the time, the company said that this was "primarily driven by a replenishment of [personal computer] supply chain inventory." It also said that, "the company is also seeing some signs of improving [personal computer] demand."
Intel didn't pre-announce this time around, so unless Intel is sitting on a big financial surprise, I'm not expecting anything out of the ordinary from the company when it reports its fourth-quarter of 2016 results on Jan. 26.Intel may have shipped what it expected to ship during the fourth quarter, but due to strong personal computer sales, Intel's customers found that their inventory levels had been drawn down too much. So, to bring/keep their inventories at appropriate levels, Intel's customers may have gotten more aggressive about their chip orders near the end of the quarter, leading Intel to keep production levels up through December.Put simply, we might be seeing a repeat during the first quarter of 2017 of what led Intel to report better-than-expected revenues for the third quarter of 2016.
Could it be the non-PC business?
The preceding discussion has focused on personal computer sales, but it's important to keep in mind that Intel sells other processors, too. It sells chips into data center applications -- its second-largest business by revenue -- as well as in Internet of Things applications.However, the kinds of chip volumes that Intel sells into these applications are far smaller than the chip volumes that the company ships into personal computers.
The much lower volumes in, say, data center applications can be partially offset by the fact that chip sizes there are generally much larger than they are in personal computers. However, Intel's chip production is primarily dependent on its personal computer chip shipments.Combine that with the fact that Intel's recent business trends have pointed to better-than-expected personal computer chip shipments and worse-than-expected data center chip shipments, and I'm inclined to think that any potential upside that Intel may be experiencing is personal-computer-based.
Intel's Internet of Things business, though interesting, just isn't large enough from a unit or revenue perspective -- it generates less than a tenth of what Intel's personal computer chip business does in sales -- for shifts in demand to have a measurable impact on the company's overall chip production levels.
10 stocks we like better than Intel When investing geniuses David and Tom Gardner have a stock tip, it can pay to listen. After all, the newsletter they have run for over a decade, Motley Fool Stock Advisor, has tripled the market.*
David and Tom just revealed what they believe are the 10 best stocks for investors to buy right now... and Intel wasn't one of them! That's right -- they think these 10 stocks are even better buys.
Click here to learn about these picks!
*Stock Advisor returns as of January 4, 2017
Ashraf Eassa owns shares of Intel. The Motley Fool recommends Intel. The Motley Fool has a disclosure policy.