Report: Apple Inc. iPhone 7 Not Going to Pack "Big Changes"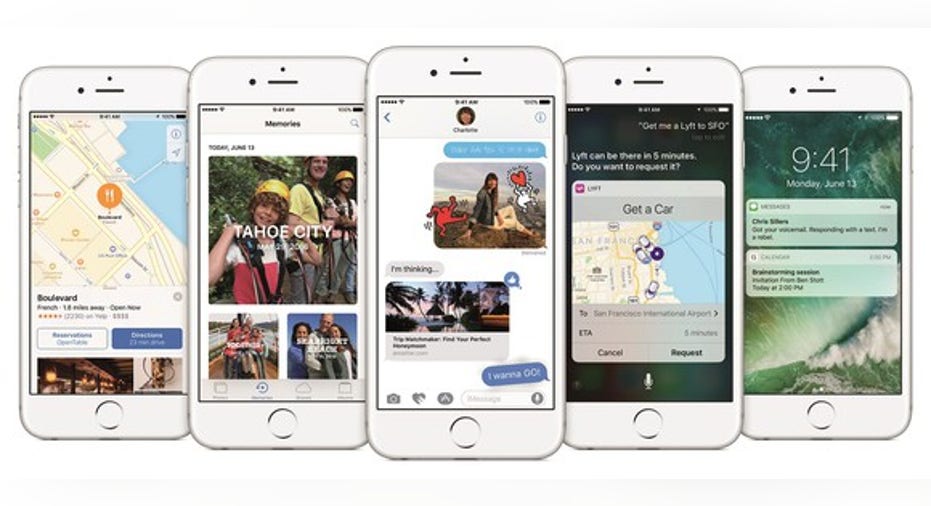 Image source: Apple.
A report from The Wall Street Journal claims that Apple intends to make "only subtle changes" to the iPhones that it will release this year, citing "people familiar with the matter."
The new phones are going to come with 4.7-inch and 5.5-inch displays, just as the prior two generations of iPhones did. As expected, the report claims that the "biggest" change in this year's iPhones will be "the removal of the headphone plug," a change that's expected to "make the phone thinner and improve its water resistance."
In line with previous rumors, The Wall Street Journal says that Apple is eyeing its "biggest design changes for 2017." These changes, as have been claimed by others previously, could include "an edge-to-edge organic light-emitting diode, or OLED, screen and eliminating the home button by building the fingerprint sensor into the display."
Why the lack of huge changes?
Interestingly, The Wall Street Journal had some insight to share as to why Apple isn't planning the significant changes to this year's model that many had expected. Apparently, it's due simply to the fact that the "new technology in the pipeline will take time to implement."
Although this makes sense, I can't help but wonder if Apple was caught flat-footed here. For example, several of Apple's competitors -- including Samsung and Vivo -- today sell phones with curved OLED screens.
Samsung's Galaxy S6 and S7 series of phones also come with glass casings, just as the upcoming 2017 iPhone is expected to.
The technical challenges that Apple faces in bringing these features into mass-produced phones appear to have been solved by competitors.
Does Apple need to boost research and development spending further?
Although I don't doubt The Wall Street Journal's reporting, I find it odd that Apple is somewhat behind the curve in terms of technology. The company's research and development spending over the years has skyrocketed, and the company has historically been very good about wringing as much as possible from all of those research and development dollars.
On one hand, it would seem that a potential solution to Apple not falling behind again would be to simply boost research and development spending further. Additionally, the company might be well-served by making additional acquisitions to bolster its in-house technology development, particularly in the area of display technology (an area in which Apple appears to be falling significantly behind its competition).
On the other hand, Apple may be investing at the correct rate, but management may simply be managing those investments poorly.
Apple stockholders could be looking at a bum product cycle
As a result of Apple's fairly rigid yearly iPhone release cadence, the iPhones that come out later this year may simply not be enough to catalyze the upgrade activity necessary to put iPhone back on a growth path.
It may very well be the case that Apple investors are going to have to weather another year of iPhone declines before the company's 2017 product release can get things back on track.
Given the importance of iPhone to the company's top and bottom lines, Apple shares are looking increasingly less attractive here, despite their bargain bin valuation.
The article Report: Apple Inc. iPhone 7 Not Going to Pack "Big Changes" originally appeared on Fool.com.
Ashraf Eassa has no position in any stocks mentioned. The Motley Fool owns shares of and recommends Apple. The Motley Fool has the following options: long January 2018 $90 calls on Apple and short January 2018 $95 calls on Apple. Try any of our Foolish newsletter services free for 30 days. We Fools may not all hold the same opinions, but we all believe that considering a diverse range of insights makes us better investors. The Motley Fool has a disclosure policy.
Copyright 1995 - 2016 The Motley Fool, LLC. All rights reserved. The Motley Fool has a disclosure policy.