Renters find extra hurdles to recovery after hurricanes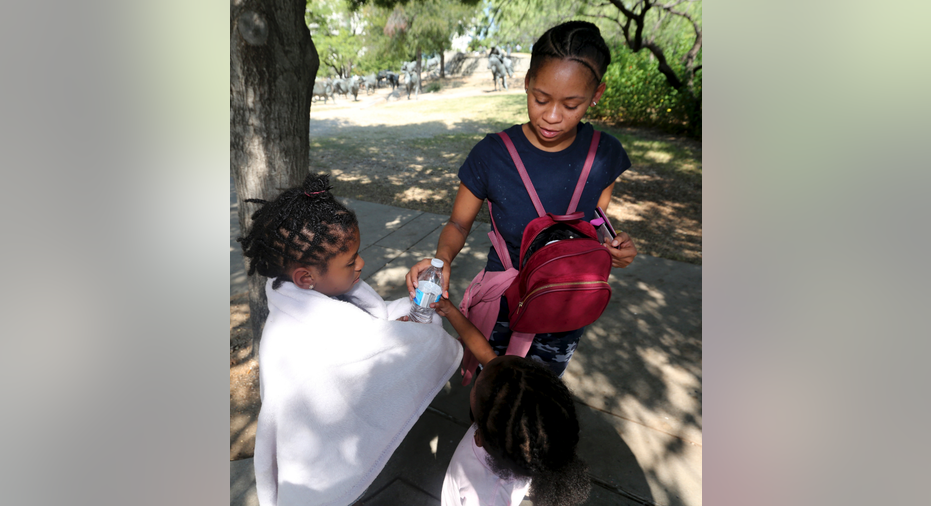 A neighbor was the first to tell Paige Cane that her landlord had posted an eviction notice on the door of her flooded apartment in Port Arthur, Texas.
The 26-year-old was more than 300 miles (480 kilometers) away with no car, sleeping in a Dallas shelter for evacuees escaping Harvey's floodwaters. The mother of four had no way to get back in the five days the eviction notice gave her to remove her belongings before they would be heaped on the curb.
Rental housing has been a concern in many cities in Texas and Florida after hurricanes Harvey and Irma flooded tens of thousands of homes. Texas renters have complained of difficulties getting out of leases on damaged properties, short timelines for evictions, and trouble finding affordable rentals because landlords have a glut of tenants to choose from. In Florida, advocates worry rebuilding efforts after Irma are forcing out mobile home park residents who rent coveted land in the Florida Keys.
In Texas, housing advocacy groups in Houston, Port Arthur and other hard-hit cities are fielding complaints. Lone Star Legal Aid, which provides free civil legal services to low-income residents in parts of the state, has received nearly 100 complaints from renters since the storm — complaints that can encompass issues dozens of renters have at one complex.
"It's unconscionable, but there were landlords who would not extend the rent deadlines," even as Harvey hit on Aug. 25, days before rent was due for many, said John Henneberger, co-director of the Texas Low Income Housing Information Service.
Texas statutes, which often favor landlords in disputes, require tenants to take landlords to court for rent reductions or lease termination — something that can seem monumental when courthouses are flooded, cars destroyed and incomes lost, Henneberger said.
Florida has no blanket policy governing how late rental payments or evictions should be handled after storms, according to the Florida Apartment Association, which represents owners, developers and property managers for about 600,000 units. An association representative didn't know of any landlords refusing to allow renters to break leases, but that doesn't address renters who want their apartments repaired.
"They haven't done anything, not even put a tarp on the roof," said Liliana Caminero, a 54-year-old nurse, who lived in a second-floor apartment in Miami that suffered extensive roof damage. An inspector told her the place was uninhabitable and covered in black mildew, so she was forced to find another rental.
In the Florida Keys, which took the brunt of Hurricane Irma, half of the up to 15,000 residential homes damaged or destroyed were mobile homes.
Jose Fons, advocacy director for Monroe County for the Legal Services of Greater Miami, said landowners have started evicting trailer owners or renters from their lots, saying they are having problems with access to utilities.
"There is a fear that some of them will change the use of land," so that they are no longer mobile home parks, said Fons, a concern shared by U.S. Sen. Marco Rubio, R-Fla. "Not all of the trailers are uninhabitable."
Fons said landowners are giving tenants short timeframes to remove trailers.
Florida officials have not asked park owners or landlords for leniency, unlike Texas. Houston Mayor Sylvester Turner urged landlords to waive late fees for September and give more time to vacate uninhabitable apartments.
At the same time, groups that track rental stock say they've seen a decrease in areas of Houston that stayed dry and an increase in average rents.
Texas renters have also complained about landlords demanding rent for unlivable apartments and threatening to keep security deposits or put a mark on the renters' credit reports if they don't pay. Texas law says either the landlord or the tenant can decide that a space is unlivable because of a flood or fire, but the law doesn't clearly outline what happens if they disagree.
As for short timelines for evictions, five-day notices, while allowed, have been applied in ways that don't comply with Texas law, said Rich Tomlinson, litigation director at Lone Star Legal Aid. Landlords cannot move tenants' property without going to court, he said.
"This is unlike my previous experience with flooding," Tomlinson said. "A lot of landlords this time have sent out those five-day eviction notices. I don't remember them doing that in the previous floods, and certainly not like this."
Lone Star Legal Aid has filed a handful of legal actions in the last month, including a request for an order prohibiting an apartment management company from putting Cane's belongings on the street before she could get back.
"I went back to school, and I graduated with my diploma. I want my diploma and my photos," Cane said, wiping her face as she stood at a park near a Dallas shelter last month with two of her children. "Me and my four are going to be fine. I'm going to take care of mine. But I feel driven to do this."
A court later gave Cane time to get her belongings. A phone call to the apartment complex seeking comment was not returned.
The Houston Housing Authority, which provides housing for low-income residents, has had its own issues, including initially charging some residents September rent for flood-damaged apartments before returning the money.
At Clayton Homes near downtown Houston, officials said 112 of 296 units would be demolished because of mold and E. coli. Tenants were given vouchers for private housing because the authority has nothing left.
The authority also issued five-day eviction notices to about 150 residents at a senior living apartment building because of floodwater damage. The residents were given more time, but many protested that they didn't want to leave despite damage to electrical and other systems.
"This isn't ideal. But it isn't safe," the authority's president, Tory Gunsolley, said.
___
Gomez Licon reported from Miami. Associated Press writer Juan A. Lozano in Houston contributed to this report.
___
Sign up for the AP's weekly newsletter showcasing our best reporting from the Midwest and Texas: http://apne.ws/2u1RMfv