Remember 'Avatar'? Disney hopes so with big bet on theme park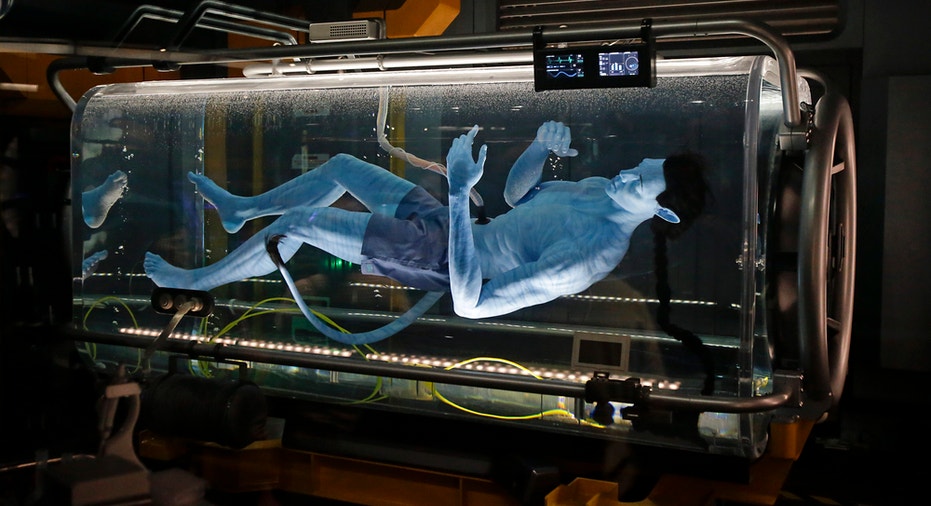 Walt Disney Co. is betting that the most successful movie of all time will help continue a hot streak for its theme park business eight years after the film came out.
The media giant this week opens the $500 million Pandora -- World of Avatar at Walt Disney World's Animal Kingdom near Orlando, Fla., the biggest expansion of one of its American theme parks in more than a decade. Based on James Cameron's 2009 movie "Avatar," which grossed nearly $2.8 billion, it is part of a multibillion-dollar effort by Disney to expand its theme parks around the world.
The spending is a sign of Disney's confidence that it can keep its parks and resorts business growing even after it posted record profits recently. Operating income grew 73% between fiscal 2012 and 2016 to $3.3 billion. Revenue in the same period rose 31% to just shy of $17 billion.
It is also something of a gamble. The movie has been out of the public eye for years, owed at least some of its success to then-groundbreaking technology, and lacks the marketable characters of Disney blockbusters like "Frozen."
Disney executives say the quality of the parks' attractions will draw people to Pandora regardless of their interest in the film that inspired it.
Five years ago, Disney executives indicated they had reached a peak in annual capital spending. After a brief lull, though, such expenditures have again accelerated, with parks investment doubling to $4.2 billion a year between fiscal 2013 and fiscal 2016. Much of that is due to the opening last year of the $5.5 billion Shanghai park, in which Disney holds 43% interest. But the company has also increased its annual investment in its two domestic parks by a total of $1 billion.
Disney has new "Star Wars" lands in the works at Disney World near Orlando and Disneyland in Anaheim, Calif., as well as a "Toy Story"-themed land at Shanghai Disneyland, "Marvel" and "Frozen" lands at Hong Kong Disneyland, and rides based on "Finding Nemo," "Beauty and the Beast" and "Big Hero Six" in Tokyo. The company also is planning "long-term investment" in Disney Paris, Chief Executive Robert Iger said on a recent earnings call.
Disney wants to expand its parks business and also represent as many of its franchises as possible, said Robert Chapek, chairman of its parks and resorts business.
Attendance at its domestic parks has grown substantially, with a rising number of days at which Walt Disney World and Disneyland parks have had to turn away guests. To address that issue, the company last year introduced seasonal pricing at its domestic parks and launched Shanghai Disneyland in June with a similar policy.
As a result, attendance at its domestic parks fell 1% in fiscal 2016, the first drop since fiscal 2010, but per-capita guest spending increased 7%; the company doesn't disclose the actual per-guest figure, just the change.
The 12-acre "Avatar" attraction marks an effort to increase both capacity and guest spending. Disney hopes it will turn Animal Kingdom, one of four parks at Walt Disney World, from a place where guests typically spend a few hours to one where they can spend a full day. It features a flight simulator, a river journey and a huge mountain that appears to float in the air.
"It was not a park that had a lot of demand in the evening," said Mr. Chapek.
Disney made a deal with Mr. Cameron's Lightstorm Entertainment and studio Twentieth Century Fox, owned by 21st Century Fox, in 2011, before it bought "Star Wars" or "Frozen" had made its debut. The company pursued the rights aggressively, driven in part by frustration it had let the rights to "Harry Potter" go to competitor Universal Studios, which had a large attendance and earnings boost from new lands based on the boy wizard, according to people with knowledge of the deal.
Mr. Iger and then-parks chief Tom Staggs had brunch with Mr. Cameron and his producing partner Jon Landau at the home of then-Fox co-chief Jim Gianopulos. They pitched their ideas to collaborate on a series of "Avatar" attractions in Animal Kingdom.
"They said they wanted to create a totally immersive experience and that it would have an ethos behind it," recalled Mr. Landau. The film's message of conservation was important to Mr. Cameron and Disney convinced him that it would be a good fit with the similarly themed Animal Kingdom.
Disney agreed to pay Fox and Lightstorm tens of millions of dollars a year, in addition to a cut of "Avatar" merchandise sales, according to people with knowledge of the agreement. It also has rights to open "Avatar" rides at its other parks, though none are planned.
At the time of the deal, the parties expected a sequel to "Avatar" would be released by the time the theme park opened. But due to delays, the first of a planned four sequels won't come out until 2020.
That has raised concerns about whether tourists will be as drawn to the theme park area the way they are to rides based on newer hits like "Frozen" and "Star Wars."
In addition, the success of "Avatar" was due at least in part to its 3-D technology, rather than the characters and world that have informed the new attractions. "Avatar" merchandise didn't sell well around the movie's release, said a person with knowledge of the matter. A Fox spokesman declined to comment on merchandise sales.
Mr. Chapek said that thanks to a marketing campaign by Disney, interest in Avatar theme-park attractions doesn't appear to be diminished by the delayed sequels, according to internal research. Merchandise sales, he added, have been robust during trial operations.
Mr. Landau said he was pleased that Pandora was designed so that it doesn't require prior knowledge of the movie it is based on.
Write to Ben Fritz at ben.fritz@wsj.com
(END) Dow Jones Newswires