Regeneron's Game-Changing New Eczema Drug Could Be a Blockbuster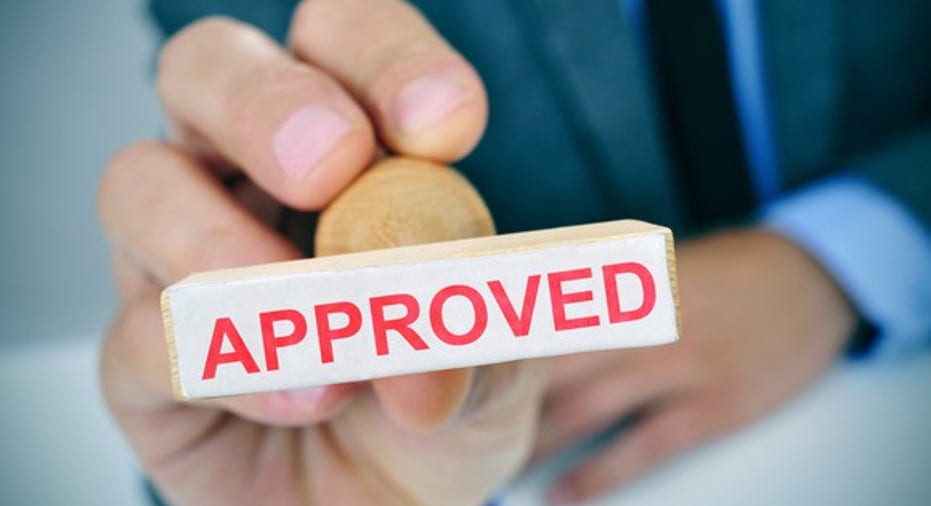 Regeneron Pharmaceuticals (NASDAQ: REGN)and collaboration partner Sanofi (NYSE: SNY) got welcome news this week when the FDA gave their new eczema drug, Dupixent, a green light. The approval clears the way for the companies to start marketing Dupixent, and its potential to treat hundreds of thousands of patients per year hasindustry watchers thinking the drug's peak sales could reach into the billions of dollars annually.
A new way to treat eczema
Dupixent is a biologic drug that inhibits interleukin-4 and interleukin-13, two anti-inflammatory proteins that contribute to causing eczema. By halting their activity, Regeneron and Sanofi believe Dupixent can reduce itching and deliver clearer skin than existing treatments, including topical corticosteroids, which can provide inadequate relief.
IMAGE SOURCE: GETTY IMAGES.
The FDA approval ofDupixent was based on phase 3 trials involving over 1,300 patients with moderate to severe eczema. In these studies, patients were given an initial600 mg loading dose, followed by either once weekly or bi-weekly dosing of 300 mg for 16 weeks.
In the weekly and bi-weekly arms of the trial, 37% and 38% of patients achieved clear or near-clearing skin, respectively. In the placebo group, only 10% of patients achieved that level of skin clearance. Additionally, over 50% of Dupixent patients achieved a 75% or better reduction in a disease severity score, compared to 15% of patients who received a placebo.
Also, after 16 weeks of treatment, the average patient saw a 55% improvement in itch from baseline, compared to a 29% improvement for patients in the control arm of the study who received topical corticosteroids. Controlling itch is particularly important in this indication because itch can significantly reduce the quality of life in these patients.
Tapping a major market
Regeneron and Sanofi peg the size of Dupixent's addressable patient population in the U.S. at 1.6 million, and industry watcher surveys suggest that doctors could prescribe it to about 20% of those patients.
If so, then this drug appears on track for blockbuster sales. The two companies have priced Dupixent at $37,000 per year, and while that sounds expensive, it appears to be in line with insurers' expectations. That's important, because insurers have recently put up roadblocks to reduce the use of expensive medicines.For instance, over 80% of prescriptions written for a new class of cholesterol lowering drugs called PCSK9 inhibitors are being rejected by insurers. Regeneron and Sanofi's Praluent is one of those cholesterol drugs, so perhaps they've learned some lessons from that experience that will help Dupixent avoid a similar fate.
Assuming Dupixent's price, after the usual rebates and discounts, will be closer to $20,000 per year for insurers (and assuming those payers don't object),then Dupixent's use in 200,000 to 300,000 patients would translate into annual sales of between $4 billion and $6 billion. Although that money will be split equally between Regeneron and Sanofi, it's still a big windfall for each of them.
What's next
Obviously, it's anyone's guess how successful Dupixent will ultimately be, but this is clearly a big opportunity for these companies. Investors will want to track prescription growth trends, and follow quarterly conference calls for insight into their progress in negotiating reimbusement with insurers.
Dupixent's approval could also suggest a green light is in the works for Regeneron and Sanofi's rheumatoid arthritis drug,Kevzara. The FDA rejected that drug over manufacturing concerns last fall, but since similar concerns didn't derail Dupixent, and the two will be manufactured at the same location, it would appear those concerns have been resolved.
If Dupixent hits the ground running, Kevzara receives a green light, and Praluent's insurance coverage improves, then this could be a big year for Regeneron -- one that makes its shares worth buying.
10 stocks we like better than Regeneron PharmaceuticalsWhen investing geniuses David and Tom Gardner have a stock tip, it can pay to listen. After all, the newsletter they have run for over a decade, Motley Fool Stock Advisor, has tripled the market.*
David and Tom just revealed what they believe are the 10 best stocks for investors to buy right now... and Regeneron Pharmaceuticals wasn't one of them! That's right -- they think these 10 stocks are even better buys.
Click here to learn about these picks!
*Stock Advisor returns as of February 6, 2017
Todd Campbell has no position in any stocks mentioned.His clients may have positions in the companies mentioned.The Motley Fool has no position in any of the stocks mentioned. The Motley Fool has a disclosure policy.