Regeneron Pharmaceuticals Inc Has a Lot to Prove on May 5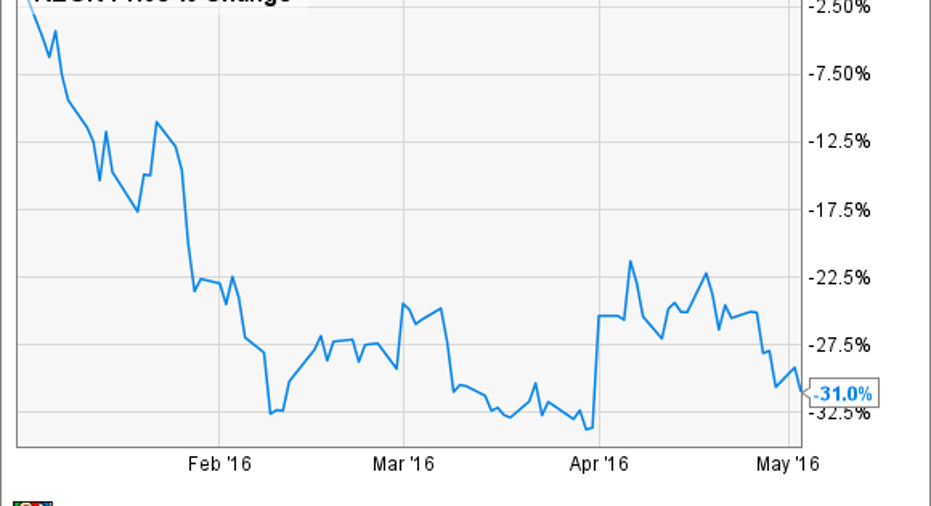 IMAGE SOURCE: REGENERON.
RegeneronPharmaceuticals is set to report first-quarter 2016 results on Thursday, May 5, before the market opens. Regeneron's shareholders have taken a beating over the last few months after the company's fourth-quarter results showed slowing sales growthof its hit eye-disease drug Eylea, causing some traders to bail.
If that weren't bad enough, news broke in April that Amgen had won a lawsuit against Regeneron and its partner Sanofi : The jury ruled that the duo's new PCSK9 inhibitor, Praluent, infringes on two of Amgen's patents. Damages have yet to be set, but Amgen is going for the jugular and is attempting to get Praluent pulled from the market.
Against a backdrop like that, you can bet that the company will be looking to prove that its future is still bright when it releases earnings. Knowing that, here are a few key areas that investors will want to get more information on to see if this company still deserves its premium multiple.
Will Eylea's sales growth remain robust?Sales of Eylea spiked 44% in the U.S. and 39% in international markets last quarter. That's a phenomenal result in absolute terms, but it was a bit light compared to the 50% U.S. sales growth management had predicted.
Investors were also disappointed to learn that management called for sales growth of only 20% in the U.S. for all of 2016, which is a significant deceleration from the 54% sales growth that it put up in 2015.
What's even more puzzling about that forecast is that Eylea's label was expanded by the Food and Drug Administration in March 2015 to be used as a treatment for diabetic retinopathy in patients with diabetic macular edema. That indication is the most frequent cause of vision loss in patients with diabetes, so in theory, it should have provided a big tailwind to the drug's growth in 2016.
That raises the question: Is the 20% U.S. sales growth guidance a low hurdle that the company can easily clear, or are the days of Eylea's extreme growth truly behind us?
What's the story with Praulent?Regeneron and Sanofi officially launched Praluent for sale in the third quarter of last year, and the drug is off to a slow start. Revenue was only $7 million last quarter, though that was partly because Regeneron provided plenty of samples and free product to interested patients who lacked insurance coverage.
That's likely to have been a smart move, as Praluent is in a heated race with Amgen's drug Repatha to establish market share in a potential multibillion-dollar indication, so it's too early to judge based on sales data alone.
IMAGE SOURCE: REGENERON PHARMACEUTICALS.
For that reason, sales figures are far less important to investors than the status of its lawsuit with Amgen. The most likely outcome of the trial is that Sanofi and Regeneron will have to make royalty payments to Amgen, but we cannot yet rule out the chance that Praluent will be pulled from the market completely.
Investors should listen in for any clues to see if this drug could still have a bright future.
Pipeline updatesGiven Eylea's slowing growth and Praluent's uncertain future, the two potential blockbuster drugs in Regeneron's pipeline -- sarilumab and dulipumab -- might have to take center stage in this report.
Sarilumab is currently in regulators' hands as a potential treatment for active rheumatoid arthritis, which is a multibillion-dollar market currently dominated by AbbVie's megablockbuster drug Humira.
In March, Regeneron released results from a phase 3 trial that compared sarilumab to Humira, and the results confirmed thatsarilumab did a better job of treating the symptoms of rheumatoid arthritis after 24 weeks than Humira did. That hints that if sarilumab wins approval on its Oct. 30, 2016, PDUFA date, then it could be in a position to steal a substantial amount of market share away from AbbVie. That's a big reason why some analysts believe that sarilumab's sales could eventually top$1 billion.
Investors also got a fresh look at dupilumab in early Aprilafter Regeneronand Sanofi releasedresults from two phase 3 trials using the compound to treatmoderate to severe atopic dermatitis. Dupilumab outperformed a placebo in a number ofcategories, and it did so safely, which bodes well for its regulatory chances.
The company announced plans to submit dupilumab for review in the third quarter of this year, and peak sales estimates are roughly $4 billion, so this is a drug that investors should watch closely.
Will Regeneron produce a report that gets the company's stock moving in the right direction again? Investors will have their answers in a few short days.
The article Regeneron Pharmaceuticals Inc Has a Lot to Prove on May 5 originally appeared on Fool.com.
Brian Feroldi has no position in any stocks mentioned.Like this article? Follow him onTwitter where he goes by the handle@Longtermmind-setor connect with him on LinkedIn to see more articles like this.The Motley Fool owns shares of Regeneron Pharmaceuticals. Try any of our Foolish newsletter services free for 30 days. We Fools may not all hold the same opinions, but we all believe that considering a diverse range of insights makes us better investors. The Motley Fool has a disclosure policy.
Copyright 1995 - 2016 The Motley Fool, LLC. All rights reserved. The Motley Fool has a disclosure policy.