Regeneron Pharmaceuticals, Inc. Dropped 14.3% in October -- Here's Why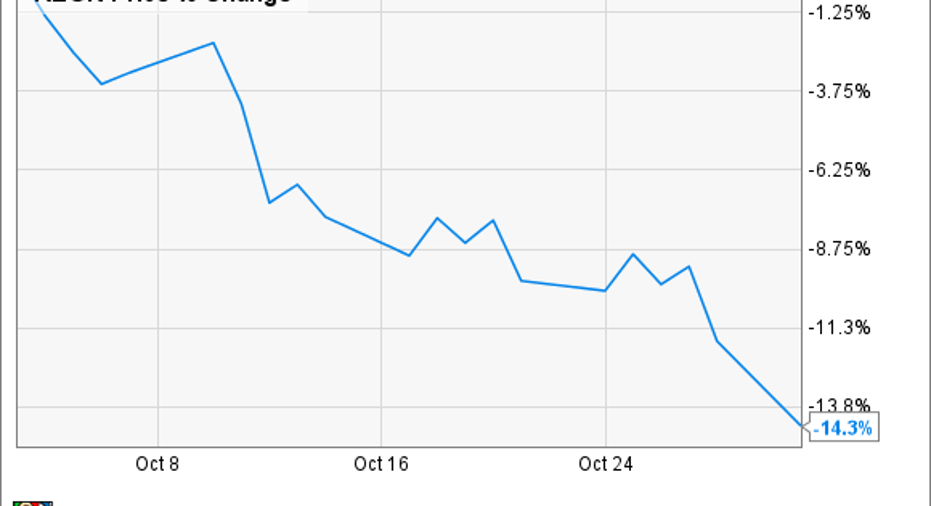 Image source: Getty Images.
What happened
Investors in Regeneron Pharmaceuticals (NASDAQ: REGN) had a rough October. Shares of the biotech giant fell 14.3% during the month, according to data fromS&P Global Market Intelligence.
So what
Two negative news releases appear to be responsible for the decline.
First,Regeneron and its partnerTeva Pharmaceuticals (NYSE: TEVA) announced that the FDA placed a clinical hold on a phase 2b study of fasinumab.This compound is a nerve growth factor antibody that is being researched as a potential treatment for osteoarthritis pain and chronic low back pain. The study showed that patients who used thehigher doses of fasinumab developed arthropathy, anadvanced joint disease.As a result, the FDA has requested that the study's protocol be changed.
Second, Regeneronand Sanofi (NYSE: SNY) announced that the FDA had rejected theirsubmission for sarilumab for treatment of rheumatoid arthritis. The agency stated that it could not approve the drug because of manufacturing issues that were identified in one of Sanofi's plants in France.
Given the setbacks, it is easy to understand why shares dropped by double digits during the month -- especially given the sector-wide downturn.
Now what
Regeneron and its partners have already announced steps that they will take to rectify both situations.
In regard to fasinumab, Regeneron and Teva stated that future studies will exclude any patients who have advanced osteoarthritis and will only administer lower doses ofthe drug. As a result,both companies still believe that a pathway to regulatory approval still exists.
As to sarilumab, Sanofi has already submitted a comprehensive corrective action plan to the FDA and is already working on fixing its manufacturing issues. While Regeneron's management team wasn't yet able to provide an updated timeline, it did confirm that these manufacturing issues will notimpact the approval decision, expected in March, of Dupixent, an atopic dermatitis drug.
Overall, it wasn't a great month for shareholders, but since both issues appear to be fixable, I think that the long-term bull case for Regeneron is still intact. That's especially true in light of recent news that sales of cholesterol-lowering medicine Praluent are starting to pick up, which is an encouraging sign given the drug's slow start. That positions the company well to post strong growth into 2017 and beyond, so I for one plan on hanging on to my shares.
10 stocks we like better than Regeneron When investing geniuses David and Tom Gardner have a stock tip, it can pay to listen. After all, the newsletter they have run for over a decade, Motley Fool Stock Advisor, has tripled the market.*
David and Tom just revealed what they believe are the ten best stocks for investors to buy right now and Sanofi wasn't one of them! That's right -- they think these 10 stocks are even better buys.
Click here to learn about these picks!
*Stock Advisor returns as of November 7, 2016
Brian Feroldi owns shares of Regeneron Pharmaceuticals. The Motley Fool recommends Teva Pharmaceutical Industries. Try any of our Foolish newsletter services free for 30 days. We Fools may not all hold the same opinions, but we all believe that considering a diverse range of insights makes us better investors. The Motley Fool has a disclosure policy.