Red, White and Extra Blue as Tight Security Marks July 4th Celebrations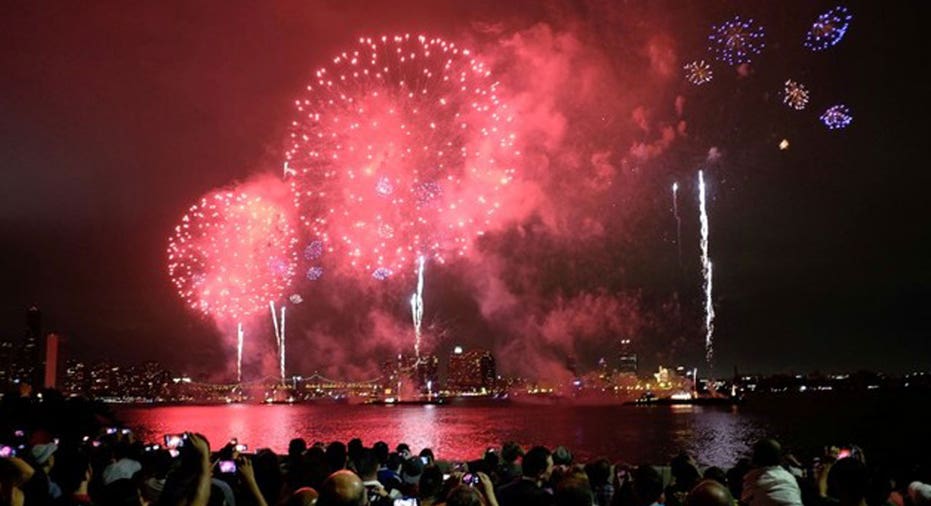 The United States celebrated the July Fourth holiday on Monday with parades, baking contests and picnics draped in red, white and an extra layer of blue, as police ramped up patrols because of concerns about terrorism and gun violence.
Millions of Americans marked independence from Britain with celebrations as boisterous as a music-packed party by country music legend Willie Nelson for 10,000 people at a race track in Austin, Texas, and as staid as colonial-era costumed actors reading the Declaration of Independence at the U.S. National Archives in Washington.
"It's a good day for reflecting on the positive things about America - the sense of freedom that you can go after and achieve whatever you want," said Helen Donaldson, 48, the mother of a multi-ethnic family of four adopted teens living in Maplewood, New Jersey.
Donaldson, a white Australian immigrant, cheered with her two New Jersey-born African-American daughters, both 12 and dressed in red, white and blue, as a recording of the Star Spangled Banner played to kick off a children's relay race. Nearby, in the baking contest tent, 13-year-old Nate Fisher entered his cherry blueberry tart into competition.
"I have high hopes," he said, flashing a smile.
History was made in the traditional hotdog-eating contest at New York's Coney Island when long-time champion Joey "Jaws" Chestnut took back the Mustard Yellow International Belt from last year's upstart winner Matt Stonie. Chestnut set an unofficial new world record by downing 70 hotdogs in 10 minutes - topping his previous record of 69 franks. In the women's division, Miki Sudo successfully defended her title by eating 38 hotdogs in 10 minutes.
With the holiday taking place days after attacks in Baghdad, Dhaka and Istanbul, the New York Police Department deployed eight new "vapor wake" dogs, trained to sniff out explosives on a moving target in a crowd.
The department's presence this holiday was boosted by nearly 2,000 new officers just days after they graduated on Friday from the New York City Police Academy.
"You're going to see a lot of people in heavy vests, helmets and long guns and they can respond at a moment's notice to any incident," NYPD Chief of Department James O'Neill told a news conference. "There's also a lot you won't see."
CHICAGO BRACED FOR VIOLENCE
Police in Chicago, which has seen a spike in gun murders this year, announced a stepped-up presence with more than 5,000 officers on patrol over the long weekend, traditionally one of the year's most violent, said Chicago Police Superintendent Eddie Johnson.
The Chicago Tribune said at least three people had been killed and 34 wounded over the holiday weekend by Monday evening.
Dry weather forecasts across the country thrilled fireworks lovers, although some spots in Michigan have been so rain-starved that pyrotechnic shows were canceled in a handful of communities near Detroit because of the risk of fires.
A 19-year-old tourist in New York's Central Park suffered a severe foot wound on Sunday after an apparent homemade firework exploded when he jumped off a rock and stepped on the device, authorities said.
In Compton, California, a 9-year-old girl's hand had to be amputated when she was injured after unwittingly picking up a lit firework, media said.
In New York, more than a million people packed balconies, rooftops and the East River's banks for the 40th annual Macy's Fireworks display, which the department store said showcased more than 56,000 pyrotechnic shells and effects.
The musical accompaniment featured the United States Air Force Band playing patriotic numbers including "This Land is Your Land" and "Stars and Stripes Forever," and Grammy-winning vocalist Jennifer Holliday will sing "America the Beautiful."
(Reporting by Barbara Goldberg; Additional reporting by Gina Cherelus and Daniel Wallis in New York, Fiona Ortiz in Chicago, Adam DeRose in Washington, and Jon Herskovitz in Austin, Texas; Editing by Bill Rigby and Phil Berlowitz)