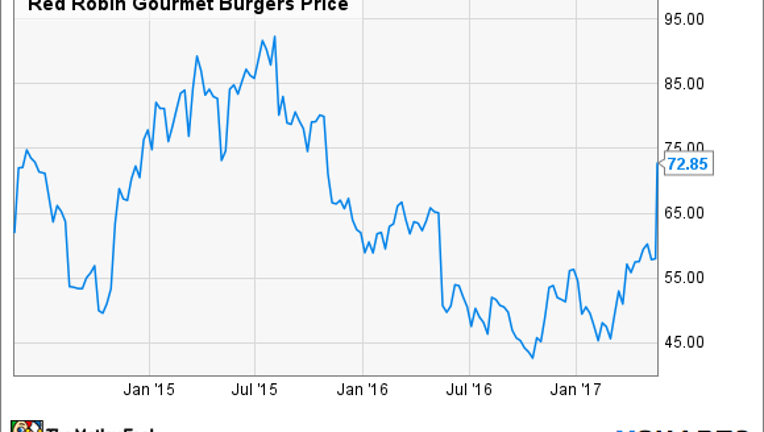 Red Robin Gourmet Burgers (NASDAQ: RRGB) beat expectations when it reported first-quarter results recently and showed signs that the worst of its struggles may finally be history. Shares shot up by more than 20% as a result. 2017 looks like it could be a much different year for the chain than the last couple.
Data by YCharts.
The restaurant industry situation
In the last year, the state of the restaurant industry has begun to look a lot like a barbell: growing on either end, with a shrinking middle. According to TDn2K, a service sector analytics company, comparable sales at casual-dining and fast-casual chains have been worse off than fine dining and fast food for over a year now.
The whole restaurant industry has been struggling, though, with averagesales at individual locationsfallingsince the end of2015. Problems started to crop up as new store openings outstripped demand, and then started to cannibalize foot traffic from existing restaurants. The worst industry performance since the financial crisis came in the fourth quarter of 2016, with comps coming in down 2.4%, but the red has started to ease as of late.
Chart by author. Data source: TDn2K.
Indications are that the effects of the "restaurant recession" are starting to wane, and although Red Robin's casual family dining segment has been one of the poorest-performing segments,the April report showed it starting to improve a bit.Specifically for Red Robin, though, the last quarter was a good one in comparative terms.
Red Robin beats the average
Beating the average competition is a good thing, but it doesn't mean all is well. While comparable sales for restaurants were down 1.6% in the first quarter of the year, according to TDn2K, Red Robin reported comps down only 1.2% in its quarter ended April 16 thanks to falling traffic partially offset by higher total bills. That was also a big improvement from the 4.3% decline at the end of 2016.
Image source: Red Robin Gourmet Burgers.
Revenue was up in the most recent quarter from a few new restaurants in operation as well as the acquisition of 14 previously franchised locations last year, but profits were down compared to the same period in 2016. In addition to the fall in foot traffic, the bottom line was affected by rising labor costs.
| Metric | Q1 2017 | Q1 2016 | % Change (YOY) |
| --- | --- | --- | --- |
| Revenue | $418.6 million | $402.1 million | 4.1% |
| Earnings per share | $0.89 | $1.03 | -13.6% |
Chart by author. Data source: Red Robin Gourmet Burger Q1 2017 earnings. YOY = year over year.
With profits down so much from last year, why did investors push the shares up? It has to do with the dire outlook given during the end-of-2016 report, where the company called for first-quarter earnings per share of $0.40 to $0.60. As it turns out, things were not nearly as bad as forecast and the "beat" fueled investor opimism.
Is everything good?
2017 is off to a positive start for Red Robin, but headwinds remain, chief among them finding ways tosellmore burgers and the never-ending management of rising food and labor costs.
The improvement in comparable sales was a good thing, though, as it was much-needed after how last year ended. The restaurant industry as a whole notching its first quarter-over-quarter improvement in some time also bodes well for Red Robin. It's too early to call an end to the restaurant recession, but there has been meaningful progress. So far, this year is providing a much-needed breather for owners of the business.
10 stocks we like better than Red Robin Gourmet BurgersWhen investing geniuses David and Tom Gardner have a stock tip, it can pay to listen. After all, the newsletter they have run for over a decade, Motley Fool Stock Advisor, has tripled the market.*
David and Tom just revealed what they believe are the 10 best stocks for investors to buy right now...and Red Robin Gourmet Burgers wasn't one of them! That's right -- they think these 10 stocks are even better buys.
Click here to learn about these picks!
*Stock Advisor returns as of May 1, 2017.
Nicholas Rossolillo has no position in any stocks mentioned. The Motley Fool has no position in any of the stocks mentioned. The Motley Fool has a disclosure policy.