Red-Hot Google Carries S&P 500 to Record Highs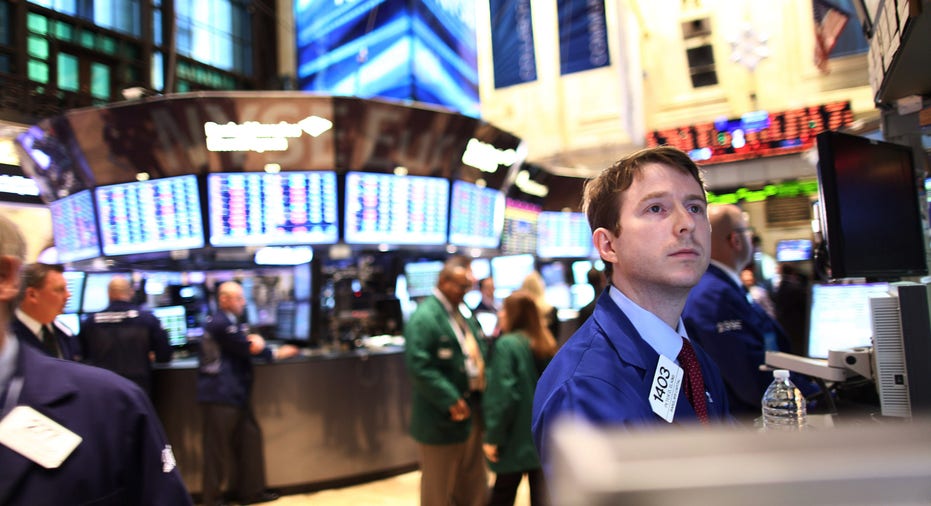 FOX Business: The Power to Prosper
The Nasdaq Composite soared 1.3% and the S&P 500 notched its 28th record of the year on Friday as Google (NASDAQ:GOOG) zoomed 13% and cracked the $1,000 barrier.
Today's Markets
The Dow Jones Industrial Average rose 28.00 points, or 0.18%, to 15399.65, the S&P 500 gained 11.35 points, or 0.65%, to 1744.50 and the Nasdaq Composite jumped 51.13 points, or 1.32%, to 3914.28.
The last-minute budget compromise reached earlier this week by Washington has allowed investors to shift their attention to an area that is decidedly easier to decipher: corporate earnings. And so far they like what they see.
Shares of Google rallied almost 14% Friday to all-time records beyond $1,000 as Wall Street cheers the tech titan's 36% leap in third-quarter profits that was fueled by a 26% rise in paid clicks.
Google's market cap surged by more than $40 billion on Friday alone, which is more than the entire market valuation of Yahoo (NASDAQ:YHOO). Google also became the third-most valuable company in the U.S. and the fourth with a four-digit stock price.
The mega rally carried the major indexes higher because Google holds a strong weighting in both the S&P 500 and the Nasdaq Composite: 1.61% and 4.25%, respectively.
The Google effect was being felt elsewhere in the tech world as Amazon.com (NASDAQ:AMZN), Facebook (NASDAQ:FB) and Yahoo (NASDAQ:YHOO) all rallied more than 1%.
Conglomerate General Electric (NYSE:GE) advanced 3.5% after reporting third-quarter non-GAAP EPS of 36 cents, topping forecasts by a penny. GE's revenue of $35.73 billion narrowly trailed forecasts.
Banks headed higher as Morgan Stanley (NYSE:MS) reported third-quarter results that easily exceeded forecasts amid robust equities trading revenue.
Thanks to the upbeat earnings reports, the S&P 500 closed at a fresh record high, its 28th of this year. The Nasdaq Composite landed at its best level since September 2000.
On the economic front, China reported 7.8% gross domestic product growth during the third quarter, matching forecasts from economists and representing an acceleration from 7.5% in the second quarter and 7.7% in the first quarter. The numbers should ease concerns about the world's No. 2 economy suffering a painful growth slowdown.
In the commodities complex, crude oil gained 14 cents a barrel, or 0.14%, to $100.81. Gold fell $8.50 a troy ounce, or 0.63%, to $1,314.40.
Corporate Movers
Honeywell (NYSE:HON) lost ground after reporting an in-line 4.2% rise in third-quarter profits and guiding its full-year revenue lower.
Ingersoll-Rand (NYSE:IR) impressed the Street with stronger-than-expected third-quarter earnings amid the stronger housing market. 
Safeway (NYSE:SWY) touched 52-week highs after raising its share buyback by $2 billion.
Schlumberger (NYSE:SLB) rallied 2% on stronger-than-expected earnings of 20%, broad revenue growth. 
Global Markets
The Euro Stoxx 50 gained 0.44% to 3023.56, the FTSE 100 advanced 0.71% to 6622.58 and Germany's DAX ticked up 0.60% to 8865.10.
In Asia, Japan's Nikkei 225 lost 0.17%, while Hong Kong's Hang Seng climbed 1.06% to 23340.10.