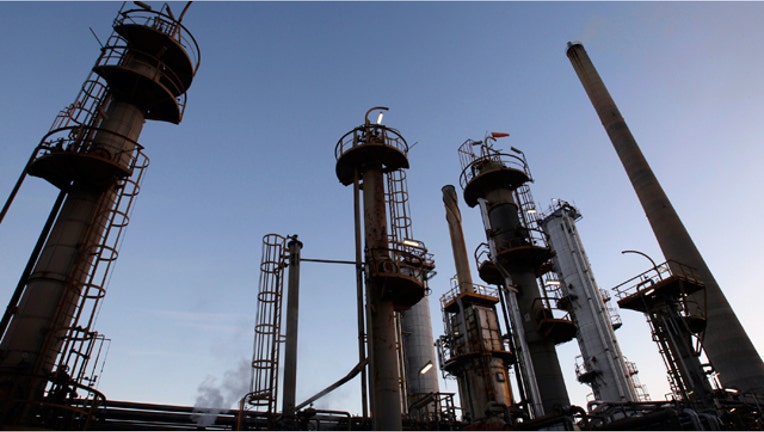 It is time to lift the oil export ban. The boom in U.S. oil production has to change the mindset about our energy policy to better reflect the realities of today instead of the fears of the past. After the Arab oil embargo in the 1970's America was faced with tough choices and there was need for drastic action. We had to hoard our oil and cut consumption because the reality of our dependency on oil imports put or national and economic security at risk. Of course that was then and this is now. This is a new era in the U.S. of oil production, one of abundance and security, not one of desperation and fear.
The pressure is rising by our trading partners to share our oil wealth. U.S. refiners and some politicians have shown some reluctance. The refiners like to try to keep what they perceive to be a home field advantage of cheap abundant oil. Politicians fear that if they agree to lift the ban, gas prices will increase and their support will be a sound bite in their next political attack ad. You know like so and so voted for lifting the U.S. oil ban so he could raise oil prices to help his friends in big oil.
Of course these are just myths and I am not the only one that it saying this and we have a new study to back that up. The United States Government Accountability Office yesterday released a report that showed that not only would lifting the oil ban not raise gasoline prices but they would actually lower them. As for the refiners the study suggests that a growing economy in the U.S. would improve the demand outlook not only here but abroad for their varied products.
The report did say that  while the cost of  U.S. crude oil prices would increase by about $2 to $8 per barrel--bringing them closer to international prices, the fee flow oil  would  reduce international prices and, subsequently, lower consumer fuel   prices.
In fact so far because of the high quality of U.S. shale oil, at this point U.S. refiners have not been able to take full advantage of its high yielding qualities. By exporting this oil to refiners in Europe that are better equipped would add to the amount of global supply.
Not only would it give legs to the U.S. oil production boom providing jobs and tax revenue. The GAO says that lifting the ban would add up to 130,000 to 3.3 million barrels per day from 2015 through 2035.  It would add the GDP to create jobs and open up investment and reduce the U.S. trade deficit.
The Report also says that the shale revolution will allow us to reduce the size of our Strategic Petroleum Reserve. Let's face it our new Strategic Reserve is North Dakota. Already there is a movement by the Obama administration to lower the SPR to about to 500 million barrels down from around its 691 million barrels.  That means that that U.S. government may be soon adding a lot of extra oil on the market. One reason that oil seemed to take the latest GAO report as more bearish than anything else is the market is factoring in the possibility of another source of oil in an already oversupplied market.
Yet overnight with China's slowdown not as bad as feared and refining problems causing big spikes in Midwest diesel and gas price wholesale markets. Farmers and their late harvest are driving diesel demand off the map. Gas prices are following as Midwest refinery glitches are taking their toll
While China's 3Q GDP came in 7.3 at a 5 year low it was better than expected. Gold and bonds moved higher as a shaky China will make it harder for the Fed to raise rates and money just wants to find a safe haven. Gold sellers now have the fear of QE in the U.S. back on the table making them less bold on the bearish side! China is not going to help Iron ore or copper either.
Price Links Video https://www.youtube.com/playlist?list=PLDq9JQANqxRxCBaHqunzBT4Frxitjw-XV.
Past results are not necessarily indicative of future results. Investing in futures can involve substantial risk of loss & is not suitable for everyone. Trading foreign exchange also involves a high degree of risk. The leverage created by trading on margin can work against you as well as for you, and losses can exceed your entire investment. Before opening an account and trading, you should seek advice from your advisors as appropriate to ensure that you understand the risks and can withstand the losses.
The information and data in this report were obtained from sources considered reliable. Their accuracy or completeness is not guaranteed and the giving of the same is not to be deemed as an offer or solicitation on our part with respect to the sale or purchase of any securities or futures. The Price Futures Group, its officers, directors, employees, and brokers may in the normal course of business have positions, which may or may not agree with the opinions expressed in this report. Any decision to purchase or sell as a result of the opinions expressed in this report will be the full responsibility of the person authorizing such transaction. Reproduction and/or distribution of any portion of this report are strictly prohibited without the written permission of the author. Trading in futures contracts, options on futures contracts, and forward contracts is not suitable for all investors and involves substantial risks.