Realty Income ("The Monthy Dividend Company") Misses Q1 FFO Consensus, but That's No Reason to Worry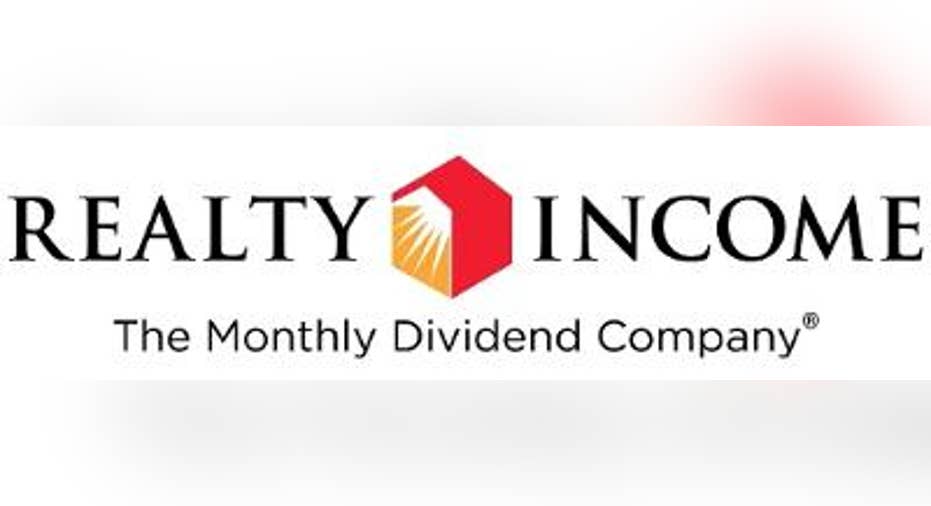 Realty Income Corp. (NYSE: O), known as "The Monthly Dividend Company," reported first-quarter 2016 results after the market closed on Tuesday. The retail-focused REIT's revenue and funds from operations (FFO), a key profitability metric for real estate investment trusts, increased from the year-ago period, though FFO of $0.70 fell a tad short of the $0.71 analysts were expecting.
Shares were flat in after-hours trading on Tuesday. The stock's total return of 24.3% over the one-year period through Wednesday crushes the S&P 500's 1.4% return and outpaces the returns forKimco Realty Corp., Regency Centers Corp., and National Retail Properties (NYSE: NNN) of 17.4%, 15.3%, and 13.7%, respectively. Realty Income's dividend yield was 4% at the close on Tuesday, tied with National Retail Properties' as the highest among this retail-focused REIT group.
Realty Income Corp.'s key quarterly numbers
| Metric | Q1 2016 | Q1 2015 | Growth (YOY) |
| --- | --- | --- | --- |
| Revenue | $267.1 million | $246.9million | 8.2 % |
| Net Income | $63.5million | $60.5 million | 5% |
| Earnings Per Share | $0.25 | $0.27 | (7.4)% |
| Funds from Operations (FFO) | $170.6million | $152.9 million | 11.6% |
| FFO Per Share | $0.68 | $0.68 | 0% |
| Adjusted FFO (AFFO) | $175.9million | $152.1 million | 15.6% |
| AFFO Per Share | $0.70 | $0.67 | 4.5% |
Data source: Realty Income Corp.
Net income was negatively affected by a non-cash loss of $5.8 million, or $0.02 per share, as the result of fair value adjustments to Realty Income's interest rate swaps. These adjustments fluctuate from quarter to quarter, which will affect year-over-year comparisons.
Wall Street analysts were expecting revenue of $266.9 million and adjusted FFO of $0.71 per share. (FFO, the primary driver of payouts to shareholders, adds items such as depreciation and amortization back to net income.) So, Realty Income inched by revenue expectations and just missed the FFO consensus. In short, there were no surprises.
Realty Income focuses on renting to retailers and service-based businesses that are largely immune to online competition. Image source: Realty Income.
What happened with Realty Income this quarter?
Occupancy Rate: Occupancy rate at the end of the quarter was 97.8% for the 4,615 properties, essentially unchanged from 98% in the previous-year's period. National Retail Properties also scores high on this metric, as it maintained occupancy rates above 98.5% throughout 2015; it reports Q1 results on May 2.
Rent recapture rate: Rate for properties that were re-leased during the quarter increased a strong 12.1% year over year. Of the 38 properties released during Q1, 29 were re-leased to existing tenants, five were re-leased to new tenants without vacancy, and four were re-leased to new tenants after a period of vacancy.
Same-store rents: Rents for the 4,112 properties under lease increased 1.3% year over year to $224.7million.
Real estate investments: Company invested $352.6 million in 103 new properties and properties under development or expansion, located in 31 states. Properties are 100% leased with an average lease term of about 15.8 years and an initial average cash lease yield of 6.6%. Property types consist of 85.7% retail and 14.3% industrial, with tenant type quite diverse. (Company's current portfolio is 79% retail and 21% industrial.)
Dividend increase: Realty Incomeincreased the monthly dividend in March for the 74thconsecutive quarter. Dividends paid per share rose 4.8%, compared to the quarter ended March 2015.
What management had to sayRealty Income CEO John Case said in the press release that the company is increasing its 2016 acquisition guidance:
Case also commented on the strength of the company's balance sheet, its ability to raise rents, and its expected occupancy rate for 2016:
Looking aheadRealty Income reiterated its 2016 adjusted FFO per share guidance of $2.85 to $2.90, representing year-over-year growth of 4% to 5.8%. It expects FFO per share for 2016 of $2.82 to $2.89, a year-over-year increase of 1.8% to 4.3%. FFO per share is based on a net income per share range of $1.13 to $1.20 in 2016.
Realty Income is a top-quality REIT that's provided a dependable and solid income stream, while also delivering strong stock-price appreciation, over the long-term. The San Diego-based company's success can primarily be attributed to its use of long-term, net leases (tenants pay variable expenses such as property taxes, property insurance, and maintenance costs); its geographically diverse operations (49 states plus Puerto Rico); its tenant diversity (243 tenants, with the top tenant representing only 6.8% of total rental income); its focus on tenants whose operations largely insulate them from online competition; and, of course, its management's superb execution.
The article Realty Income ("The Monthy Dividend Company") Misses Q1 FFO Consensus, but That's No Reason to Worry originally appeared on Fool.com.
Beth McKenna has no position in any stocks mentioned. The Motley Fool has no position in any of the stocks mentioned. Try any of our Foolish newsletter services free for 30 days. We Fools may not all hold the same opinions, but we all believe that considering a diverse range of insights makes us better investors. The Motley Fool has a disclosure policy.
Copyright 1995 - 2016 The Motley Fool, LLC. All rights reserved. The Motley Fool has a disclosure policy.