Ready to Get in on the Future of Banking? Check Out These 3 Stocks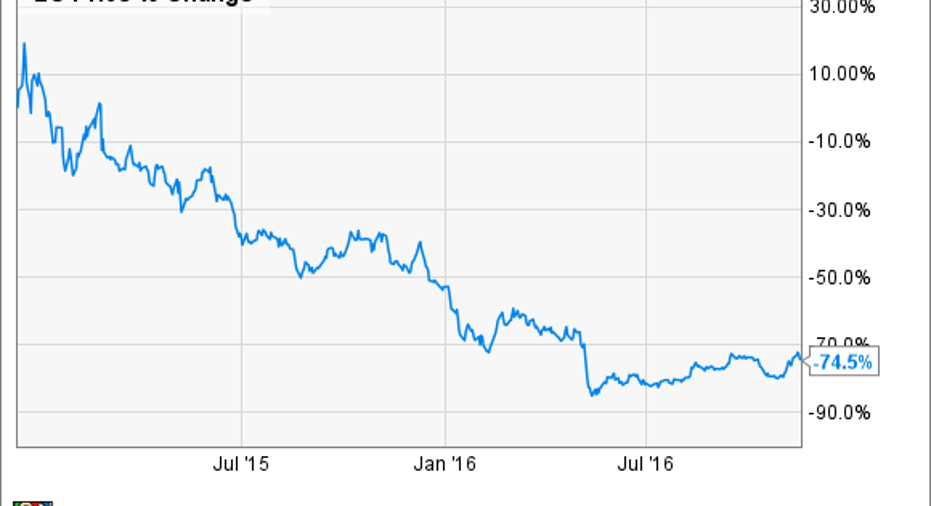 Technological advances are bringing changes to nearly every industry, and the banking sector is no exception. Today's consumers are more demanding than ever, so the financial institutions that best adapt to meet their needs stand a great chance of driving huge profit growth in the years ahead.
With that in mind, we asked a team of Motley Fool contributors to highlight financial companies that they feel are helping to transform the banking industry. Read on to see why they chose LendingClub Corp. (NYSE: LC), Bank of America Corp. (NYSE: BAC), and BofI Holding, Inc. (NASDAQ: BOFI).
Image source: Getty Images.
Cutting out the middleman
Brian Feroldi (LendingClub Corp.): Peer-to-peer lending has grown like wildfire over the last few years, and it is not hard to understand why. By using technology to power transactions, consumers can bypass traditional lenders altogether and earn far better interest rates.
One company that is a pioneer in this burgeoning industry is Lending Club. This company has originated more than $20 billion in total loans since its inception, which makes it a leader in the space. That provides the company with a huge leg up over rivals, since borrowers and lenders alike will naturally flock to the site with the most users. That could help to create network effects that could be unbeatable.
Of course, that doesn't make Lending Club an automatic buy. In fact, this company has quite a checkered history that I think should give investors pause. Last year a scandal led to the CEO's departure, which has proven to be a huge distraction for the company.
Thanks to these issues, the company's stock has actually been a disaster for longer-term shareholders:
Still, peer-to-peer lending does promise to be a huge disruptive force in banking, and Lending Club is well positioned to benefit from the trend. That makes this a great stock to check out, but I'd caution investors on hitting the buy button just yet.
A surprising leader in banking technology
Matt Frankel (Bank of America): The banking sector has rallied since Donald Trump's election, and Bank of America has outperformed most of its peers, up about 18% in the less than two weeks since election day. However, the bank does stand to benefit tremendously from Trump's plan to reduce regulations, and from his economic policy, which experts believe could result in interest rates rising faster than expected.
While it may seem strange that I'm suggesting Bank of America in a "future of banking" article, the bank is a leader when it comes to mobile and online banking technology. In fact, Keynote, an app assessment group, named Bank of America as the No. 1 bank in mobile and online banking functionality, as well as the No. 1 bank in digital sales functionality. The bank has more than 21.3 million mobile banking customers, and mobile transactions now represent 18% of all of Bank of America's deposits.
Image source: Getty Images.
In addition, digital transfers, active online accounts, and other forms of digital banking are steadily climbing, and Bank of America now has more than 4,500 cardless-enabled ATMs that allow customers to use their smartphones to withdraw money.
Bank of America has been gradually reducing its number of branches, which, combined with the innovations and rapid deployment of digital banking technology, should translate into increased efficiency and more profits over time.
Retail banking will look like this in the future
Jason Hall (BofI Holding): If there's one certainty around banking and commerce in general, it's that they will inexorably shift more and more away from the need for physical interaction. And Bank of Internet USA, the operating arm of BofI Holding, has operated in "the future" of banking for 20 years now. The oldest internet-only bank in the U.S., Bank of Internet USA has no physical branches.
This is a significant competitive advantage against traditional banks since branches are very expensive overhead, and a service that more and more banking customers simply never use. In other words, traditional bank customers "pay" for physical branches in higher fees and interest rates, and lower yields on deposits, while getting few tangible benefits.
Image source: Getty Images.
How much of an advantage does this give BofI? A pretty substantial one, at least by two very important measures of bank profitability: efficiency ratio (expenses as a percentage of revenue), and net interest margin (the spread between the cost of funds and the interest rate charged). Here's how BofI compares to Wells Fargo (NYSE: WFC), one of the most consistently profitable and efficient of the traditional big banks in these measures:
Data source: Wells Fargo and BofI investor presentations.
It's better to have a lower efficiency ratio, and a higher net interest margin, and BofI Holding wins on both measures. As you can see above, BofI spends far less on operations than one of the most efficient big banks and collects a much wider spread.
In fairness, the net interest margin isn't simply a product of lower expenses, since BofI's loan mix differs from Wells', but the point is clear: The future of banking will be far less dependent on local branches. Today, a lack of branches creates a competitive advantage for BofI.
10 stocks we like better than Bank of America When investing geniuses David and Tom Gardner have a stock tip, it can pay to listen. After all, the newsletter they have run for over a decade, Motley Fool Stock Advisor, has tripled the market.*
David and Tom just revealed what they believe are the ten best stocks for investors to buy right now... and Bank of America wasn't one of them! That's right -- they think these 10 stocks are even better buys.
Click here to learn about these picks!
*Stock Advisor returns as of November 7, 2016
Brian Feroldi owns shares of BofI Holding and Wells Fargo. Jason Hall owns shares of Bank of America, BofI Holding, and Wells Fargo. Jason Hall has the following options: long January 2017 $22.5 calls on BofI Holding and long April 2017 $20 calls on BofI Holding. Matthew Frankel owns shares of Bank of America. The Motley Fool owns shares of and recommends BofI Holding. The Motley Fool owns shares of Wells Fargo.
Try any of our Foolish newsletter services free for 30 days. We Fools may not all hold the same opinions, but we all believe that considering a diverse range of insights makes us better investors. The Motley Fool has a disclosure policy.