Read This Before You Buy Baytex Energy Corp. Stock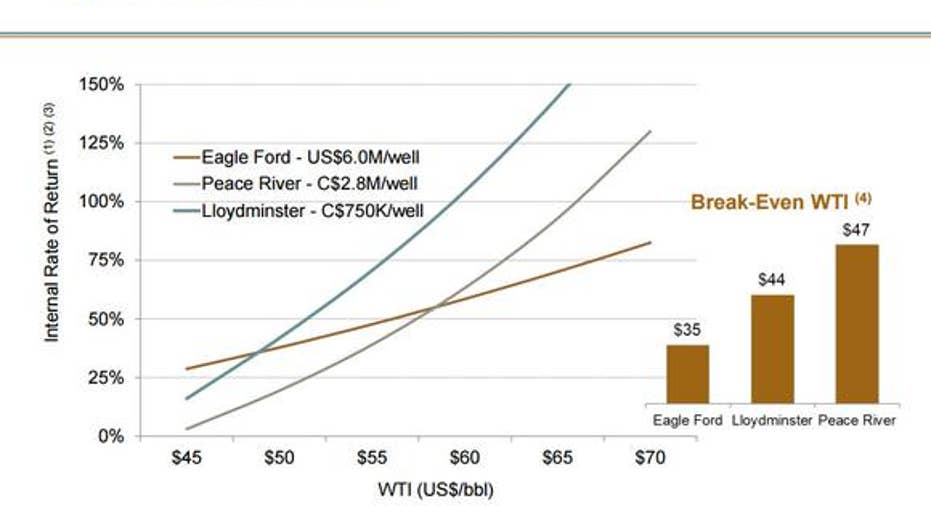 Image Source: Copyright Encana Corporation. All rights reserved.
Like a lot of smaller oil and gas companies, Baytex Energy has hit a wall this year. With oil below $40 a barrel the company can no longer economically develop much of its asset base. Worse yet, some of its producing assets are uneconomical and needed to be shut down until prices improve. Suffice it to say, Baytex Energy isn't built to run at sub-$40 oil.
Turning off the pumpsLast year, Baytex Energy followed the blueprint of most other oil and gas companies and continued to grow production despite slumping oil prices. In fact, it pushed its production up by 8% year over year to 84,650 barrels of oil equivalent per day, or BOE/d. Unfortunately, this push to grow production into an already oversaturated market made the oil glut much worse, accelerating the slump in oil prices. Prices have slumped so deeply that some oil wells are no longer profitable and have needed to be shut down.
In Baytex Energy's case, it has been forced to shut down 7,500 barrels per day of low or negative margin heavy oil production in Canada this year in an effort to boost its sagging cash flow. That's approximately 8.8% of its average daily volumes that are now offline. In doing so, it's joining a growing number of producers that have had to shut down wells that were no longer economic. Penn West Petroleum , for example, had shut-in 4,000 BOE/d of uneconomic production in the first quarter of this year due to weak pricing. Further, because of low commodity prices and the lack of capital Penn West Petroleum estimates that it will need to defer repairing or replacing equipment in some of its non-core fields, which would result in another 2,500 BOE/d coming offline this year. Combined, these production curtailments represented 7.5% of Penn West Petroleum's average daily production last year.
Laying down the rigsNot only are a growing number of legacy wells no longer economic at current oil prices, but a growing number of drilling locations aren't economic either. That, alongside the fact that the company's available financial resources are tight, has forced Baytex Energy to significantly reduce its investments in new wells. That's clear after the company cut its 2016 capex budget by another 33% to just $225 million to $265 million. As part of that reduction, the company has decided against drilling 12 Peace River wells and 24 Lloydminster wells this year because those wells wouldn't be economic at current oil prices given break-even points well above the current oil price:
Source: Baytex Energy Investor Presentation.
As that slide notes, both plays require a mid-$40 oil price to break even, which is well above the current sub-$40 oil price. In fact, for much of this year even the company's Eagle Ford shale drilling inventory was below break-even, which is problematic given that 95% of its capital spending is being directed toward that play this year.
That said, shale plays have proven to be a much more resilient than expected during the downturn, with many areas having break-even points in the low-$30s enabling producers to continue to economically drill in the current environment. Those low shale break-even points will enableEncana , for example, to continue to deliver strong production growth from its core shale resources this year. Despite reducing its planned investment by 55% over what it spent last year, Encana still sees its core assets delivering a 12% year-over-year increase in production. That's a much better outcome than Baytex, which will see its overall production slump 17.3% year over year as a result of the production shut-ins as well as underinvestment.
Investor takeawayOne thing is clear, Baytex Energy wasn't built for sub-$40 oil with a growing portion of its production and drilling inventory no longer economic, forcing the company to shut-off some of its pumps and shut down its drilling activity in two of its key plays. It's really at a competitive disadvantage to companies like Encana, that have core shale assets that are much lower cost, enabling them to better weather the current sub-$40 oil environment.
The article Read This Before You Buy Baytex Energy Corp. Stock originally appeared on Fool.com.
Matt DiLallo has no position in any stocks mentioned. The Motley Fool has no position in any of the stocks mentioned. Try any of our Foolish newsletter services free for 30 days. We Fools may not all hold the same opinions, but we all believe that considering a diverse range of insights makes us better investors. The Motley Fool has a disclosure policy.
Copyright 1995 - 2016 The Motley Fool, LLC. All rights reserved. The Motley Fool has a disclosure policy.