Raytheon Joins the Fight Against IEDs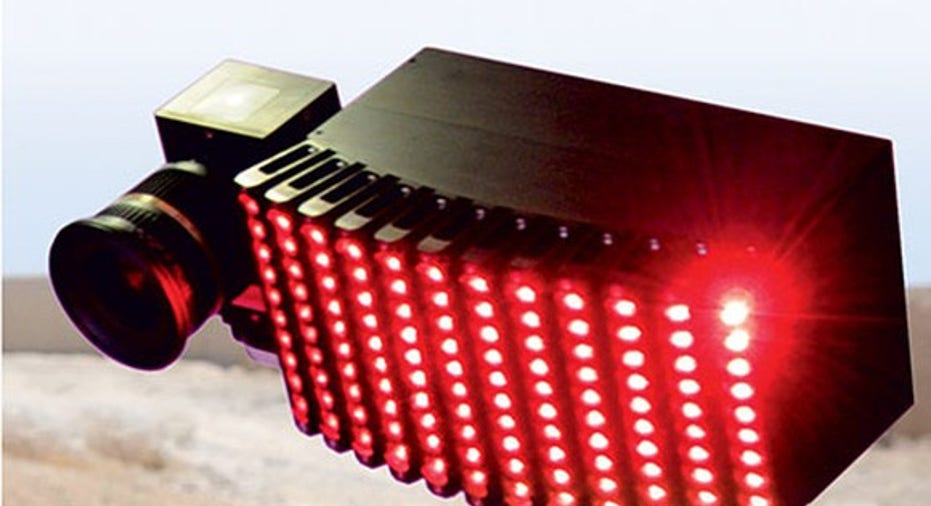 Big brother is watching ... IEDs. Image source: Raytheon.
With a population of just 1.3 million, and a GDP of less than 25 billion, the Baltic nation of Estonia is rarely thought of as a military powerhouse. Yet Estonia is one of only a handful of NATO member states that meets the alliance's target of spending 2% of GDP on defense.
Some might wonder that such a tiny nation is shouldering an outsize part of the alliance's defense burden. Others might wonder, is that investment beginning to pay off?
IED scanners ...
Judging from what we've seen this month, it just might be paying off. A couple of weeks back, Defense-Update.com reported that Estonian robotics developer Milrem has teamed up with Raytheon to develop a new integrated robotic platform for detecting buried improvised explosive devices.
Raytheon, you see, has something called a GroundEye sensor system, which, according to the company, is able "to view, in real time, the exact position, orientation, size, and shape of all individual components of an emplaced or suspected ... IED or other buried threat ... with extremely low false alarm rates."
Plus Baltic warbots ...
Initially designed to be man-portable, Raytheon has also been looking for an unmanned ground vehicle platform to carry GroundEye, permitting bomb-disposal technicians to identify and "geotag" the location of suspected IEDs from a safe distance. And it seems Raytheon has found such a platform in Milrem's "THeMIS" robot.
Designed specifically with counter-IED missions in mind, THeMIS, the "Tracked Hybrid Modular Infantry System" is said to be able to carry payloads up to 1,650 pounds in weight. This makes it potentially useful not just for C-IED missions, but for medevac, supply delivery, and remote weapons station missions as well.
Equals profits for Raytheon?
This is obviously attractive to Raytheon, which has yet to develop a really popular unmanned ground vehicle of its own. Its partnership with Milrem, though, just might do that trick. So long as the United States remains involved in counterinsurgency actions in Afghanistan, in Syria, and in Iraq, it will face an ongoing threat from IEDs. This creates an immediate market for THeMIS-cum-GroundEye, which should begin production in numbers later this year.
Additionally, the paired robot-plus-IED scanner concept could prove useful in missions similar to IED detection. For example, in former conflict zones around the world, there's a persistent threat to civilian populations from unexploded ordnance such as cluster bombs and land mines. Years, and even decades, after a conflict has ended, these munitions continue to claim hundreds of innocent lives year after year. Deployment of GroundEye-equipped THeMIS robots to identify such threats could be a great way to disarm that threat -- and produce a nice new revenue stream for Raytheon in the process.
The article Raytheon Joins the Fight Against IEDs originally appeared on Fool.com.
Fool contributorRich Smithowns shares of Raytheon. You can find him onMotley Fool CAPS, publicly pontificating under the handleTMFDitty, where he's currently ranked No. 278 out of more than 75,000 rated members.The Motley Fool has no position in any of the stocks mentioned. Try any of our Foolish newsletter services free for 30 days. We Fools may not all hold the same opinions, but we all believe that considering a diverse range of insights makes us better investors. The Motley Fool has a disclosure policy.
Copyright 1995 - 2016 The Motley Fool, LLC. All rights reserved. The Motley Fool has a disclosure policy.