Raytheon Crushes It on Earnings Day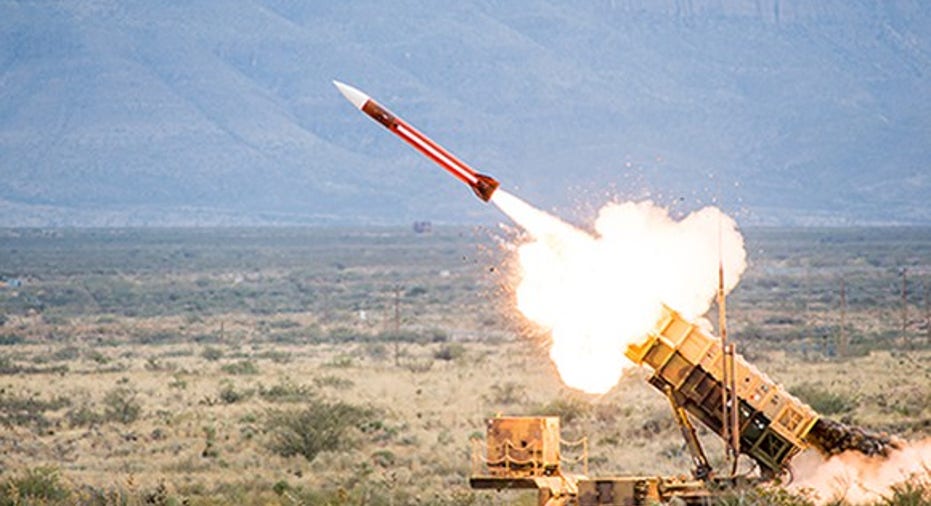 Taking its cue more from Northrop Grummanthan from Lockheed Martin this week, Raytheon (NYSE: RTN) reported its Q1 2017 earnings on Thursday -- and crushed it.
Heading into earnings day, defense industry analysts had predicted that Raytheon would report $1.61 per share in profits on sales of $5.8 billion. But as it turned out, Raytheon beat both those numbers with a stick. Here's a quick rundown of the quarter that was.
The Patriot Missile is perhaps Raytheon's best-known product. Image source: Raytheon.
Raytheon in Q1 2017
For its fiscal first quarter 2017, Raytheon reported:
$6 billion in quarterly sales, up more than 3% from last year's Q1.
Expanded operating profit margins on those sales by 180 basis points, to 12.4%.
Expanded net profit margins by 100 basis points, to 8.4%.
And, as a result, reported bottom line per-share profits of $1.73, a 21% increase.
Which made for a pretty fantastic quarter for Raytheon. Now let's get a bit more granular.
Under the magnifying lens
Raytheon divides its business into five main segments:
Integrated Defense Systems (such as the Patriot missile system)
Intelligence, Information, and Services (including military training)
Missile Systems (such as the Tomahawk)
Space and Airborne Systems (such as sensors)
Forcepoint (Raytheon's new dedicated cyberwarfare division)
In Q1, Raytheon grew sales in four of these five divisions, with Space and Airborne showing the strongest growth (8%) and IIS the weakest with negative 2%. Similarly, four of Raytheon's five business divisions saw improved operating margins, with IDS -- already Raytheon's most profitable division -- becoming even more so, as operating profit margins expanded from 10.9% to 15.2%.
Conversely (and fortunately), the only division to see operating margins contract was the division contributing the smallest share of Raytheon's revenues -- Forcepoint. (That's why the drop in profit margins there didn't do much to ding overall profits for the company.)
What's not to like?
As I said, it was pretty good news all around at Raytheon this week. The fact is, the only black mark at all I could find in the report was ... the same issue that plagued Northrop Grumman one day earlier. Namely, while revenues grew and profits grew even faster, actual cash profits (free cash flow) declined at Raytheon in Q1. One year ago, Raytheon reported a respectable free cash flow of $176 million. Last quarter, however, Raytheon consumed cash -- $127 million worth of it.
What it means for investors
But not to worry. According to Raytheon's latest guidance, free cash flow is expected to rebound nicely as the year progresses. Raising guidance for the rest of this year, Raytheon now foresees booking between $24.9 billion and $25.4 billion in sales by year-end. Earnings are now expected to come in a nickel higher than previous expectations (the new range is between $7.25 and $7.40 per share). Best of all, free cash flow is still expected to range from $2.8 billion and $3.1 billion, despite Raytheon burning cash in Q1.
Now ... does all this good news make Raytheon stock a buy? If you'll forgive the head-fake, I have to say "no".
Even assuming Raytheon hits the very top of its guidance ranges for both earnings and free cash flow, at current valuations, Raytheon stock is selling for more than 21 times current-year earnings, and 14.8 times free cash flow. (Factor in $2.5 billion in net debt, and the company's enterprise value-to-free cash flow ratio rises to 15.) Given that consensus estimates of the company's long-term earnings growth remain below 7% annualized for the next five years, I think these multiples are still too pricey.
Long story short, this is a story of "great company, overvalued stock." Until the valuation becomes more reasonable, I cannot counsel investing in Raytheon -- no matter how fantastic its quarterly reports may be.
10 stocks we like better than RaytheonWhen investing geniuses David and Tom Gardner have a stock tip, it can pay to listen. After all, the newsletter they have run for over a decade, Motley Fool Stock Advisor, has tripled the market.*
David and Tom just revealed what they believe are the 10 best stocks for investors to buy right now... and Raytheon wasn't one of them! That's right -- they think these 10 stocks are even better buys.
Click here to learn about these picks!
*Stock Advisor returns as of April 3, 2017
Rich Smith has no position in any stocks mentioned. The Motley Fool has no position in any of the stocks mentioned. The Motley Fool has a disclosure policy.