Raytheon Beats on Earnings, Stock Falls (Wait... What?)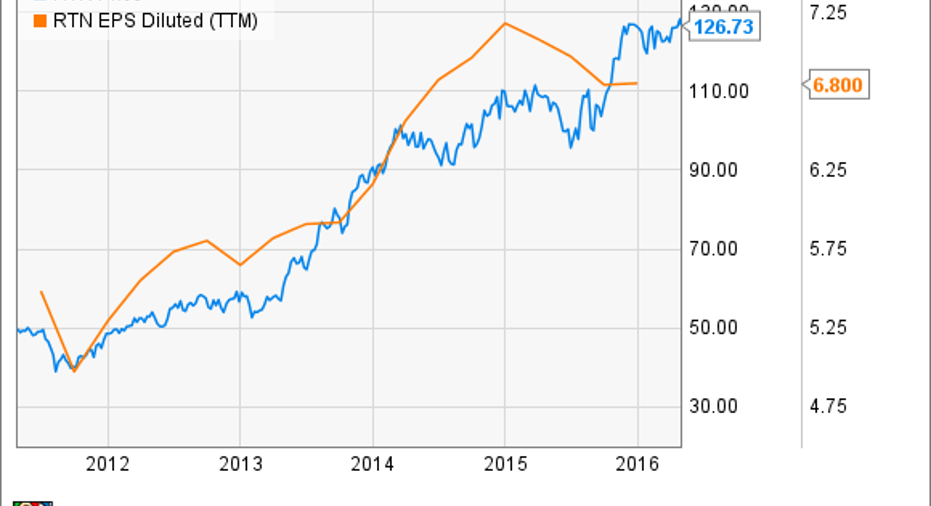 Raytheon's stock keeps rising, but did it maybe just get alittlebit ahead of itself? RTN data by YCharts.
This is not the way that earnings are supposed to work. Early Thursday morning, Raytheon Company reported better-than-expected revenue, and better-than-expected earnings, as well. Raytheon then raised guidance for profits for the rest of this year, and... the stock sold off by 2%.
How did that happen?
The news Before addressing that question, let's get specific. Here's how the Q1 numbers played out in detail:
Revenue grew to $5.8 billion, which was 9% better than last year, and 6% better than analysts had predicted.
Operating profit margins plunged as expected, falling 530 basis points to just 10.6%. (That's not quite as bad as it sounds. Last year's Q1 margin was artificially inflated by a one-time gain from a legal settlement.)
Even so, this worked out to a big decline in net income at Raytheon, which, at $1.43 per diluted share, was down 20% year over year -- but still down less than expected.
With both revenue and earnings coming in ahead of estimates, Raytheon now believes it will earn more this year than previously thought possible -- anywhere from $6.93 to $7.13 per share. With consensus estimates hovering around $7.03 per share, however, this is no more than analysts were already expecting. And that probably explains why news of twin revenue-and-earnings beats has failed to lift Raytheon's stock price.
But it still doesn't explain why the stock price actually fell.
Valuation mattersCurrently, Raytheon shares sell for 19.3 times trailing-12-month earnings. Even factoring a 2.3% dividend yield into the picture, that's a princely sum to pay for a stock that analysts, on average, expect to grow at barely 8% annually during the next five years. Simply put, it's my considered opinion that Raytheon shares were overvalued before earnings -- sufficiently so that even a better-than-expected earnings report wasn't enough to keep the stock moving up.
Still, the timing of investors realizing this does seem strange. Raytheon shares were already overvalued before earnings came out. I also think they're a bit less overvalued today. Here's why:
Yesterday, I told you that the one number I'd be focusing most intently on in Raytheon's earnings report was its free cash flow -- its cash profits, calculated by subtracting capital expenditures from operating cash flow. Historically, Raytheon's been a pretty weak cash producer. But this morning, that began to change.
You have to dig pretty deep within Raytheon's earnings report to find this, but it turns out that Raytheon roughly sextupled the amount of cash generated from operations last quarter, from $55 million in Q1 2015 to $325 million in Q1 2016. Capital spending also increased, but "only" three times. When all's said and done, Raytheon came out of the quarter producing positive free cash flow of $175 million. According to S&P Global Market Intelligence data, that was enough to lift Raytheon's trailing-12-month FCF number past $2.1 billion, and past its $1.95 billion reported "net income."
Suffice it to say, this is a positive development for Raytheon shareholders. It's been more than two years since Raytheon last generated free cash flow superior to reported net income. And now that it's done it, the company's price-to-free cash flow ratio has fallen below its P/E ratio, to just 17.9.
Is that price cheap? I'd have to say no. Is it cheap enough to convince me to rush out and buy more Raytheon stock for myself? Also no.
But it's a cheaper price than what Raytheon cost just last Wednesday. And that's anything but a reason to sell Raytheon now.
The article Raytheon Beats on Earnings, Stock Falls (Wait... What?) originally appeared on Fool.com.
Rich Smithstill owns shares of Raytheon stock. Pursuant to the Fool's ironclad disclosure policy, he may not sell (or for that matter, buy) Raytheon shares for at least three days after this article publishes. You can find Rich onMotley Fool CAPS, publicly pontificating under the handleTMFDitty, where he's currently ranked No. 297 out of more than 75,000 rated members.The Motley Fool has no position in any of the stocks mentioned. Try any of our Foolish newsletter services free for 30 days. We Fools may not all hold the same opinions, but we all believe that considering a diverse range of insights makes us better investors. The Motley Fool has a disclosure policy.
Copyright 1995 - 2016 The Motley Fool, LLC. All rights reserved. The Motley Fool has a disclosure policy.