Raven Industries Inc. Delivers a Hard-Earned Beat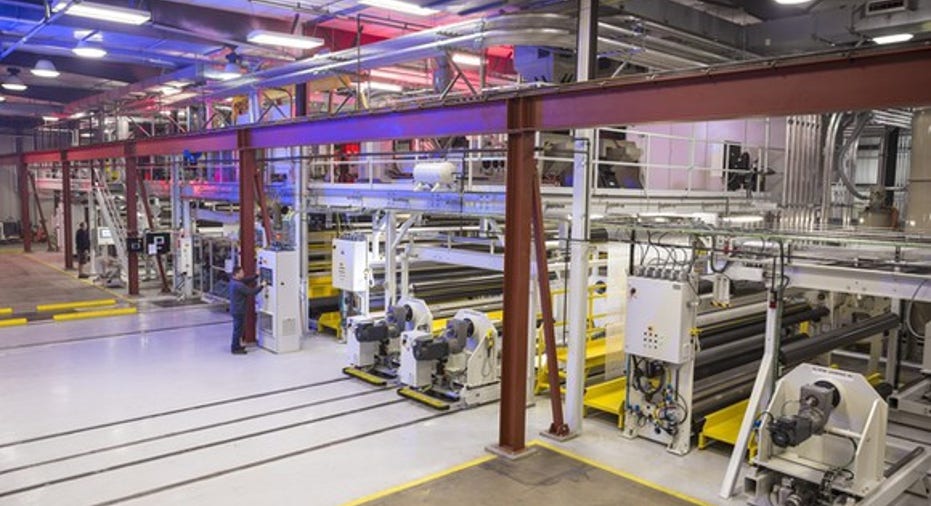 Raven Industries' new 7-Layer Cast Extrusion Line. Image source: Raven Industries.
Raven Industries announced fiscal first-quarter 2017 results Thursday before the market opened. And with shares up more than 16% as of this writing, it's apparent the market is more than happy with its progress, especially afterthe mini-industrial conglomerate used last quarter's report to warn it was positioning itself for another challenging year ahead.
Let's take a closer look at how Raven kicked off the new fiscal year:
Raven Industries results: The raw numbers
| Metric | Fiscal Q1 2017 Actuals | Fiscal Q1 2016 Actuals | Growth (YOY) |
| --- | --- | --- | --- |
| Revenue | $68.4 million | $70.3 million | (2.7%) |
| Net Income | $5.5 million | $4.9 million | 12.2% |
| Earnings Per Diluted Share | $0.15 | $0.13 | 15.4% |
Data source: Raven Industries.
Operating income grew 5.6% year over year, to $7.6 million.
Operating margin increased 80 basis points, to 10.3% of total sales, driven by expense controls and the benefits of prior-year restructuring.
Restructuring and expense controls reduced corporate sales, general, and administrative expenses by $1.9 million from the same year-ago period.
At Engineered Films:
Revenue declined 7.1% year over year, to $29.1 million, driven by a $2.9 million decline in sales into the energy and geomembrane markets. Sales into other markets rose $0.8 million, driven by strength in construction and Industrial markets.
Operating income fell 13.3% year over year to $3.9 million, driven by lower production volumes and offset by lower operating expenses.
Engineered Films operating margin fell 100 basis points year over year, but rebounded from 7.5% last quarter to 13.3% on improved seasonal volumes.
At Applied Technology:
Revenue declined 2.9%, to $31.5 million.
Sequential improvement continued as:
Sales to aftermarket channel customers rose 5.7% year over year, compared to a 21% decline last quarter.
Sales to OEM clients fell 11.9% year over year, compared to a 33% decline last quarter.
Domestic sales fell 13.8% year over year, and international sales rose 26.3%.
Operating income was roughly flat over last year's first quarter, at $8.7 million.
At Aerostar:
Revenue grew 19.7% year over year, to $7.9 million, driven by growth in stratospheric balloons led by Project Loon.
It generated stratospheric sales from two new U.S. government customers in the quarter.
Operating loss was $0.6 million, narrowed from a $0.9 million operating loss in last year's first quarter.
Aerostar's business pipeline has "improved significantly."
Raven Industries CEO Dan Rykhus called this "a very important year for Aerostar," adding the company is "intently focused on turning around the performance of the division and returning it to profitability."
Rykhus stated:
Raven Industries once again declined to offer specific earnings guidance for the coming year. But Rykhus did reiterate the company remains on track to deliver roughly flat revenue and adjusted operating profit in fiscal 2017 compared to last year, "with potential opportunity to achieve modest growth in both."
"Successfully driving growth when end-market conditions are weak is not without its challenges," Rykhus added, "but doing so while maintaining operational discipline has been and will continue to be our focus for the rest of the year."
In the end, investors are rightly happy the company remains on track to achieve its prior goals. Assuming it continues to focus on operational efficiency and take market share in the meantime, Raven Industries should emerge a stronger company when current market headwinds eventually abate.
The article Raven Industries Inc. Delivers a Hard-Earned Beat originally appeared on Fool.com.
Steve Symington has no position in any stocks mentioned. The Motley Fool recommends Raven Industries. Try any of our Foolish newsletter services free for 30 days. We Fools may not all hold the same opinions, but we all believe that considering a diverse range of insights makes us better investors. The Motley Fool has a disclosure policy.
Copyright 1995 - 2016 The Motley Fool, LLC. All rights reserved. The Motley Fool has a disclosure policy.