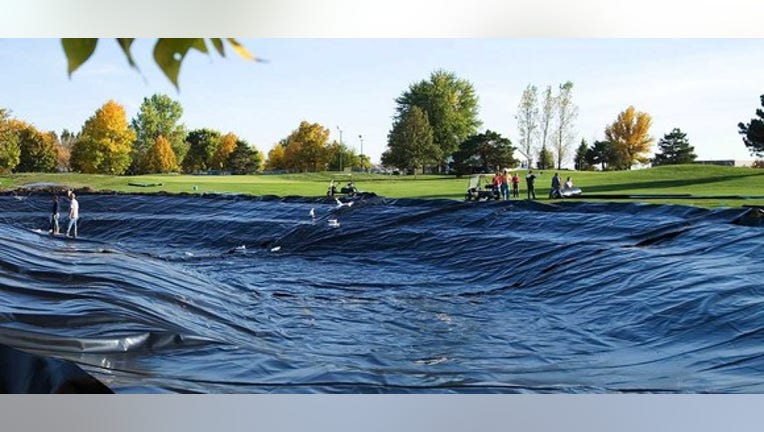 Raven Industries (NASDAQ: RAVN) announced strong fiscal third-quarter 2017 results last Wednesday, demonstrating improvements in growth on both its top and bottom lines. And with shares of the mini-industrial conglomerate up more than 20% since then, investors are rightly cheering the update.
But perspective is in order. It's been an odd several months for Raven Industries since the companyannounced solid fiscal second-quarter 2017 results this past August. In September, the company revealedthat it wouldn't be able to file that quarter's Form 10-Q with the SEC in a timely fashion, leaving it temporarily non-compliant with Nasdaq listing rules.And though Raven subsequently received an extension from the Nasdaq, giving it until early March to come into compliance, the same went for last week's third-quarter report, which was originally supposed to be filed with the SEC by mid-December.
Before we talk about what caused those delays, let'stake a closer look at Raven Industries' fiscal third-quarter performance.
Raven's engineered-films division delivered significant profitability improvements this quarter. IMAGE SOURCE: Raven Industries.
Raven Industries results: The raw numbers
*For the quarter ended Oct. 31, 2016. Data source: Raven Industries, Inc.
What happened this quarter?
Operating income was $7.4 million, compared with an operating loss of $9.8 million in last year's fiscal third quarter.
This year's quarterly results included a $2.3 million pre-tax inventory writedown adjustment related to certain Aerostar inventory.
Last year's fiscal Q3 included a pre-tax non-cash goodwill impairment loss of $11.5 million, a $3.8 million impairment loss of long-lived assets, $2.9 million in pre-contract cost write-offs, and an earn-out liability reduction benefit of $2.3 million. In total, those items reduced fiscal Q3 2016 operating income by $16 million.
Operating margin was 10.2%, compared with negative operating margin of 14.5% in the same year-ago period.
In the engineered-films division:
Revenue grew 4.4% year over year, to $38.6 million, thanks to higher sales into the geomembrane and industrial markets. Volume (in pounds sold) grew 5.9%, and average selling prices fell 1.4%.
Segment operating income grew 16% year over year, to $7.1 million, thanks to higher sales and lower operating expenses. Operating margin climbed 190 basis points year over year, to 18.5%, helped by more effective capacity utilization and cost controls.
In the applied-technology division:
Revenue increased 18.1%, to $25.2 million, driven by strong new product sales (notably for the new Hawkeye Nozzle Control System), including 14.3% domestic growth and 33% international growth.
Segment operating income increased 94.5%, to $6.4 million, driven by higher operating leverage from increased sales volumes. Segment operating margin increased 1,000 basis points, to 25.5%.
In the Aerostar subsidiary:
Revenue fell 4.8% year over year, to $9.0 million, driven by lower Aerostat sales, a result of contract delivery timing.
Aerostat segment operating loss was $1.4 million, compared with an operating loss of $15.5 million in last year's fiscal Q3, as already described.
Regarding the underlying cause of delays in quarterly filings:
Raven Industries disclosed "certain material weaknesses in its internal control framework" but insists it "takes this matter very seriously an is taking action to diligently remediate these material weaknesses and enhance its controls."
In addition to augmenting its staff to support remediation efforts, Raven has enlisted "independent outside experts" to assist management in enhancing its internal control framework.
What (else) management had to say
To Raven's credit, it kept investors in the loop on its journey back to compliance, notably with updates on its expected filing timelines along the way. And during Raven's most recentconference call, CEO Dan Rykhus elaborated:
Rykhus also added color on the company's recent operational improvements and business momentum:
Looking forward
Raven typically doesnotprovide financial guidance. But with the caveat that it still doesn't plan to do so going forward, the company made a rare exception this time, given its recent extenuating circumstances. More specifically, Raven expects revenue for the current fiscal year 2017 to end at roughly $277 million, including $105 million from applied technology, $138 million from engineered films, and $34 million from Aerostar. And looking forward, as Rykhus noted, both applied technology and engineered films are expected to end the year strong and continue their momentum into fiscal 2018.
All things considered -- however uneasy it might have made investors along the way -- it's encouraging that there were no drastic, business-altering financial restatements as Raven Industries hammered out its internal audit process. But investors should still keep their eyes peeled for any updates as Raven completes the remediation process to improve its internal control framework.
In the meantime, given thebig improvements in both sales and profitability from Raven's two core segments -- and assuming that momentum is sustainable as management suggests -- it was no surprise to see the market bidding up Raven Industries stock following its report.
10 stocks we like better than Raven IndustriesWhen investing geniuses David and Tom Gardner have a stock tip, it can pay to listen. After all, the newsletter they have run for over a decade, Motley Fool Stock Advisor, has tripled the market.*
David and Tom just revealed what they believe are the 10 best stocks for investors to buy right now... and Raven Industries wasn't one of them! That's right -- they think these 10 stocks are even better buys.
Click here to learn about these picks!
*Stock Advisor returns as of February 6, 2017
Steve Symington has no position in any stocks mentioned. The Motley Fool recommends Raven Industries. The Motley Fool has a disclosure policy.