Rather Than Watch for "Peak Auto Sales," Focus on These 2 Factors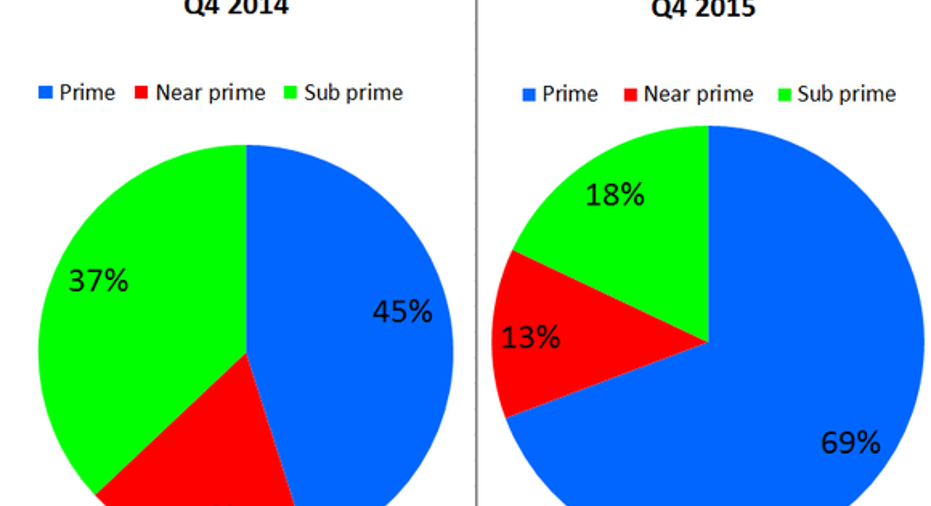 The wheels have fallen off automaker stocks over the past 12 months, as you can see in the chart above. While the S&P 500 has traded about 2% lower, automotive stocks have been absolutely crushed in comparison, especially Volkswagen Group, which has yet to recover from its diesel emissions scandal fallout.
The reason automotive stocks have been crushed at a time when profits are plentiful is simple: Investors don't know where sales and profits will go from here. That means until automakers prove they can survive a downturn, investors are jumping ship when sales appear to be peaking. But despite all the peak auto sales gloom and doom, here are two other developments investors should keep an eye on.
Rising statistics Sales haven't been the only statistic rising in the automotive industry in recent years: The average amount financed and average monthly payment for new vehicles hit the highest level since Experian Automotive began recording the data in 2008. There are a couple of factors at work here.
Technology and connectivity with mobile devices has exploded inside vehicle interiors, and that's pushed the prices higher on certain packages and trims. Also, with credit and financing easily available and cheap, consumers have opted to extend loan lengths to increase their purchasing power, but at a long-term cost of increased total amount financed.
There are two things to keep in mind while watching this new trend of increasing transaction prices on new vehicles: the type of consumer taking loans and the consumer purchase cycle.
As many have noted recently, subprime auto loans have increased over the past couple of years. However, looking specifically at General Motors and Ford Motor Company , the two largest automakers in the U.S. market, it's a relief to see that their financial arms -- which, for the record, don't do all the loaning and financing on their vehicles being purchased -- expand by loaning to more prime consumers, rather than subprime. Here's a look at the difference a year made at General Motors Financial.
Chart by author. Data source: General Motors' Q4 presentation.
Furthermore, anything above a FICO score of 680 is generally considered a prime consumer, and the average FICO score of the consumers Ford Credit lends to is remarkably high. From 2011 to 2013, Ford's average FICO score was hovering between 737 and 738, and that rose to 740 during 2015.
So, the type of consumer Ford and GM are lending to doesn't seem to be a red flag yet, despite the industry's rise in subprime loans and delinquencies on those loans. However, the real concern, in my opinion, is that as consumers extend the length of their loans, it will extend the time before they come back and purchase another new vehicle. Consider this: Loan terms of 73 to 84 months grew 12% during the fourth quarter of 2015 for new vehicles, and now those long loans account for almost 30% of new-vehicle loans.
Investors will want to watch not only the type of consumer these loans are going to but also the loan length, because if we see an extending consumer purchase cycle, it will negatively impact sales growth in the U.S. auto industry.
Fleet sales aren't all bad, but... Investors cringe when they hear Detroit automakers and fleet sales, as the two don't exactly have a cheery history, due to a time when automakers unloaded an excess supply of vehicles to fleet buyersat losses. For the most part, fleet sales are being treated much differently these days. For example, government fleet sales -- think police cars, for example -- is a very valuable business. Commercial fleet sales, which often involve large quantities of truck sales, are also a very valuable business for which GM and Ford compete fiercely.
But not all fleet sales are as valuable, and fleet sales to rental companies with lower margins are typically met with investor skepticism. Just last month, that topic reared its ugly head as Ford and Fiat Chrysler Automobiles posted excellent February sales results in the U.S. market. In fact, it was both automakers' best February result since 2006.
However, part of the driving force was a surge in their fleet sales: FCA's fleet sales jumped 39% compared to the prior year, and Ford's moved 42% higher. Also, Ford's fleet sales in February accounted for 36% of its total sales, which is much higher than normal -- Ford's previous two years of fleet sales have checked in around 28% and GM is historically between 22% and 24%. Worse yet, more than half of Ford's fleet sales in February were to rental car lots, the typically less desirable of fleet sales.
Now, the timing of fleet sales makes the percentages in any given comparison volatile, but it's absolutely a trend worth watching and understanding. For instance, GM has taken a strong stance on reducing its less valuable fleet sales, and was on the flip side of those statistics in February as its fleet deliveries dropped 24% -- which hindered its total sales figure, resulting in a 1.5% decline in February sales.
Looking forward, Ford expects its fleet deliveries to remain higher through the first half of 2016, before tapering off and ending slightly above last year's. But it will be important to keep watching if Ford's fleet sales continue to emphasize sales to rental car lots or more healthy fleet sales. It will also be important to watch if GM continues to pull back on fleet sales, so investors can appropriately judge its total sales each month.
In my opinion, the peak auto sales gloom and doom is overblown, but that doesn't mean there aren't factors worth investors' attention -- and a potentially lengthening purchase cycle and a potential return to higher fleet sales are two things to watch.
The article Rather Than Watch for "Peak Auto Sales," Focus on These 2 Factors originally appeared on Fool.com.
Daniel Miller owns shares of Ford and General Motors. The Motley Fool owns shares of and recommends Ford. The Motley Fool recommends General Motors. Try any of our Foolish newsletter services free for 30 days. We Fools may not all hold the same opinions, but we all believe that considering a diverse range of insights makes us better investors. The Motley Fool has a disclosure policy.
Copyright 1995 - 2016 The Motley Fool, LLC. All rights reserved. The Motley Fool has a disclosure policy.