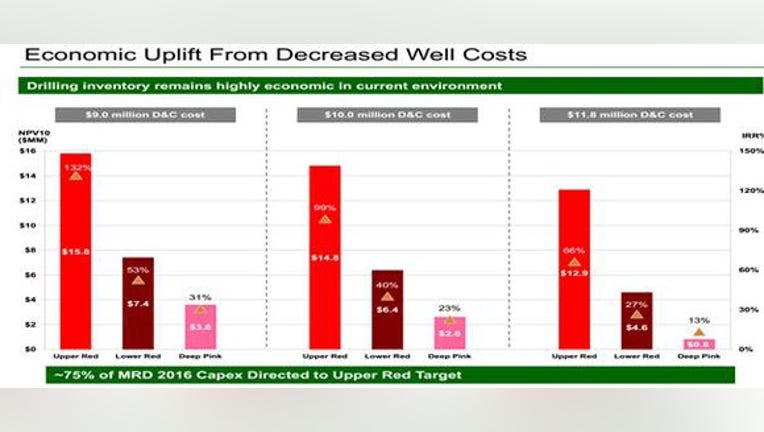 Image source: Range Resources corporate presentation.
Warren Buffett famously said, "You don't know who is swimming naked until the tide goes out." Well, the tide went out for the American oil and gas industry in 2014, and hasn't come back in. We are now fully aware of which companies took on too much debt or were trying to pass off mediocre assets as good ones.
Range Resources is one natural gas-focused producer that was found to be wearing a very smart-looking bathing suit. Range's balance sheet has held up, and its top tier Marcellus acreage has proven to be among the best in the industry.
Range also just acquired Memorial Resource Development Corp . Let's take a look at whether this was a good deal for Range shareholders.
What exactly did Range acquire?
Range will acquire all of Memorial in an all-stock deal that values Memorial at $4.4 billion and includes the assumption of $1.1 billion of debt. The acquisition puts Range into an entirely new operating region.
Image source: MRD corporate presentation.
Memorial targets the Cotton Valley formation, which extends across East Texas, North Louisiana, and Southern Arkansas. The Cotton Valley has been drilled for decades, with the first wells dating back to the 1930s.
The beauty of the play is that it contains multiple thick-producing formations.
More than 21,000 vertical wells have been drilled into the play, and these wells have exhibited long-lived, predictable production profiles.
Image source: MRD corporate presentation.
MRD entered the Cotton Valley play in April 2010 through an acquisition. Today the company has 219,000 net acres which includes an option to purchase 39,000 acres in and around the Terryville Complex.
To date MRD has drilled 95 gross horizontal wells targeted at four primary formations:
- 68 Upper Red wells
- 22 Lower Red wells
- 3 Lower Deep Pink wells
- 2 Upper Deep Pink wells
A location advantage, decreased costs, and some big wells
A major advantage that operating in Louisiana has over operating up in Pennsylvania or Ohio where the Marcellus/Utica is is proximity to the Gulf Coast. This allows for higher natural gas prices.
MRD believes that it will receive 95% to 100% of NYMEX Henry Hub pricing. Companies producing in the Marcellus will be receiving considerably less than that.
Image source: Memorial corporate presentation.
There are other benefits to operating in the Deep South. It puts the producing wells close to the demand growth that is coming from LNG exports, industrial demand expansion from the petrochemical sector, and exports to Mexico.
On the Q1 2016 conference call MRD revealed that the company had reduced cost per well from $11.8 million to $8.7 million. MRD expects to bring those costs down further to $8.4 million by year end. That has created a tremendous uplift for the economics of the wells.
Image source: Memorial corporate presentation.
Wells that were already very good have become a lot better. Since 2012 there have been 20,800 horizontal gas wells drilled in the United States. Of those, only 95 have had a peak monthly production of over 21 MMcfe/day.
MRD has drilled 36 of those 95 boomer horizontal wells. Further, MRD has drilled 68 wells that fall in the top 2% of the 20,800 wells drilled, and 51 in the top 1%. Of the 100 best wells drilled, MRD has 37.
Image source: Memorial corporate presentation.
This deal has made Range a better company
The only thing to not like about this deal is that it is very hard to understand why Memorial was willing to sell at this point in the natural gas cycle. The company had no balance sheet issues, an incredible hedge book, and, as we have seen, some excellent assets.
The only real drawback that Memorial seemed to have was that it was a "one-trick pony" with just the Cotton Valley play. Although when that one play is a really good play like this one, that is really a high-end concern.
It seems like a big win for Range shareholders. It brings together two high-quality unconventional producers with large de-risked, high-return projects into one portfolio. Range was a pretty solid-looking company before. It is an even better one now.
The article Range Resources Just Made a Steal of a Deal originally appeared on Fool.com.
TMFWolfpack has no position in any stocks mentioned. The Motley Fool has no position in any of the stocks mentioned. Try any of our Foolish newsletter services free for 30 days. We Fools may not all hold the same opinions, but we all believe that considering a diverse range of insights makes us better investors. The Motley Fool has a disclosure policy.
Copyright 1995 - 2016 The Motley Fool, LLC. All rights reserved. The Motley Fool has a disclosure policy.