Rackspace Hosting, Inc. Q1 Sales Rise 8%, Earnings Double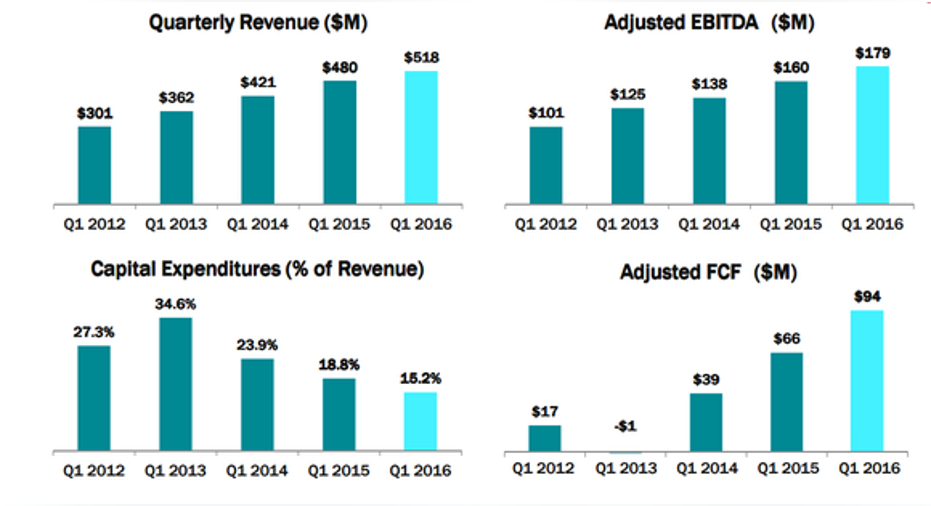 Image source: Rackspace.
Rackspace Hosting reported first-quarter results on Monday night. Here's how this period worked out, and where management is taking the cloud-computing hosting company next.
Rackspace's Q1 results: The raw numbers
| Metric | Q1 2016 Actuals | Q1 2015 Actuals | Growth (YOY) |
| --- | --- | --- | --- |
| Revenue | $518.1 million | $480.2 million | 7.9% |
| Net income | $48.8 million | $27.5 million | 77.5% |
| GAAP EPS | $0.37 | $0.19 | 94.7% |
Data source: Rackspace.
What happened with Rackspace this quarter? The reported revenue figure was within management's guidance for the quarter, albeit at the lower end. Rackspace is busy starting up support services for new clients and partners, rather than looking for pure cloud hosting sales.
Revenue growth was held back by shifting currency exchange rates and the spinoff of Jungle Disk as a privately held cloud storage specialist. Backing out these effects, adjusted sales would have increased 9.9% year over year. Jungle Disk represented a revenue stream of about $3 million per quarter.
Free cash flows rose 42.8%, landing at $94.1 million. That's nearly two cash flow dollars per dollar of bottom-line profit, which is a cash-friendly and tax-efficient outcome.
Rackspace continued to move away from selling hosted data services, refocusing on support services for other cloud computing platforms. EBIT margins are rising under this highly profitable model, stopping at 15.7% in the first quarter. That's up from 8.9% in the year-ago quarter and 11.5% in the fourth quarter of 2015.
Rackspace's management provides revenue guidance for the next quarter and full fiscal year, along with some items further down the income statement. The company does not offer firm earnings targets.
Second-quarter revenue is seen rising roughly 7% year over year, stopping at $522 million. Full-year sales should land near $2.12 billion, unchanged from the original guidance provided three months ago.
In general, the outlook for fiscal year 2016 was unchanged. EBITDA profit margins are still headed toward approximately 34%, and capital expenses should work out to 21% of full-year sales. In 2015, EBITDA margins stood at 38.1%. Capital expenditures were 23% of total revenue.
What management had to say In a prepared statement, Rackspace CEO Taylor Rhodes underscored the growing demand for the company's support services, targeted at all of the leading cloud computing platforms.
"Collectively, we now deliver expertise and support for more than 400 customers on these cloud platforms, including some of the world's largest companies and leading brands," Rhodes said. "While we are experiencing hyper-growth in these new offers, we also continued to reduce our capital intensity and boost our free cash flow."
Image source: Rackspace.
Looking ahead As Rackspace's customers continue to move into OpenStack servers, and the company itself reaches for business opportunities hosted elsewhere, capital expenses will shrink over the next few years. The company decommissioned 1,600 servers in the first quarter, all without putting the brakes on revenue or margins.
Many investors disagree with this change, and share prices have been plunging recently. That trend continued on Monday, when Rackspace shares reacted to the Q1 release with another 5% drop in after-hours trading. The stock has now fallen 60% over the past 52 weeks.
The article Rackspace Hosting, Inc. Q1 Sales Rise 8%, Earnings Double originally appeared on Fool.com.
Anders Bylund owns shares of Rackspace Hosting. The Motley Fool recommends Rackspace Hosting. Try any of our Foolish newsletter services free for 30 days. We Fools may not all hold the same opinions, but we all believe that considering a diverse range of insights makes us better investors. The Motley Fool has a disclosure policy.
Copyright 1995 - 2016 The Motley Fool, LLC. All rights reserved. The Motley Fool has a disclosure policy.