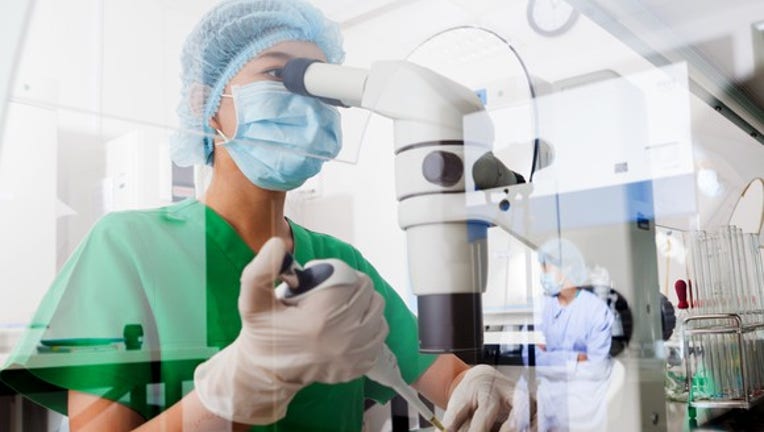 In October, Quintiles Transnational Holdings andIMS Health Holdings combined. The merged pharmaceutical contract research powerhouse now goes by the name Quintiles IMS Holdings(NYSE: Q) and is one of the largest providers ofinformation, technology services, and contract research services to the healthcare and life sciences industries.
Coming into Wednesday morning's earnings report, investors were expecting the combined company to report massive top-line growth along with modestgains in profitability. Let's take a closer look at the company's first-quarter results to get a better idea of how the integration is going.
Image source: Getty Images.
Quintiles IMS Holdings: The raw numbers
| Metric | Q1 2017 | Q1 2016 | Year-Over-Year Change |
| --- | --- | --- | --- |
| Revenue | $1.91 billion | $1.11 billion | 72.5% |
| Adjusted EBITDA | $467 million | $460 million | 1.5% |
| Adjusted net income | $238 million | N/A | N/A |
| Adjusted EPS | $1.01 | N/A | N/A |
Data source: Quintiles IMS Holdings.
What happened with Quintilesthis quarter?
On a combined company basis, revenue grew by about 2% year over year to $1.91 billion. That figure matched what Wall Street analysts were expecting.
R&D Solutions revenue grew 3% to $866 million, landing within management's guidance range of $855 million to $870 million. This segment's growth rate was affected by the closing of a European clinical development facility inEuropelast year.
R&D Solutions' contracted backlog at quarter's end was $9.66 billion. The company expects to convert $2.9 billionof the backlog into revenue over the next year.
Commercial-solutions revenue grew 1.3% to $854 million. This result also landed between management's guidance range of $850 million to $865 million.
Integrated engagement services revenue fell 0.9% to $198 million. However, management had predicted an even sharper decline, so this figure came in above guidance.
Adjusted EBITDA of $467 million and adjusted EPS of $1.01 both came in ahead of what market watchers and management had predicted.
Share buybacks during the quarter totaled $1.3 billion. That leaves the company with$231 million left in itsshare-repurchase authorization.
What management had to say
Ari Bousbib, Quintiles IMS's CEO, stated, "We continue to deliver on our targets, with another quarter of steady financial performance." He also noted that the company is making progress in developing its next-generation clinic offering, which is already helping to drive client wins.
During the company's investor call, Bousbib also announced an alliance with salesforce.com that will "enable us to build solutions on a global technology platform that is best-in-class and that will help our clients take their products to market more efficiently and more effectively."
Looking forward
Here's a look at the guidance that management is offering for the upcoming quarter:
| Revenue | Adjusted EBITDA | Adjusted EPS |
| --- | --- | --- |
| $1.93 billion-$1.97 billion | $470 million-$490 million | $1.02-$1.07 |
Data source: Quintiles IMS Holdings.
Turning to the full year 2017,the company's strong start to the year and first quarter buyback activity allowed management to slightly tweak its guidance:
| Metric | Previous Guidance | Updated Guidance |
| --- | --- | --- |
| 2017 revenue | $8 billion-$8.1 billion | $8 billion-$8.1 billion |
| 2017 adjusted EBITDA | $2 billion-$2.1 billion | $2 billion-$2.1 billion |
| 2017 adjusted EPS | $4.40-$4.55 | $4.45to$4.60 |
Data source: Quintiles IMS Holdings.
Quintiles' shares fell a few percentage points once trading started on Wednesday. The small drop was probably caused by second-quarter guidance that came up a bit short of expectations.
Short-term price movements aside, Quintiles' results show that it's making progress at delivering on the promised benefits of the merger. In addition, the company's growing backlog continues to prove that its services remain in demand with leadinghealthcare and life sciences companies.
10 stocks we like better than Quintiles IMS HoldingsWhen investing geniuses David and Tom Gardner have a stock tip, it can pay to listen. After all, the newsletter they have run for over a decade, Motley Fool Stock Advisor, has tripled the market.*
David and Tom just revealed what they believe are the 10 best stocks for investors to buy right now... and Quintiles IMS Holdings wasn't one of them! That's right -- they think these 10 stocks are even better buys.
Click here to learn about these picks!
*Stock Advisor returns as of May 1, 2017
Brian Feroldi has no position in any stocks mentioned. The Motley Fool recommends Quintiles IMS Holdings and Salesforce.com. The Motley Fool has a disclosure policy.