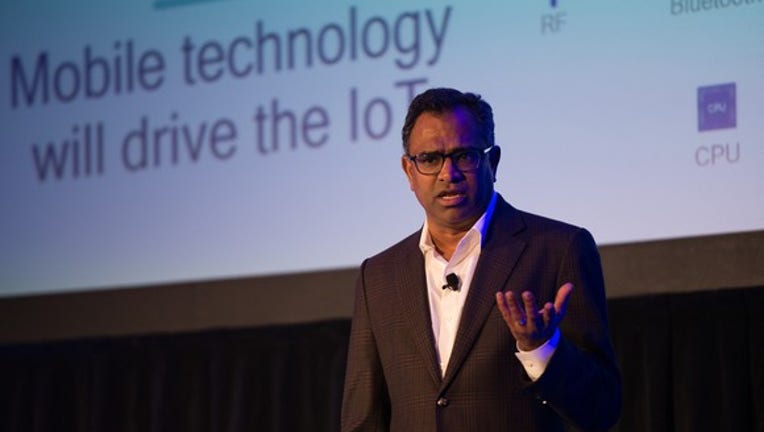 Qualcomm SVP of Product Management Raj Talluri speaking at CES 2017 earlier this month. Image source: Qualcomm.
A little over a week after the U.S. Federal Trade Commission lodged an antitrust complaint against Qualcomm (NASDAQ: QCOM), the likelihood of the mobile chip giant facing harsh regulatory backlash just got a little smaller.
President Trump has just appointed Republican FTC Commissioner Maureen Ohlhausen as acting chairwoman of the FTC. While some of Trump's nominees for other positions have been controversial due to potentially unqualified candidates, Ohlhausen has extensive experience. Ohlhausen has been a commissioner since 2012, and previously served in other roles at the agency for 11 years. The appointment comes as outgoing Democratic Chairwoman Edith Ramirez is set to resign in a few weeks on Feb. 10.
Following Ramirez's resignation, there will be three remaining seats to be filled. Two are expected to go to Republicans and the other to a Democrat. This is an important development for Qualcomm specifically because Ohlhausen was the dissenting opinion in the FTC's suit against the company. Now that Ohlhausen has been promoted to chairwoman, it seems increasingly likely that Qualcomm will be able to settle the complaint expeditiously and likely at minimal cost. The Trump FTC may also simply withdraw the complaint. The same can't be said for the other lawsuit that Qualcomm is facing.
A powerful ally
In her dissenting opinion, Ohlhausen largely sided with Qualcomm.
Given that stance, Qualcomm is likely cheering at Ohlhausen's appointment right about now.
That's what she said
Like most Republicans, Ohlhausen believes in lighter regulations. "Finally, I will ensure the Commission minimizes the burdens on legitimate business as we carry out this vital work," Ohlhausen said in a statement.
Two days ago, Ohlhausen delivered a speech at the Heritage Foundation laying out how the new administration would approach antitrust issues. There are some pertinent parts regarding intellectual property and patent suits. Some of this is regarding patent-assertion entities (PAEs), which is the technical euphemism for patent trolls. While Qualcomm certainly doesn't qualify as a PAE since it has a large chip business in addition to its licensing business, there are still parts of her speech that may be rather relevant to Qualcomm:
Ohlhausen also laid out a few other guiding principles:
She then addressed the Qualcomm case directly:
So yeah, Qualcomm investors probably don't have to worry all that much about the FTC's suit anymore.
10 stocks we like better than Qualcomm When investing geniuses David and Tom Gardner have a stock tip, it can pay to listen. After all, the newsletter they have run for over a decade, Motley Fool Stock Advisor, has tripled the market.*
David and Tom just revealed what they believe are the 10 best stocks for investors to buy right now... and Qualcomm wasn't one of them! That's right -- they think these 10 stocks are even better buys.
Click here to learn about these picks!
*Stock Advisor returns as of January 4, 2017
Evan Niu, CFA has no position in any stocks mentioned. The Motley Fool owns shares of and recommends Qualcomm. The Motley Fool has a disclosure policy.