Qualcomm Inc. Faces More Antitrust Challenges in Europe and Taiwan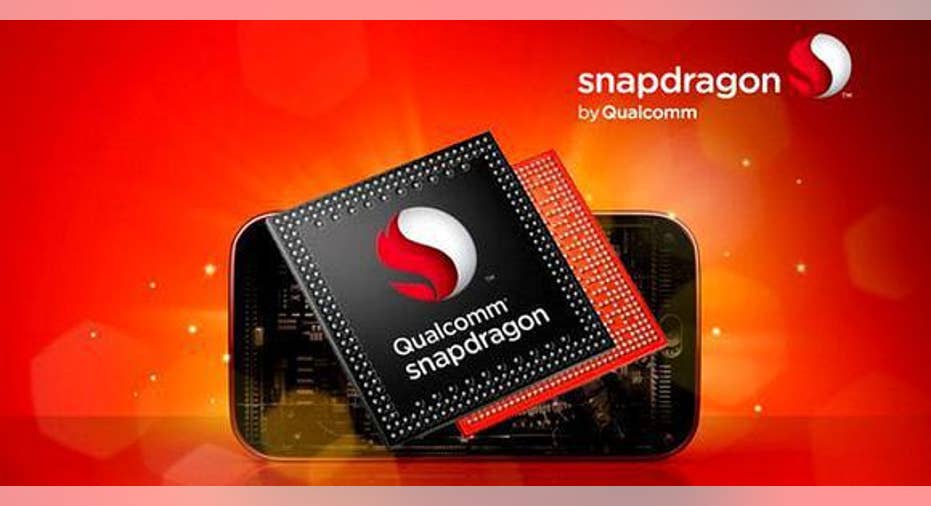 Qualcomm investors recently received a double dose of bad news to cap off a dismal year. On Dec. 8, Taiwan's Fair Trade Commission launched an investigation into Qualcomm's patent licensing arrangements. The move, which mirrors a similar probe in South Korea, could take another bite out of its CDMA licensing profits.
On the same day, the European Commission launched an antitrust investigation against Qualcomm, claiming that it intentionally sold chips below market rates to undercut its rival Icera. Back in 2011, Nvidiaacquired Icera to create an integrated application processor and modem platform to challenge Qualcomm. However, that plan fell apart and Nvidia shuttered the division earlier this year. The EU is also investigating separate allegations that Qualcomm pays OEMs to exclusively use its chips.
Source: Qualcomm
Assessing the damage in AsiaQualcomm's business is split into its mobile chip business and its CDMA licensing one for 3G/4G technologies. The licensing business, which generated 86% of Qualcomm's pre-tax earnings last quarter, makes money bycollecting a 3% to 5% cut of the wholesale price of every smartphone shipped worldwide.
During fiscal 2015, 53% of Qualcomm revenue came from China, 16% from South Korea, and 13% from Taiwan. Earlier this year, the Chinese government fined Qualcomm $975 million for anti-competitive practices, andQualcomm agreed to only collect CDMA royalties based on 65% of the net selling price of a handset, which is slightly lower than its wholesale price. In November, South Korea's Fair Trade Commission followed China's lead and slapped Qualcomm with similar antitrust claims. Therefore, it isn't surprising that Taiwan's government is following suit.
Many Android device makers scrape by withlow single-digit margins. By revolting against Qualcomm's CDMA licensing fees, they can squeeze out more profits per device. Last quarter, lower licensing fees from China caused Qualcomm's licensing revenue to dip 1% annually to $1.8 billion as operating profit fell 3% to $1.5 billion. If Qualcomm agrees to similar settlements in South Korea and Taiwan, those figures could keep falling.
Assessing the damage in EuropeIn Europe, Qualcomm could be fined up to 10% of its fiscal 2015 revenue of $25 billion if it's found guilty of predatory pricing and exclusivity payments. While a $2.5 billion fine would be much higher than the one it paid in China, Qualcomm is unlikely to be fined the full 10% based on comparable cases.
Back in 2009, the European Commission foundIntelguilty of paying hidden rebates and direct payments to PC makers to exclusively use its x86 CPUs. The company was fined 1.06 billion ($1.44 billion at 2009 exchange rates), which was just over 4% of its fiscal 2009 revenue. However, a 4% fine for Qualcomm is still no small sum and would hurt the company's turnaround efforts.
Keep in mind that Qualcomm has survived an antitrust probe in Europe before. Back in 2009, the EU dropped a two-year antitrust probe into its CDMA licensing fees after its rivals withdrew their complaints. Ericsson, one of the chief plaintiffs, dropped its complaints after the South Korean government slapped Qualcomm with a $200 million fine, and the Japanese government issued a cease-and-desist order against the chipmaker. Ericsson also told PC World that the case was simply too expensive to continue pursuing.
Should Qualcomm investors be worried?None of these cases will likely be resolved anytime soon. But over the long-term, Qualcomm investors should worry more about the South Korean and Taiwanese patent licensing cases than the European antitrust probe. If South Korea and Taiwan both force Qualcomm to slash its patent licensing fees, the chipmaker's most profitable business will lose fees from major players like Samsung, LG, and HTC. Other major smartphone markets, like India, could follow that example and cause even more problems.
Meanwhile, the European probe will likely drag on for some time. Intel fought the EU ruling for five years before finally losing an appeal last June. Qualcomm will likely do the same. Even if it eventually has to pay, the fine will be considered a one-time charge and impact its long-term growth much less than reduced patent fees in China, South Korea, and Taiwan.
The article Qualcomm Inc. Faces More Antitrust Challenges in Europe and Taiwan originally appeared on Fool.com.
Leo Sun owns shares of Qualcomm. The Motley Fool owns shares of and recommends Qualcomm. The Motley Fool recommends Intel and Nvidia. Try any of our Foolish newsletter services free for 30 days. We Fools may not all hold the same opinions, but we all believe that considering a diverse range of insights makes us better investors. The Motley Fool has a disclosure policy.
Copyright 1995 - 2015 The Motley Fool, LLC. All rights reserved. The Motley Fool has a disclosure policy.