Qualcomm Inc. Extends the Tender Offer for NXP Semiconductors NV Shares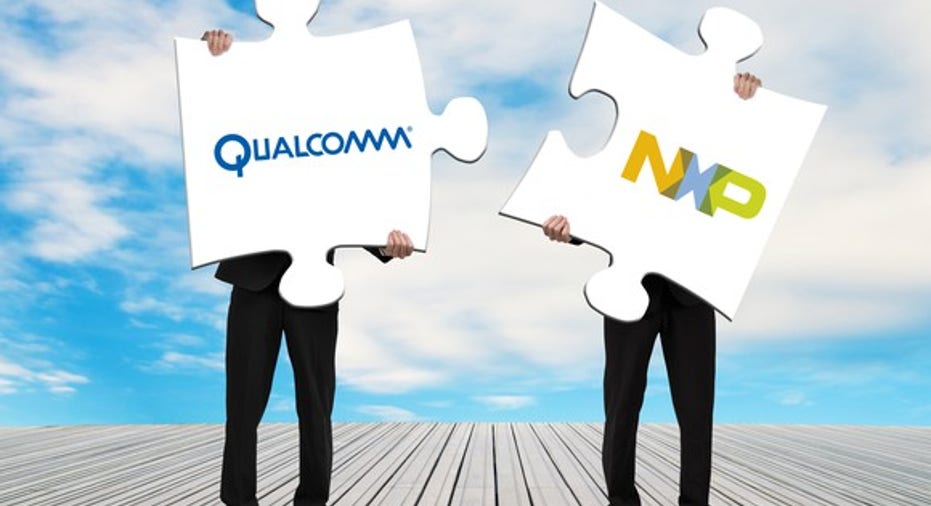 As expected, Qualcomm (NASDAQ: QCOM) has extended its official tender offer for NXP Semiconductors (NASDAQ: NXPI) shares.In an SEC filing, posted in the early morning hours on Feb. 6, Qualcomm moved the expiration date to March 7, 2017.
The offer was previously scheduled to expire at the close of business, Feb. 6. As before, Qualcomm reserves the right to extend the offer period as circumstances might require.
According to the filing, approximately 14.8% of NXP's outstanding shares have been tendered so far. That's far short of the 80% tender acceptance rate that would trigger Qualcomm actually sending out cash payments of $110 per NXP share and effectively closing the deal.
Image source: Getty Images, NXP, and Qualcomm, edited by the author.
Investors saw good tidings in these tea leaves, and NXP shares traded 1.3% higher on an otherwise quiet Monday morning. That's on top of a 1.8% gain following NXP's release of a strong fourth-quarter report last Wednesday. All told, NXP shares now trade roughly 8.5% below Qualcomm's firm $110 per-share offer. Two weeks ago, the stock could have been bought for just $96 per share, or a 13% discount against the final buyout price.
NXP owners have had their investment theses shaken up in recent weeks. Investors are adjusting to POTUS 45's signals about stricter reviews of big-ticket mergers, alongside tense diplomatic relations with China and Qualcomm's potentially expensive legal challenges. NXP's rock-solid fourth-quarter report calmed some jittery nerves, and the extended deadline for Qualcomm's tender offer also served as a vote of confidence in closing the deal.
The game-changing merger took another step forward this week. Granted, the 14.8% acceptance rate may have been lower than ideal. But NXP just proved its business's worth, which should keep Qualcomm committed to shrugging off distractions and completing the buyout.
10 stocks we like better than NXP Semiconductors When investing geniuses David and Tom Gardner have a stock tip, it can pay to listen. After all, the newsletter they have run for over a decade, Motley Fool Stock Advisor, has tripled the market.*
David and Tom just revealed what they believe are the 10 best stocks for investors to buy right now... and NXP Semiconductors wasn't one of them! That's right -- they think these 10 stocks are even better buys.
Click here to learn about these picks!
*Stock Advisor returns as of February 6, 2017
Anders Bylund has no position in any stocks mentioned. The Motley Fool owns shares of and recommends Qualcomm. The Motley Fool recommends NXP Semiconductors. The Motley Fool has a disclosure policy.