Qualcomm Inc. and Wayfair Inc. Jump as Stocks Drop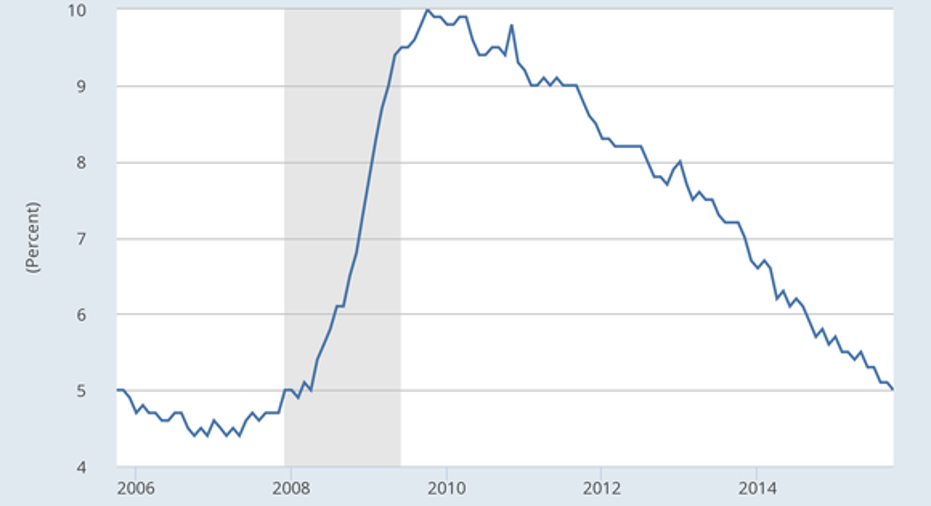 Stocks sold off into the close today and ended up giving back all of their gains from yesterday's session.The S&P 500 lost 1.1% and theDow Jones Industrial Averageslipped lower by 0.9%, putting the blue-chip index back into slightly negative territory for the year.
In economic news, Federal Reserve chairwoman Janet Yellen gave a speech today that noted "continued improvement" in the key metrics that the central bank is following to support its first interest rate hike in nine years. While that boost is widely expected to come after the next Federal Open Market Committee meeting later this month, the decision hasn't been made -- yet.
"Additional data that bear on the economic outlook" will be coming in before the December 15meeting, Yellen said. And high on that list of fresh data will be Friday's jobs report that's expected to show that the economy created 200,000 new jobs in November as the unemployment rate held steady at 5%.
Unemployment rate. Source: Federal Reserve Economic Data.
Meanwhile, individual stocks on the move today included chip titan Qualcomm and online merchant Wayfair .
Qualcomm's new deal Qualcomm was the S&P 500's best performer, jumping 5% today on unusually strong trading volume. The chip giant said this morning that it has struck a licensing deal with Chinese smartphone giant, Xiaomi.
The agreement will provide for royalty payments in exchange for Xiaomi's access to Qualcomm's 3G, 4G, and LTE-enabled chip technologies. "Qualcomm is committed to the success of its partners in China as they continue to grow their businesses and we are pleased to reach this new agreement with Xiaomi," Qualcomm's president, Derek Abele said in a press release.
This is good news for Qualcomm's licensing business, which makes up about one-third of total revenue -- with equipment and services accounting for the rest. Soft licensing growth in the Chinese market was a key factor behind its latest weak earnings results. And management warned in last month's quarterly conference call that the lack of deals would continue to hurt both sales and profit growth since "progress [at concluding license agreements] has been slower than we had originally anticipated." Still, executives said they were confident that they'd eventually strike these deals, and today's announcement is evidence of progress on that front.
Wayfair's 5-day haulWayfair's stock surged 10% higher today after the company revealed strong sales trends for the start of the holiday shopping season. The online retailer's revenue spiked higher by 130% over the five-day peak period between Thanksgiving and Cyber Monday. CEO Niraj Shah said in a press release that Wayfair is benefiting from "an industrywide shift to e-commerce that is especially evident during the peak retail season."
Image source: Wayfair.
The company, which has only posted five quarters of earnings results since its 2014 initial public offering, is grabbing significant market share in its product niche of home furnishings and design. By comparison, the overall e-commerce industry grew at closer to a 20% pace in the five days ending on Cyber Monday, according to ChannelAdvisor.
Wayfair's market-thumping growth makes it likely that management's fourth-quarter forecast will prove conservative. Last month, executives said they believed sales would rise by 71% at the midpoint of guidance. But Chief Financial Officer Micheal Fleisher also said that Wayfair's accelerating growth trend "makes my job of giving guidance very difficult." Today's announcement suggests that Fleisher may have undershot in his estimate of fourth-quarter revenue growth, but that's just the type of error that investors like to see.
The article Qualcomm Inc. and Wayfair Inc. Jump as Stocks Drop originally appeared on Fool.com.
Demitrios Kalogeropoulos has no position in any stocks mentioned. The Motley Fool owns shares of and recommends Qualcomm. The Motley Fool recommends Wayfair. Try any of our Foolish newsletter services free for 30 days. We Fools may not all hold the same opinions, but we all believe that considering a diverse range of insights makes us better investors. The Motley Fool has a disclosure policy.
Copyright 1995 - 2015 The Motley Fool, LLC. All rights reserved. The Motley Fool has a disclosure policy.