Qualcomm Earnings Top Expectations, but Stronger Competition Could Lie Ahead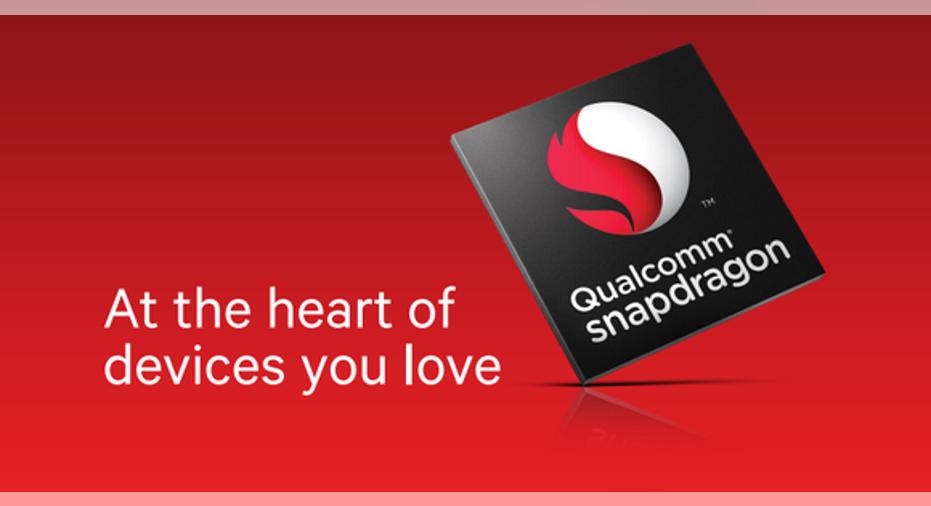 Image source: Qualcomm.
The mobile space has become increasingly competitive, and Qualcomm has had to fend off challenges from multiple fronts in its effort to maintain its leadership role in the industry. Coming into Wednesday's fiscal second-quarter financial report, Qualcomm investors were prepared for significant declines in revenue and adjusted earnings, and the results that it posted were actually better than many had feared. Yet even though the company also announced a resolution in its licensing dispute with LG Electronics, fears about Intel and other competitors taking away some of Qualcomm's high-end chip business sent shares slightly downward. Let's look more closely at how Qualcomm did and what investors are nervous about in its future.
Qualcomm keeps shrinkingQualcomm's fiscal second-quarter results only looked good in the context of faring better than the extremely low expectations investors had for the quarter. Revenue fell 19% to $5.55 billion, which roughly matched the consensus forecast among those following the stock. Adjusted net income fell by more than a third to $1.6 billion, but the resulting adjusted earnings of $1.04 per share were $0.08 higher than what investors expected.
A closer look at Qualcomm's results showed ongoing pressures but also signs of potential strength. Shipments of MSM chips were once again weak, falling 19% to 189 million. Total device sales were also off 8% to $70.1 billion, with a 13% drop in estimated reported 3G and 4G shipments to a range of 335 million to 339 million offsetting a 6% rise in average price to between $205 and $211.
Both of Qualcomm's primary segments took hits during the quarter, although one fared better than the other on a sequential basis. Year over year, the QCT semiconductor business suffered a 77% drop in pre-tax income on a 25% drop in sales, and comparisons to the fiscal first quarter were similarly weak. For the QTL licensing business, year-over-year results showed a 12% drop in revenue and a 14% decline in pre-tax income, but sequentially, both figures rebounded by about a third compared to the fiscal first quarter.
CEO Steve Mollenkopf honed in on the fact that Qualcomm managed to salvage better results than expected. "Our fiscal second quarter results were driven by stronger-than-expected performance across our chipset and licensing businesses," Mollenkopf said. The CEO also pointed to the resolution of a dispute with LG Electronics as a positive for the licensing business, given that it will allow LG to continue using Qualcomm intellectual property in the 3G and 4G arenas.
What's ahead for Qualcomm?Qualcomm expects better times ahead, with Mollenkopf pointing to building momentum in the chip space as the Snapdragon family of processors continues to fare well. Yet some of the company's guidance still points to less than stellar performance in the near term. Fiscal third-quarter guidance includes calls for revenue to come in between $5.2 billion and $6 billion, which is in line with the $5.56 billion consensus figure among investors. Adjusted earnings of $0.90 to $1 per share, however, would be a disappointment compared to the $1.02 per share that investors want to see, and it could represent continued declines in comparison to year-ago levels. MSM shipments could also keep hurting Qualcomm, with the company anticipating a 13% to 22% drop to between 175 million and 195 million chips.
Yet Qualcomm faces increasingly tough competitive pressures. In the conference call, Mollenkopf addressed the potential that customers will look for secondary suppliers of chips for which Qualcomm used to be the sole supplier, admitting that the company has assumed that this would occur in its restructuring plans. Intel in particular has developed an impressive manufacturing capability, and that gives Intel the chance to pick up additional business in supplying the needs of device-makers looking for new sources of key chips. The possibility of being supplanted in key devices like the iPhone also weighed on Qualcomm sentiment following the report.
Qualcomm investors weren't happy despite the earnings beat, sending the stock down about 1.5% when the market opened Thursday morning and remaining down into the afternoon hours. Until Qualcomm can get things turned around, shareholders can expect difficult times to continue.
The article Qualcomm Earnings Top Expectations, but Stronger Competition Could Lie Ahead originally appeared on Fool.com.
Dan Caplinger has no position in any stocks mentioned. The Motley Fool owns shares of and recommends Qualcomm. The Motley Fool recommends Intel. Try any of our Foolish newsletter services free for 30 days. We Fools may not all hold the same opinions, but we all believe that considering a diverse range of insights makes us better investors. The Motley Fool has a disclosure policy.
Copyright 1995 - 2016 The Motley Fool, LLC. All rights reserved. The Motley Fool has a disclosure policy.